Chefs of the Future, Inc. Bernie Hou, Jason Gresh. Campaign duration: 10/23/14 – 11/20/14
Comic Chameleon is the only mobile app where you can read such massively popular webcomics as XKCD, Saturday Morning Breakfast Cereal, Dinosaur Comics, Questionable Content, Girls with Slingshots, and 100 more! We're the only webcomics app with our incredible panel-by-panel reading experience, and the only webcomics app with the official support of all the artists we publish.
It's currently available as a free download in the iOS App Store, and we've just launched a Kickstarter campaign to fund our Android version!
Bernie Hu writes,
The idea of an app for reading webcomics on mobile phones isn't a brand new one. Comics that make you laugh, feel, and think about dinosaur propaganda, are posted all over the web everyday by countless talented, independent artists and writers, so it's only logical that there would be apps that set out to make it easier for you to keep up with your favorite ones.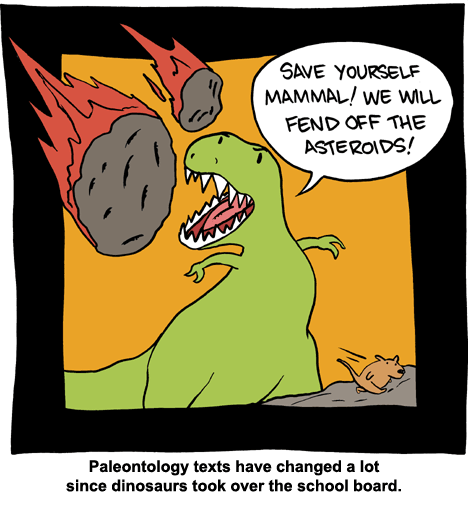 But apparently it's easier said than done, because up until now, any apps that have attempted to bring webcomics to mobile have all been missing some key ingredients or committing some major mistakes. Either they haven't done anything to properly adapt them to the small screen, or they've profited off of artists' work without their permission. This is why there haven't been any apps that have captured the true webcomic experience or been embraced by the webcomic community.
Until now!
Comic Chameleon – available as a free download on the iOS App Store – is the first and only app that's doing it right, and it's no coincidence that it was designed by a webcomic artist. Co-creator Bernie Hou started his webcomic, Alien Loves Predator, in 2004 and has been involved in many independent projects over the last 10 years. We know how to treat independent artists because we know what it's like to be an independent artist. All artists who appear on Comic Chameleon do so with their full explicit permission, and they get paid a generous share of all revenue made from the app.
In turn, the trust we've earned from the webcomic community gives us the responsibility to provide a brilliant reading experience to webcomic fans, and we're happy to say we deliver on that as well.
With a tap of your finger, each individual panel slides into view, perfectly cropped and scaled for comfortable reading on your phone. No more awkward squinting and pinching and zooming around! And you can swipe through comics as easy as if you were swiping through selfies.
This reading experience doesn't come without a lot of work, however, and even creativity. Not only does every single comic require individual attention from either us or the artists themselves, but there's a certain craftsmanship in preparing them for the small screen. We take pride in being able to strike the right balance between maximizing legibility and showcasing the artwork.
While Comic Chameleon is already popular among webcomic fans with iPhones, all of this work makes it a challenge for us to make enough revenue with the app to benefit our artists and support our efforts to improve it. We're hoping the Kickstarter campaign that we've recently launched will help us in our mission!
Our Kickstarter's official main goal is to fund the Android version of Comic Chameleon, but our rewards and stretch goals are designed to appeal to webcomic fans of both Android and iOS platforms, and sustain our operation as a whole. And, in keeping with our promise to do right by our artists, we're committing 10% of all funds raised by the campaign to go to the artist(s) of each backer's choice. We hope you'll check it out, here.
Enjoyed this article? Share it!