Rod Lamberti of Rodman Comics writes weekly for Bleeding Cool. Find previous columns here.
Changes have to happen, yet it is human nature to fear change. The recent announcement that Walmart started selling comics with some exclusive content was a sudden change. I was surprised after I first read about it that Walmart was already set up to start selling comics on July 1st — which, Walmart being Walmart, sold them before that.
When it was first announced I had customers emailing me and talking to me about it. Some worried about it, thinking my store could take a hit business wise. I was shocked that Brian Michael Bendis would be writing his first Batman story and it would be going to Walmart. It is also going to be included with reprinted material for $4.99. My average customer is "okay" with paying $3.99 for a comic. Pass that price point and the higher it goes, the less likely they will spend money on a comic. $4.99 to read a Batman Bendis story blunts my customers' interest.
The covers of these 100-page giant comics, from what I have seen, are using old artwork from past issues. I love Mike McKone's Titans cover from back in the day, but shouldn't something new be used? New artwork to get new comic fans? Again, from the cover from the Teen Titans 100-Page Giant — to me it looks confusing to new readers. McKone's Robin and Superboy are Tim Drake and Conner. The Super Sons have Robin as Damian and Superboy as Jonathan Kent in a story. That is not going to be confusing to new readers. One new Titans story. "Introducing" Sideways? It is not his first appearance. Nothing against Sideways, but he does not have anything to do with the Titans other than being young.
The Superman 100-Page Giant exclusive through Walmart at least looks like it is mostly about Superman. The cover looks like plenty of Superman. Though "Introducing the Terrifics" is misleading. I enjoy the Terrifics, though again they have nothing do to with Superman. In addition, the whole "introducing" line makes it sound like it's their first appearance. This might make people who actually enjoy reading about the Terrifics in this one-shot a lot less likely to look for their series because they will think this is their first and only appearance. Unless, in the comic, it states, "check out the monthly Terrifics comic."
DC was already selling comics through Walmart in the past, though I tried looking for them in our Ankeny Walmart and never could find them. It didn't kill the comic industry, and I don't hear anyone saying it did. And with what little I am seeing now, I don't see this instance of DC selling through Walmart as being any different. Using artwork from years past for covers is cheap. It also tells readers that our best talent was from years ago and we have none from our present whose artwork is worth being on this cover.
DC managed to nerf this in all ways. New material such as Batman by Bendis by itself for $2.99 would have been a bigger reason for comic collectors to track down the comic. By making these 100 pages for $4.99, new people that might be willing to make a habit out of comic collecting will discover that the 100-page format is rare for new comics. They'll find out the hard way the reality of the average price of a comic book for fewer pages.
After typing all that up, I then read this online on Bleeding Cool:
"We're putting new stories in there to attract the current fanbase… and our best-reprinted stories to bring in the more casual fan."
In my mind, doing reprinted stories and new stories in the same comic cancels out what DC is trying to do.
That said, I do want that display box with Superman weeping printed on the back for when the comics are sold out — that only Walmart has. I did like the old Alan Moore story that the artwork is from.
On Saturday, I went up to our local Walmart and was surprised to find the 100-page Walmart exclusives. I thought, what the heck? I'll get the non-damaged ones that are still left, leaving copies hopefully for kids, since kids are great comic readers. Kids just want to be entertained — they're not worried about how mint a comic is. I'll throw some on eBay and have some in store for our customers.
I put a set of four on eBay after failing to find any previous listings, setting a buy-it-now for $39.99 plus shipping. After listing it, I went to double check it and suddenly could not find the listing. It turns out that within a few minutes of me listing it, someone had bought the set for $39.99. I was stunned.
I'd thought since these had already been published and I'd failed to find past listings that there was not any demand for them. But it seems my first search of completed listings was too detailed. I believe I had typed in "Walmart Bendis Batman 100-page giant set" or something, and no one previously had a title like that. My second look at completed listings had me thinking "no way." People were buying the Teen Titans 100-page Walmart exclusive for $19.99? Sets of all four were going for over $39.99. Wow, I thought. I quickly listed the rest.
My wife wanted to go eat in Grimes that night and they have a Walmart, so I said, "Great, we could stop at Walmart afterwards." Yes — she was thrilled. Of course, then we were hit with rain that made national news. One of the comics I bought there, even though I had it bagged up and put it under my shirt, managed to get wet. It was the Titans one. But the other one sold for $19.99, along with shipping.
I didn't do much with the comics I bought from Grimes that night. After taking a long time to get back to my store thanks to the rain, where my wife first picked me up to go eat, we were separated going home since the roads were flooding out. I went through the side roads and made a bad judgment call (I drove through a water-covered street where another car had stalled out), but I did manage to make it home. My wife ended up staying that night elsewhere and was not happy with me for driving through the water — the other part of the bad judgment call. I used our dog as an excuse to get home. Had a trampoline in our backyard. Just one problem: it was not ours. It was from two houses down and had managed to flip into our backyard. Luckily it did not hit the house or our fence. A few houses down a person did have water coming into his house. The water was in my backyard, so I stayed up until two in the morning to see if it was going to make it into my house. Flooding is a change I can live without.
The Walmart exclusive news went from "I hope I'm right and it doesn't hurt my sales" to "sweet, I'm making money off them" after selling more on Sunday. Odd fact: we can return comics bought from Walmart to Walmart, but we cannot do that with Diamond.
I sold a few in store for just $6.00 and people seemed happy with it. Trying to keep our existing customers happy and make money at the same time.
Again, changes are scary. As humans, we like to stick to what we know. Jobs that some are unhappy with people tend to stay working at because the "evil" they know is better than what they don't know.
Getting new customers is a challenge because we are trying to be a part of change in their regular habits. People that pick up their comics weekly are in a good habit for us. We have people that always have trouble with their pull boxes. It is a habit that we want them to change, but they do not.
I am set in my ways. I still believe that comic stores can thrive — that comics have a lot of potential. I believe sales of comics should be a lot better. At times, I feel like Glass Joe from the classic Punch Out game. Body blow! Body blow! Even after beatdowns here at the business I still get up and believe. Granted, sometimes I may be seeing triple and wonder how much more I am able to take, but I still believe.
Periodically I like to make changes to the store — try to keep it fresh, so to speak. I had been wanting more glass cases for a while, and a person came in and said he had two he was looking to sell. I figured, what the heck? Two more glass cases meant moving other fixtures and making everything work, and it took a lot more work than I thought it would. I went to pick them up and, of course, a downpour of rain started.
I felt bad because while doing a lot of moving, Darin Henry of Sitcomics called me to talk about comics. That is someone who is pushing his comics, which is great. He even offered to take returns of his comics that we had already ordered. I told him that I would use what we had left for auctions for our upcoming Rod Deals to try to get people in the line. The fact that he called did surprise me. The number of times I have spoken with people on the phone from Marvel or DC over the years is zero. I did, however, go to Kansas City and was able to eat with a group of store owners with DC's Dan DiDio last year.
I believe that every few years we should change things up in the store to keep it fresh. Change can be good. As I have stated before, I keep hoping for positive changes that boost comic sales.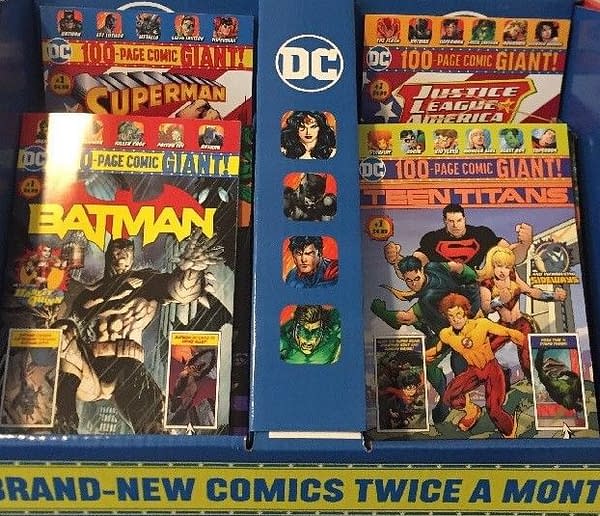 Enjoyed this article? Share it!