Rod Lamberti of Rodman Comics writes weekly for Bleeding Cool. Find previous columns here.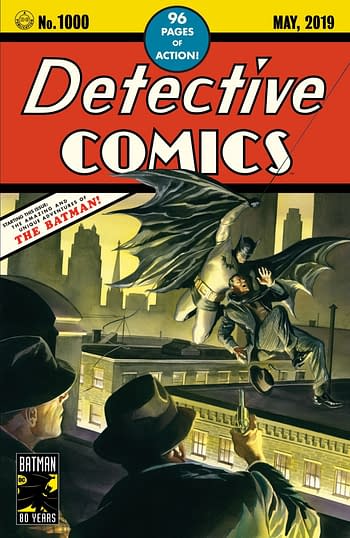 Detective Comics #1000 comes out next week. Action Comics #1000 was a big deal for us last year. Thankfully DC had plenty of copies of Action Comics #1000. So many that comic stores are able to still order it in as I type this up. The regular Action Comics #1000 Jim Lee cover and blank cover are still available. I did not have enough Action Comics #1000 on hand the day it came out. Only a few people spoke up about wanting each cover for Action Comics 1000 before it came out. Some just days before it was due to be released. Action Comics #1000's cover price is $7.99. People I found out were willing to overlook the higher price for the issue. Though we did not have enough for the day it came out we easily reordered and took care of everyone who wanted a copy thanks to DC having enough on hand. Some people did not bother picking up Action Comics #1000 even though they asked as to order them a copy. We still have a few copies of Action Comics #1000 left due to that. Comics for the most part are non-returnable so they stuck us with unsold product.
Now fast forward to 2019. Detective Comics #1000 has a cover price of $9.99. Two dollars more than Action Comics #1000. Another main cover by Jim Lee. There are 11 different covers that we get to pick from. Months before it comes out comic store owners get to figure out how many copies they think they can sell. I ordered more Detective Comics #1000 than I did Action Comics 1000. With it being such a high price book I still tried to stay "safe" and order on the low side. In the back of my mind I hope that DC will have extra copies on hand of Detective Comics #1000after the release date such as they did with Action Comics #1000 in case I am wrong. It is just over a week out before Detective Comics #1000 comes out and I have more people asking for Detective Comics #1000 than I did Action Comics #1000, which I expected, though not as many as have asked so far. I go to Diamond's website to order more and after days of checking Diamond does not have any more of the Jim Lee Detective Comics #1000 covers for order. Even the blank cover is unavailable now. Over the weekend I get lucky and suddenly the 1940s variant cover by Bruce Timm is available. I order twenty copies of it. Will it be a good move? Time will tell.
Action Comics #1000 was a big deal. It was still easily available after it came out. Detective Comics #1000 right now looks like what the stores on March 27th get could be very well all that is available. I am assuming the Bruce Timm variant cover will not be available after the release date. How does a comic become hot? More in demand? As Mark Twain said "in order to make a man or boy covet a thing, it is only necessary to make the thing difficult to attain."
Come next week we will found out how Detective Comics #1000 goes down. Will you be getting it? Did your store order enough?
Enjoyed this article? Share it!