Rod Lamberti of Rodman Comics writes weekly for Bleeding Cool. Find previous columns here. He writes; Since the last week of February until now, things have been going really well for the store. Been busy as heck, which of course is a good thing. 2019 is looking very good currently. Back issues sales are much better this year. Magic the Gathering sales have been red hot. Heroclix sales have had a spike with new people buying Heroclixes. Sadly, our new comic sales are all over the place. The Walking Dead recently exploded after slowing down for us. The various Spider-man titles are either hits or duds for us. For each hit like Spider-Man: Life Story there is a dud like Spider-Man: City at War. Same story for War of the Realms. The main title does well. The War of the Realms spin-offs are all over the place with some selling and some not selling. Age of X Man was not a hit. Amazing Spider-Man's last few issues were dropped by various readers here only to get snatched up recently by new people. Doomsday Clock still sells like a runaway freight train even after the delays. Action Comics and Superman have seen increases in sales while Batman has slowed. This causes a guessing game of ordering new comics. Marvel does not like stability. By re-launching as often as they do along with the wave of titles, they put out each month forces retailers to often guess how to order from Marvel. Ordering comics from Marvel is like playing Russian roulette.
How does a business grow sales? With more customers of course. Trying to increase the spending of the existing base of customers is what Marvel focuses on. Another way is to try to increase the number of customers. I personally would rather have more and more people reading comics. Readership is important in my mind. People being entertained and enjoying a comic they are reading often leads to good word of mouth which brings more people in to check out a title. For Batman Last Knight On Earth, I ordered a lot and I was worried I had over ordered. Turned out I should have ordered even more. People were really digging the issue and that brought in more readers.
How do businesses bring in more customers?
Marketing. A quick google search shows it is the study and management of exchange relationships. Marketing is the business process of creating relationships with and satisfying customers. With its focus on the customer, marketing is one of the premier components of business management.
It is something we do well. In a previous column, I brought up that we do it so well the Saturday before Free Comic Book Day we set a sales record for the year. For us, Free Comic Book Day is not a day we have to have. Our non-free comic book sales days will outsell Free Comic Book Day. We did have a coupon for that day good for a Star Wars comic on a return visit. It did have some success. Imagine if Free Comic Book Day did this on a national level, stores could see actual new repeat customers.
Word of mouth is important.
People that like us tell others about their positive experience. I have long ago learned my promoting upcoming sales or products by simply telling people directly is a great method. Any questions are instantly answered. Our next sales date is July 20th. Starting this week, I am going to let every person that comes in know about it. Pretty simple right? In this day and age, people often take to social media and think that is the end all for marketing and fail to engage their existing customers in the store. I have been told one business in the area doesn't even put a sign up saying they are closed for whatever reason. The owner figured posting he was sick or whatever on Facebook was good enough. No, people that went to the store and just saw a dark closed business where the hours posted showed they should be open assumed they had closed for good. Some comic and or gaming stores do not even acknowledge people that come in or even care when people come in. As I have said before, part of the reason I opened Rodman Comics was because I was not enjoying collecting comics as much after my regular store, Dragonfire Comics, closed. Collecting comics felt soulless at the time for me. I had done mail ordering of comics in the past and was not getting everything I ordered. I feel pre-paying is foolish. With all the online comic businesses that close suddenly, people worry about losing their pre-payment. I will never take that chance again.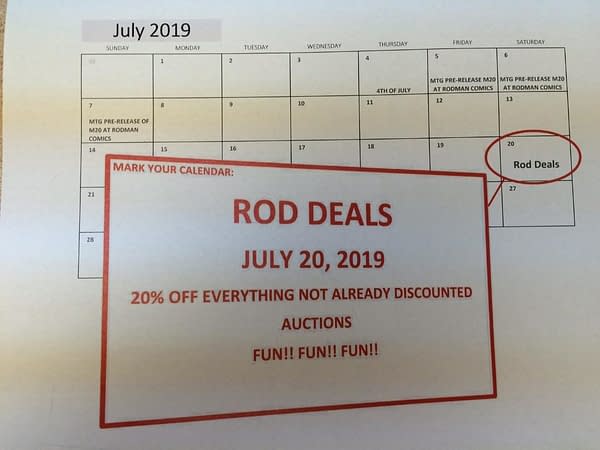 When new people come in, tell me they were getting their comics online, the online business closed and now they were worried they lost money, I tell them we do not do pre-paid. That way if heaven forbid something happens to me, no one is out any money. The last store that closed in the area did pre-pay and people told me they lost money. The reason we got so many of their old customers is because I told them you will never be out any money by buying through us because we do not do pre-pay. That fact has been a good selling point for us to attract customers.
Social media is a powerful tool and one we of course use. Though I have long learned direct communication is the best. That said, social media lets us communicate and get on the radar of people that have not been in the store. Facebook for all its flaws does let us target an audience through age range and interests along with concentrating an ad within so many miles of our store. We pay for Facebook advertising to promote our sales.
Every business has a limited resource pool to draw from for advertising. It would be so much easier if there were unlimited resources to draw from. Money spent on advertising needs to be money that brings in money.
Limited time. This is what I face the most. Not money issues but time issues. Lack of it. I have never understood stores where I walk in and the staff are playing games and no one is behind the counter. A lot of people think that is all a comic store's staff does is goof off. Or that comic stores have a lack of things to do thanks to shows such as the Big Bang Theory.
A handful of some of the projects that need to get done here.
Getting the large collection of comics that I bought a few months ago along with the comics in the back room completely alphabetized and organized. Tons of comics. My plan?
Taking all the comic boxes to my house and using the driveway to set up boxes of comics and start of course with a box for the A's and end with the Z's. I need a day when there is no chance of rain. I also plan on having people over and barbecuing. Have a big "Organizational Party" and give out comics.
Heck, of a plan, right? It has rained a lot here so one of these weekends hopefully it will get done.
Build a card binder for the most recent Magic the Gathering set.
Get ready for Magic's next pre-release July 5-7. The first one we will be able to ever have on a Friday, on July 5th. For past ones, the earliest pre-release a store could have was at midnight Saturday morning. Over the years, our midnight attendance dropped and our Saturday at noon increased. This upcoming pre-release worries me. If I remember correctly, the last pre-release Magic we had that was so close to July 4th had its attendance take a hit due to a lot of people traveling for 4th of July weekend. Why Wizards of the Coast (who makes Magic the Gathering) did not just simply have it a week later I do not understand. Sales would be so much better.
Rod Deals is coming on July 20th. Already working on it. It does take a lot of work. We will be posting on Facebook the various items we will have for Rod Deals along with everything else that goes into the day. It is a lot of work though it is worth it.
The back room needs to be organized. That is usually a Sunday project that sadly has not been done for quite a while and does not look like it will get done anytime soon in the future.
These are just some of the projects to do. That does not include the selling, the gaming, the cleaning, the various other work that has to be done.
Time management is very important. We used to have much more gaming and then we scaled back and focused more on selling and make far more money. Gaming takes up a lot of time and at times is not worth having for us. We have the ability to sell and do so using up much less time. The internet is a great selling tool.
Time spent on customers is a good thing though some will not appreciate it there will be those that do.
A store owner has to decide how they want to be perceived by customers. Various customers may leave with a completely different impression though what is the store's look? Goals? How do you want the customer to feel?
These all help a customer connect with a business. We are a small personal store. I have low fixed costs by having a small store. I have learned people buying from us through the internet have no idea or care how big we are. They just want what they bought. My employees are told to greet everyone that comes in and let them know if they need help to just tell us and we will help them.
Over the years we have done TV, newspaper, and radio advertising. For us using the same advertising venue for more than a month was not cost effective. Basically, if we advertised on radio for a month that audience was, for the most part, the same for that month. Meaning If we advertise for two months, we were still hitting that same base and no one knew was coming in. For instance, if I did not own a store and heard a comic store's advertisement on the radio, I would check it out. Having months' worth of advertising would not change that. I am not into baseball so hearing a baseball card store's advertisement is not going to make me want to go check it out no matter how many times I hear a radio ad for it. Though advertising an upcoming sale might get people's interest.
Focus at times can be lost. Is a store a comic store or a movie store? Meaning how much promoting does a store do of things that a store will make no money off of happen? Comic based movies are popular, especially Marvel Studios films. Though the films have little to no effect on comic sales. Instead of focusing on promoting comics many stores promote movies that will have no positive results for the store. Marvel Comics seems unable to tap into the millions of people who go see their movies. The Harry Potter movies grew readership for his books and increased the character's popularity. J.K. Rowling (the creator of Harry Potter) helped grow fan support through social media. She was very good at marketing Harry Potter and connecting with fans and promoting her books. Much better than Marvel is about promoting their books.
DC's Shazam here has actually grown in sales thanks to the Shazam movie. The movie was a lot like the comic. Captain Marvel had a movie just months ago and her comic is outsold by Valiant's Bloodshot. Which is not saying much because 90 per cent of comics that we order here outsell Captain Marvel. Aquaman sadly has seen no sales increase even after his movie back in December. The latest X-Men film has sent the same amount of people in looking for X-Men as X-Men Apocalypse did. None. Now that Fox studios are owned by Disney and Disney seems not to even know they own a publisher named Marvel that makes comics, I doubt this will change.
I learned that we have to always be trying for and getting new business. As I have written before even if we do everything right and everyone is happy with us, we will still lose customers. People move, people lose their income, people sadly pass away. Plus, it is a good idea to try to grow the customer base at all times.
I have also learned to experiment and trying new things is good. What I try may be deemed a failure though I still learn something and as I say "if it works we will do it again, if it doesn't we will not try again." Running a business means having egg on your face sometimes along with being a hero at times.
The best way of judging if a new marketing effort works is if sales increase. Did the cost of the marketing cost less than the increase made in sales? Are new long term customers made or is a few one and done customers gained?
Enjoyed this article? Share it!