Once again, Matthew Snyder braves the digital divide to bring us the best of what's selling on tablets and phones worldwide… Welcome to the ComiXology Bestseller list, your guide to see how well your favorite titles are selling digitally. Every week I'll post the ranking of every new title, plus a ranking of the best selling volumes & graphic novels. As always, I hope you find it interesting and informative.
Now THAT is how to stick a landing.
When War of the Realms first started, I asked everyone if they were feeling the same sense of excitement as previous Marvel events. The voters overwhelmingly voted Nay (74%) over Yay (26%). That may have been a bit of an overreaction for a title that debuted at No. 3, but Marvel events usually come with very high expectations.
Well WOTR has finally lived up to those expectations. The final issue has landed at No. 1, only the second Marvel title to win the crown since Fantastic Four #1 in August. But was it enough to beat DC in the Top 10 battle?
The last several months have followed a predictable pattern: DC easily wins Weeks 1, 2 & 4 every month, while Marvel barely squeaks by in Week 3. Can Marvel break the pattern? It'll be tough. Heroes in Crisis may have wrapped up, but the final issue of Batman: Damned released this week, not to mention the usual lineup lead by Action and Detective Comics. This will be close one. Let's look at the score:
Have some ale and lift the hammer, Marvel. You are worthy.
And the first sip of ale should go to Jason Aaron, who is this week's MVP with three titles in the Top 10: War of the Realms, Avengers and Thor. Now might be a good time to ask C.B. for a raise.
But as a comic fan, I must say love competitive weeks like this. DC and Marvel both brought their A-game, and the Top 10 came down to the wire. The industry is better when we have weeks like this, because competition fuels creativity.
#bringbackblade
#savesantaclaritadiet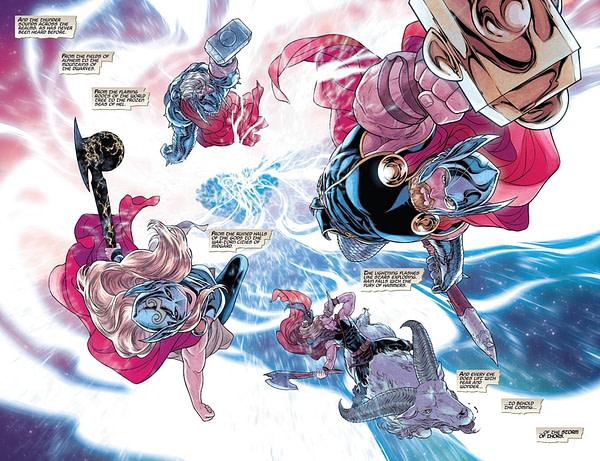 Top 25 Overall:
War of the Realms #6
Action Comics #1012
Batman: Damned #3
Avengers #20
Detective Comics #1006
Amazing Spider-Man #24
Thor #14
Fantastic Four #11
The Flash #73
Justice League Dark #12
Wonder Woman #73
Superman: Year One #1
Star Wars: Age of Rebellion- Darth Vader #1
Runaways #23
War of the Realms: Uncanny X-Men #3
Doctor Strange #15
Friendly Neighborhood Spider-Man #8
Age of X-Man: X-Tremists #5
Conan the Barbarian #7
Superior Spider-Man #8
Magnificent Mrs. Marvel #4
Mr. and Mrs. X #12
Deadly Class #39
The Terrifics #17
War of the Realms: New Agents of Atlas #4
New Issue Rankings:
War of the Realms #6
Action Comics #1012
Batman: Damned #3
Avengers #20
Detective Comics #1006
Amazing Spider-Man #24
Thor #14
Fantastic Four #11
The Flash #73
Justice League Dark #12
Wonder Woman #73
Star Wars: Age of Rebellion- Darth Vader #1
Runaways #23
War of the Realms: Uncanny X-Men #3
Doctor Strange #15
Friendly Neighborhood Spider-Man #8
Age of X-Man: X-Tremists #5
Conan the Barbarian #7
Superior Spider-Man #8
Magnificent Mrs. Marvel #4
Mr. and Mrs. X #12
Deadly Class #39
The Terrifics #17
War of the Realms: New Agents of Atlas #4
Star Wars: Galaxy's Edge #3
Life is Strange #6
Black Panther #13
Martian Manhunter #6
Batman Beyond #33
Books of Magic #9
Dial H for Hero #4
Ascender #3
War of the Realms: The Punisher #3
Major X #6
Thanos #3
Angel #2
Wolverine: Exit Wounds #1
Isola #8
Kick-Ass #15
The Silencer #-8
Spider-Man Annual #1
Spawn #298
Marvel Comics Presents #6
Stranger Things: SIX #2
The Weatherman #1
High Level #5
Head Lopper #2
Moon Girl and Devil Dinosaur #44
Heavy Metal #294
Marvel Rising #4
Thief of Thieves #43
Redneck #22
Fight Club 3 #6
The Crow: Hack/Slash #1
The Beauty #27
Spider-Man: Reptilian Rage #1
Atomic Robo and the Dawn of a New Era #5
Stone Star #4 (Comixology Original)
Bloodshot Rising Spirit #8
Dark Red #4
Punk Mambo #3
Valiant Universe Handbook 2019 Edition
Dick Tracy Forever #3
Bone Parish #10
Grimm Fairy Tales #29
Bad Luck Chuck #4
GLOW #3
Stitched: Terror #1
The Avant-Guards #6
Marilyn Manor #1
Avatar: Tsu'tey's Path #5
Goblin Slayer Side Story: Year One #25.5
Copernicus Jones: Robot Detective #9
Canto #1
Ghost Tree #3
Eve Stranger #2
Steel Cage #1
Riverdale: Season Three #4
DC Super Hero Girls #20 (99-cent digital first)
Killer Groove #2
Danger Doll Squad Presents: Amalgama Lives! #4
Horror Comics #1 (Digital delay)
Road of Bones #2
Black Space Vanguard #1
The Leaders of the Free World #1
Exciting Comics #2 (Digital delay)
Live Die Reload #1
Old Issue Rankings:
Superman: Year One #1
Batman #73
Justice League #26
Uncanny X-Men #20
Justice League Annual #1 (80% off)
Guardians of the Galaxy #6
Captain America #11
Justice League #21 (75% off)
Justice League #22 (75% off)
Miles Morales: Spider-Man #7
Justice League #19 (75% off)
Event Leviathan #1
Justice League #20 (75% off)
Justice League #18 (75% off)
Justice League #17 (75% off)
Best Selling Collections & Graphic Novels:
Amazing Spider-Man by Nick Spencer Vol. 2: Friends and Foes (67% off)
Amazing Spider-Man by Nick Spencer Vol. 1: Back to Basics (67% off)
All-Star Superman (DC Black Label Edition) (25% off)
Elseworlds: Superman Vol. 2 (16% off)
Superman (2018) Vol. 1: The Unity Saga: Phantom Earth (26% off)
Amazing Spider-Man Masterworks Vol. 20 (65% off)
Justice League: The World's Greatest Superheroes by Ales Ross & Paul Dini (70% off)
Immortal Hulk Vol. 3: Hulk in Hell
Justice League (2018) Vol. 1: The Totality
The Amazing Spider-Man (2015) Vol. 9: Worldwide (60% off)
Amazing Spider-Man Epic Collection: Kraven's Last Hunt (60% off)
Justice League: No Justice (54% off)
Die Vol. 1: Fantasy Heartbreaker (50% off)
Cosmic Ghost Rider: Baby Thanos Must Die
Spider-Man: Blue (64% off)
DC: The New Frontier (DC Black Label Edition) (83% off)
Carnage USA
Venom by Donny Cates Vol. 1: Rex
Immortal Hulk Vol. 2: The Green Door
Star Wars: Doctor Aphra Vol. 5: Worst Among Equals
Superman- Action Comics (2018) Vol. 1: Invisible Mafia (24% off)
Justice (75% off)
Tony Stark: Iron Man Vol. 2: Stark Realities
Amazing Spider-Man by J.M.S. Ultimate Collection Book One (60% off)
Amazing Spider-Man by J.M.S. Ultimate Collection Book Two (60% off)
Amazing Spider-Man by J.M.S. Ultimate Collection Book Four (60% off)
Amazing Spider-Man by J.M.S. Ultimate Collection Book Three (60% off)
Mr. and Mrs. X Vol. 1: Love and Marriage
Immortal Hulk Vol. 1: Or Is He Both?
Amazing Spider-Man by J.M.S. Ultimate Collection Book Five (60% off)
Ghostbusters: Crossing Over (68% off)
Peter Parker: The Spectacular Spider-Man Vol. 5: Spider-Geddon (67% off)
Elseworlds: Superman Vol. 1 (30% off)
Justice League/Aquaman: Drowned Earth (70% off)
Amazing Spider-Man Epic Collection: Return of the Sinister Six (60% off)
JLA: New World Order (DC Essential Edition) (62% off)
Uncanny X-Men (2018) Vol. 1: Cyclops and Wolverine
Spidey Vol. 2: After-School Special (64% off)
Justice League (2016) Vol. 7: Justice Lost (50% off)
Neil Gaiman's Likely Stories
Justice League Dark (2018) Vol. 1: The Last Age of Magic (54% off)
Amazing Spider-Man by Nick Spencer Vol. 3: Lifetime Achievement
Superman: Earth One Vol. 3 (33% off)
Marvel Knights Spider-Man Vol. 1: Down Among the Dead Men (57% off)
Thor (2018) Vol. 2: Road to War of the Realms
Jessica Jones: Purple Daughter
X-Men: Grand Design- Second Genesis
Jessica Jones: Blind Spot
Middlewest Vol. 1 (50% off)
Supergirl (2016) Vol. 1: The Killers of Krypton