Dynamite has sent us a writer's commentary by Amy Chu for Green Hornet #1. The issue has covers by Mike Choi and Carli Ihde, with interiors by German Erramouspe.
* * * * *
First, thank you all for the buzz and positivity for this series. It's hard for us creators to gauge exactly how well we're really doing, which is partly why I like going to conventions and signings. It puts me on the front lines where I get to hear positive and negative feedback from readers and retailers face to face. So I was pleasantly surprised last weekend in Seattle, when some store owners stopped by my table to Emerald City Comic Con to tell me the demand for Green Hornet on the pull list was the highest they've seen outside of Marvel or DC. Then a few days later on International Women's Day, I talked with a bunch of customers and signed 500 copies in the ginormous Midtown Comics Times Square store. Thanks to Gahl and Henry and everyone there for making me feel like a superstar!
I'll start the commentary with these glorious covers by Carlie Ihde and Mohan, Mike McKone, CP Wilson III, and Mike Choi. Bonus points if you recognized the iconic Bruce Lee pose on the Mike Choi cover! I first met Mike Choi on a panel at San Diego a few years ago, and am thrilled to have his art on one of my books for the first time. (A bit of trivia: His sister is the writer Mary H.K. Choi who worked on Deadpool and the same Vertigo Quarterly anthology I was in.) Please collect them all if you can, and I'll happily sign them!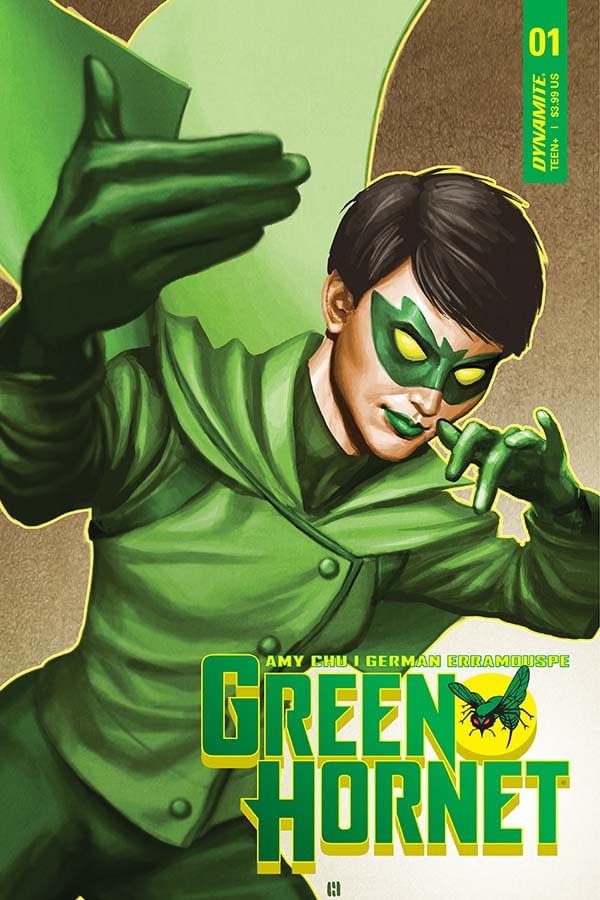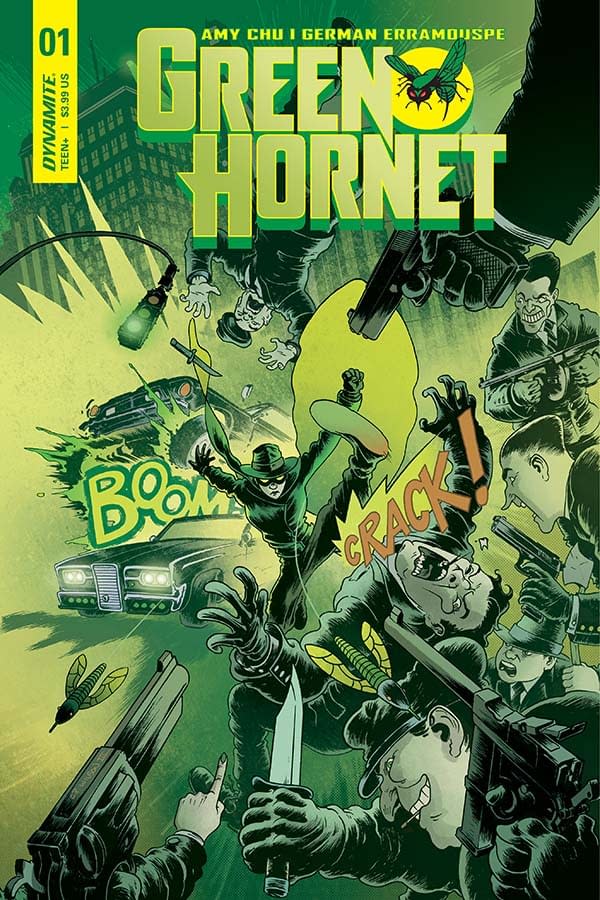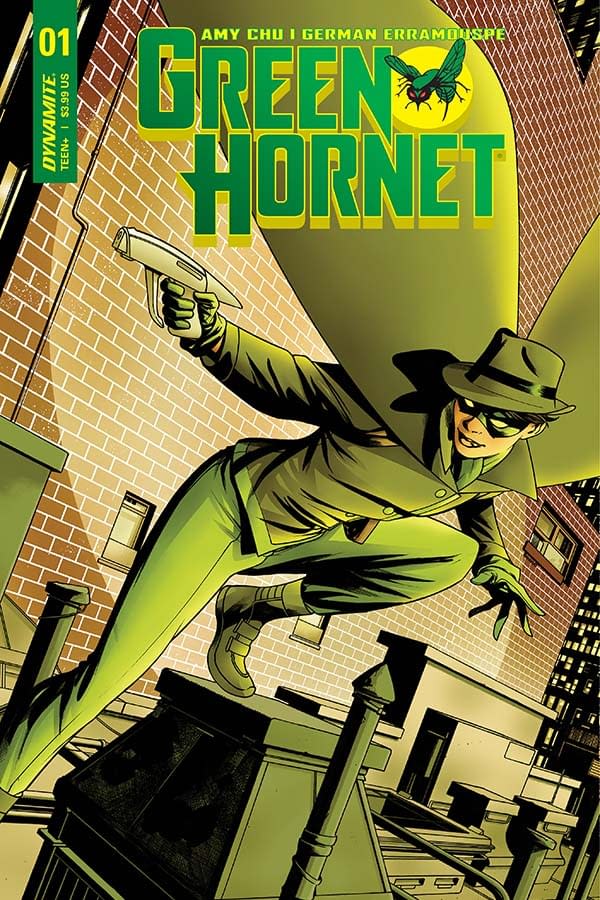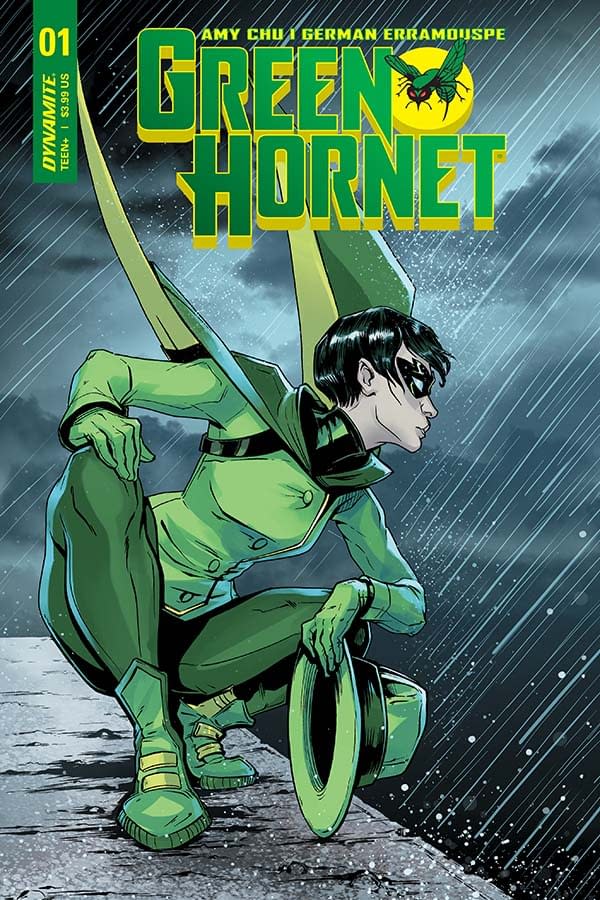 Now to introduce #TeamGreenHornet. German Erramouspe (@ger.erramouspe) hails from the beautiful city of Buenos Aires. You may have seen some of his work on Crossed (don't worry, this series is more family friendly). Colorist Brittany Pezzillo (@bpezz), a Kubert School graduate, brings the right balance of green and grit to the story. And we have veteran letterer Tom Napolitano (@tenapolitano) who you would have seen on Red Sonja on various issues. Editor Anthony Marques (@AnthonyMMarques), also a Kubert School graduate, is there to keep us on track. Follow them on Instagram and you might glimpse some teaser art for upcoming issues…
Page 1:
Establishing shot. The Hornet's Nest. Green Hornet has the problem of being older than Batman but less well known. So my job is to get everyone up to speed with this legacy character without boring the tried and true fans. So this page serves as a visual nutshell, the Hornet's history over the years all nicely displayed, old and new, side by side.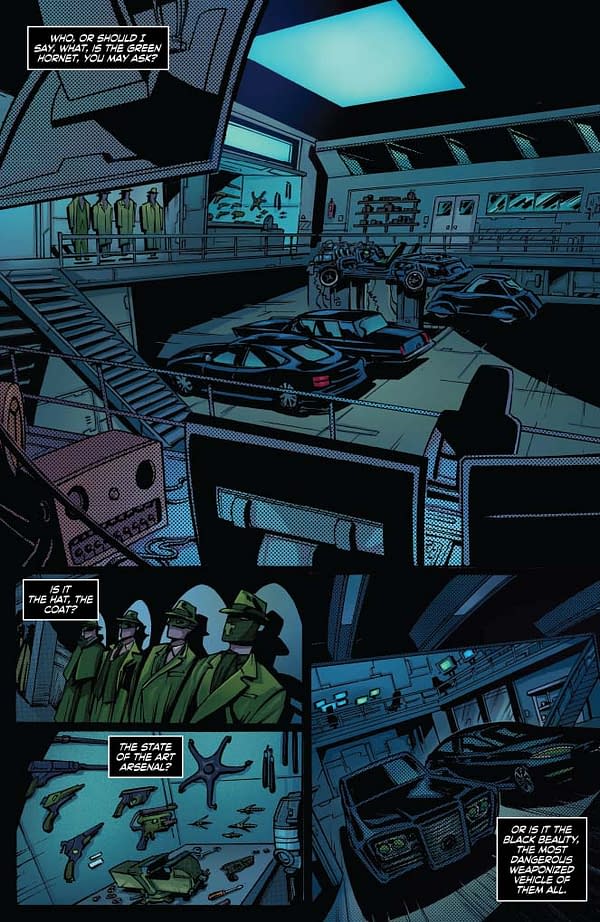 Page 2:
Continuing with the introduction. Now the second issue with this character I needed to address is the Green Hornet is essentially an undercover superhero. Publisher by day, legendary criminal at night, but secretly a hero fighting crime and corruption. You as the reader are in on the secret, along with the DA, but the public is not. This is what makes writing Green Hornet so tricky!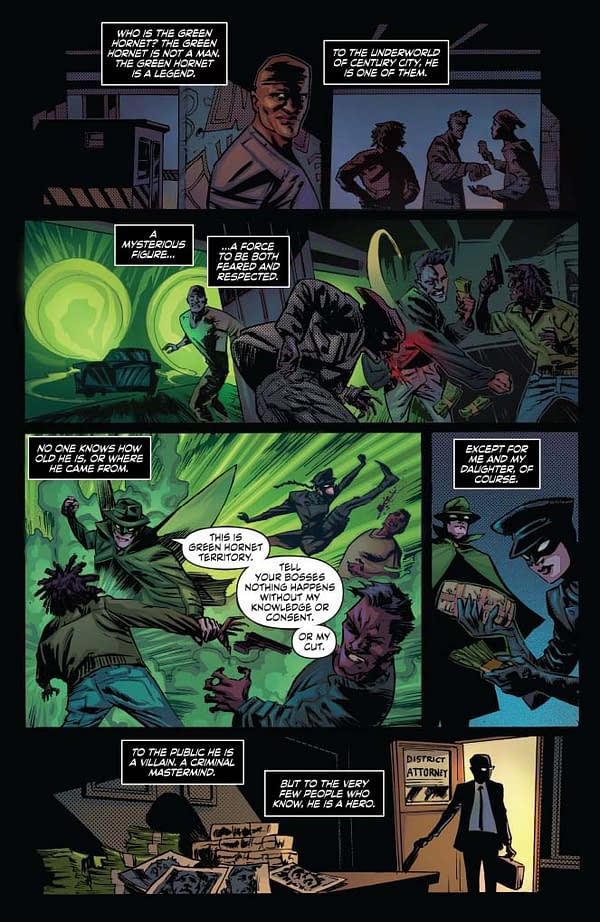 Page 3:
Here we see our narrator for the first time. Old Kato. Wise Kato. Kato in charge. This is a deliberate choice. Almost all of us know Kato (I hope!). He's a familiar voice and one that was always more than a sidekick to me.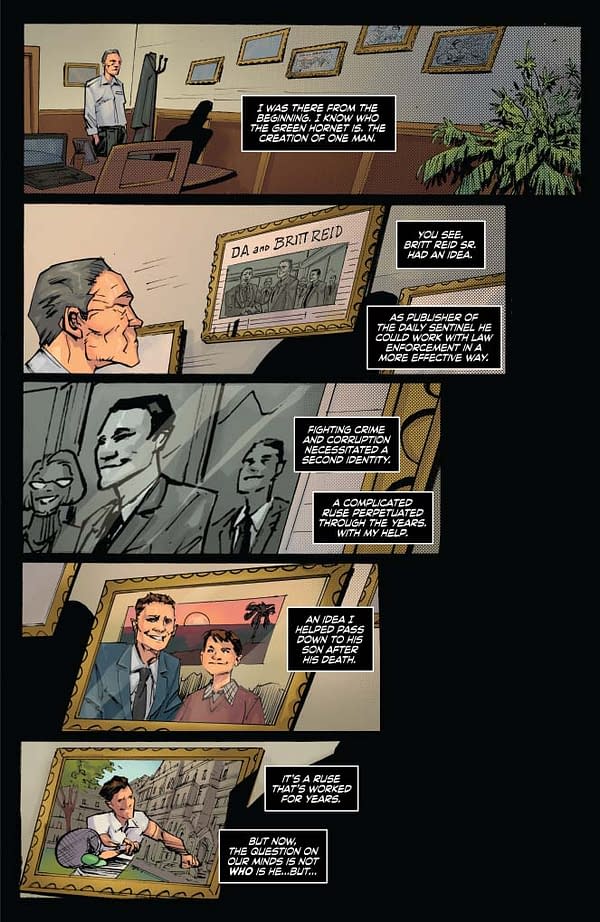 Page 4:
Here we get to the crux of the story — Britt Reid Jr. is missing! And reintroducing Mulan, Kato's daughter who is about to become very important in this storyline. Mulan is a creation of Kevin Smith who, if you didn't know, recently survived a massive heart attack. All the best wishes for your speedy recovery, Kevin!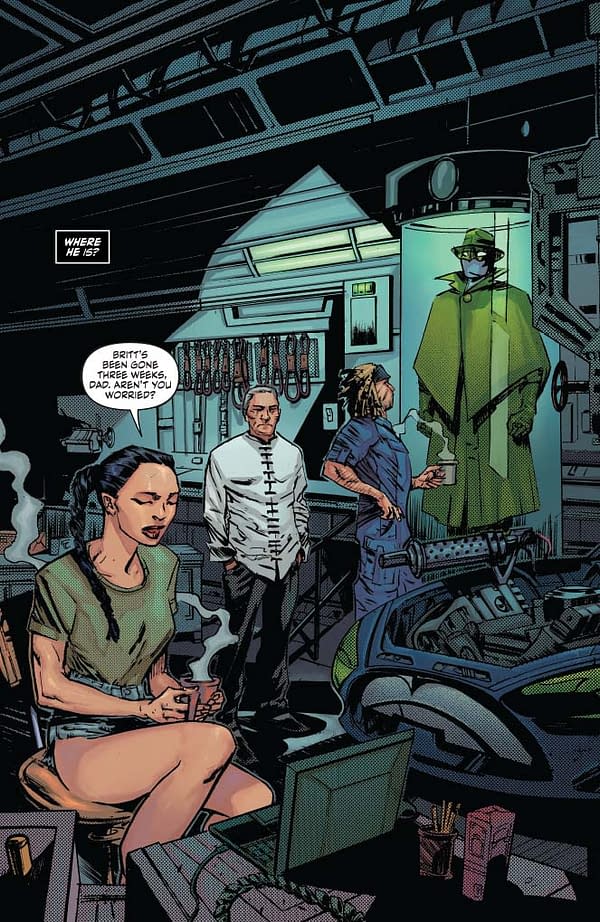 Page 5:
But now that Kato's running the show at the Daily Sentinel, he has a lot of other things on his mind too… and not just Britt Jr. And as you can see here, he's no longer the chauffeur but the chauffeured…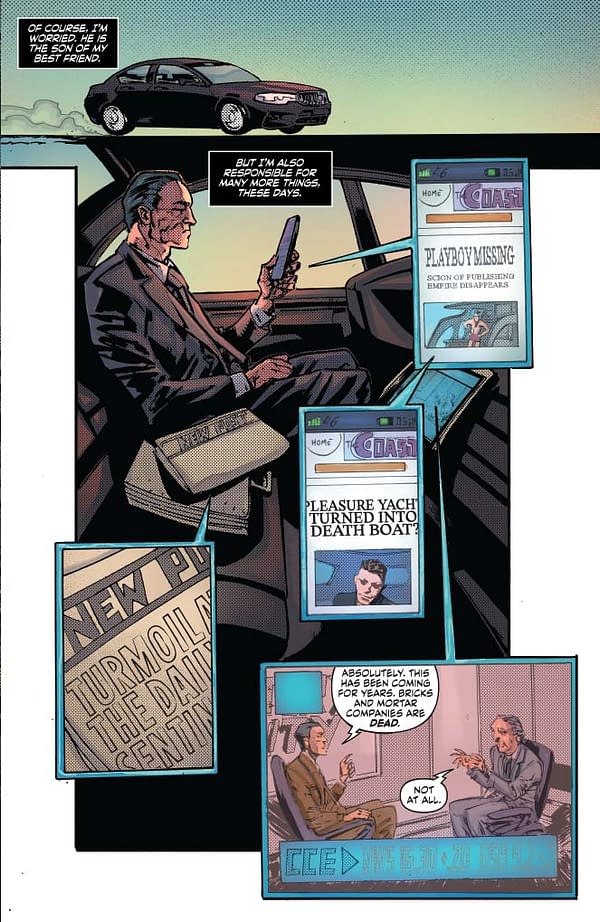 Page 6:
Welcome to the world of newspaper publishing, where the venerable Daily Sentinel is challenged by the new. Sound familiar? I love the retro feel of this page! A note on Kato's name here. Hayashi is a nod to the Asian American voice actor Raymond Hayashi that played the first Kato on the 1936 radio series. There is very little on him except a note on a blog that as a Japanese American he was likely sent to an internment camp during World War II. If anyone has information on him, I would love to know.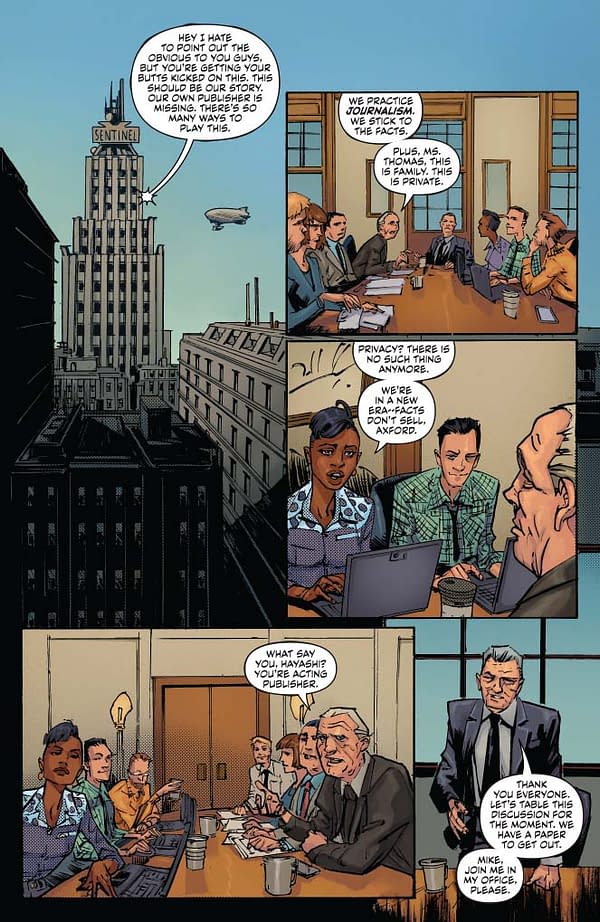 Page 7:
I have a soft spot in my heart for Mike Axford, the former cop and reporter who was played by Edward James Olmos in the movie. I love how German draws him here in the three-piece suit.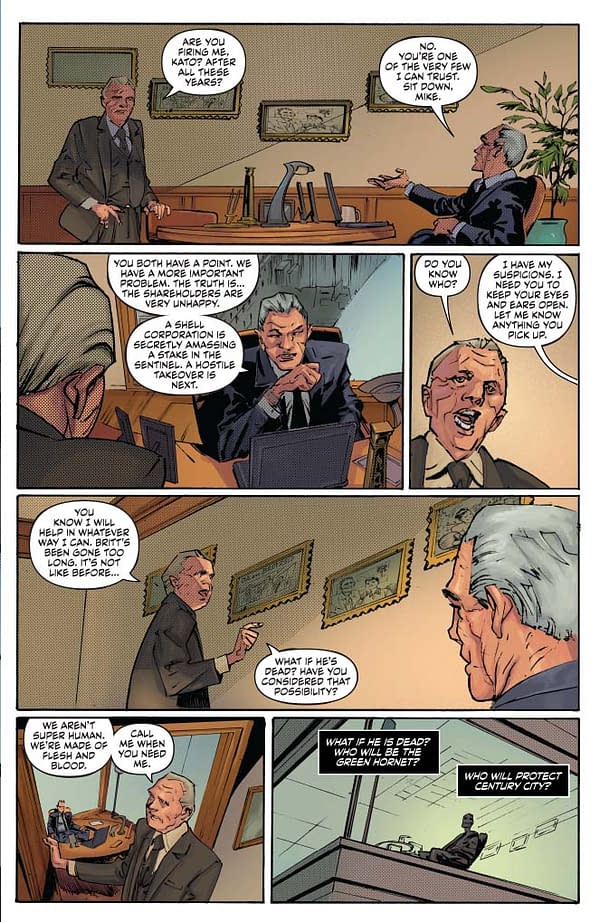 Page 8:
Uh oh, Kato is in trouble! Damn technology…
Page 9:
Our first real fight scene. Martial arts in comics is difficult to pull off well. My first experience was writing it into the DMC comic with their young heroine LAK6. Here in this story I'm trying to get away from the taekwondo style, and bring in more of the subtle and elegant moves that Bruce Lee was known for. I've been sending videos of wingchun, wushu, jeet kune do and tae kwon do to German. Isn't comics research fun?
Page 10:
Kato's attacker revealed! Okay, I think you know me by now, I couldn't resist — this whole scene is a reference, not exactly an homage, to the Pink Panther movies. If you've watched them, you'll understand the joke immediately…
Page 11:
Getting some solid father/daughter moments in. I'm not too worried about Mulan, but making Kato a relatable character is one of my challenges.
Page 12:
Looking at it now, I could have tried to condense this scene into one page, but then it seems a bit rushed. Hmmm…
Page 13:
We're back at the Sentinel. I figured Kato has a pretty dry sense of humor. I put the reading glasses into the script, by the way. I think my 20-year-old self would not have noticed this detail…
Page 14:
Reintroducing cousin Clutch, another Kevin Smith character. Some of you may be familiar with him and I'm going to confess, at first, I didn't know what to do with this character, and asked to kill him off. I was turned down, fortunately. The more I read the more I liked him. You'll be seeing more of him alive later…
Page 15:
Just another father/daughter night out on the town… My dad doesn't drive a Tesla, but his night vision does suck… (also pretty sure he doesn't read Bleeding Cool and comic book forums…).
Page 16:
Whelp, that is definitely NOT Britt Jr.!
Page 17:
What's happening to Century City? This was a fun page. The only real direction I gave to German was to include the little girl Shayla below. Why? A very good reason — it was a cameo that raised a nice chunk of money for Washington DC public schools by the GrantEd Foundation. See? Comics can do good!
Page 18:
Training — if I could do this over, I would have asked German to add the classic Ip Man wooden dummy scene. Oh well, maybe we can get that into Issue #3… Go ahead and check it out, a little video of Ip Chun, Bruce Lee's mentor here working out.
Page 19:
Does it look like Kato is about to put on the hat? I hope so! My original intent was to appear as if Kato was contemplating taking on the Hornet role, and the next page would be this huge reveal, but then of course all the covers with Mulan were released. Still, I hope you appreciate my effort here…
Page 20:
Introducing the new Green Hornet! Now pretend you never saw the cover or read all the advance previews, and appreciate German's nice splash reveal here!
It's no easy thing to gender swap a beloved hero these days… and it's a real departure from what I'm doing with Red Sonja, Dejah Thoris and Catalyst Prime Summit. I had to think a lot of things through, so I hope you dig everything so far. Come find me at Awesome Con in Washington DC later this month, or Chicago C2E2 next month, or follow me on twitter at @amychu or on instagram @amy_chu and maybe I'll give you a glimpse of things to come!
Enjoyed this article? Share it!