By Shawn Perry
Sup Bleeders!
San Diego Comic-Con might be over but there is still plenty of action left on the con circuit this summer so once you have had your fill catching up on all the news, such as the awesome new trailers for Suicide Squad as well as Batman V. Superman: Dawn of Justice, you can start counting the days until Connecticut Comiconn takes place at its new home in the Mohegan Sun Casino in Uncasville, CT.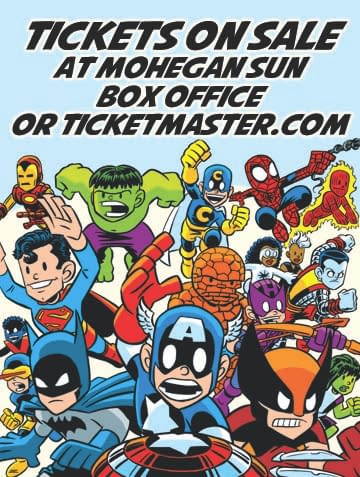 As a New England-based comic book geek I look forward to great events like Boston Comic Con, Hartford Comic-Con, Rhode Island Comic Con and ConnectiConn all year long with my personal favorite among them being Comiconn. The event has experienced massive growth since its humble beginnings to become one of the areas most popular conventions, thanks in no small part to the unbridled passion of producer and the self-proclaimed 'Johnny Appleseed' of comic books in Connecticut, who spreads the word about comic books all over the North East: Mitch Hallock.
As he explains, what makes Comiconn stand out amongst much bigger cons is its focus on delivering the best possible fan experience value for each guest:
Bigger is not always better. It's like this: for the same price of about $60 you can get a Saturday day ticket to one of the big city shows or you can get a three day pass to this con at the Mohegan Sun. The difference between the super-sized shows and this one is that we're not that big and we don't want to be… I want to keep it intimate give the fans some great stories and not 'I was stepped on by some sweaty dude while waiting in line for six hours and he smelled like cheese.
Last year's edition set a new attendance record for the event drawing over 13,000 people to an Minor League Hockey rink in Bridgeport whereas this year I would not be at all surprised if it once again doubles attendance in it's much-larger new home at the Mohegan Sun Convention Center. Once more, the event recently received an official commendation from Connecticut State Governor Dannel P. Malloy who said:
Whereas, the State of Connecticut maintains a long history of significant contributions to the comic book industry, dating back almost to the 19th century birth of comic art [with] many historically significant printers and publishers [having] called Connecticut their home, including Waterbury's Eastern Color Press, which printed Funnies on Parade and Famous Funnies, considered to be the first true American comic book ever published; and whereas, from August 14 to 16 the Mohegan Sun Convention Center will host Connecticut Comiconn as it celebrates its sixth successful year of growth as Connecticut's hometown comic book convention I do hereby convey honor and recognition upon Connecticut Comiconn in the State of Connecticut.
Hear-hear, now that's my kind of Governor! Success has not gone to Hallock's head who was kind enough to take time out of his busy schedule to talk to me about what fans can expect next month at Comiconn.
Shawn Perry: So what can you tell me about Connecticut Comiconn next month?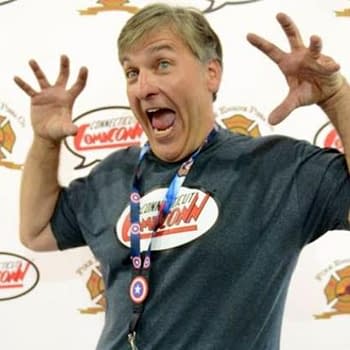 Mitch Hallock: We are going to have an all-new con this year and it's going to be bigger and better than ever! It's going to test the stamina of fans…this whole thing is going to be like "72 hours of non-stop action adventure" and the comic con is just a small part of it. It's the Comic-Con that never sleeps and will be the first 24-hour comic con as the Mohegan Sun never closes — but fair warning…if you find yourself still excited four or more hours after comic con is over then call your doctor immediately. How bout 'dem Apples!
SP: Giggity, so what makes this new venue different from previous years?
MH: Indeed. What I love about the Mohegan Sun is that it is, in essence, a living comic book. Where else can you play roulette and then take a seat in the cockpit of the Millennium Falcon? We will have an exhibitor who has created a replica of the cockpit of "The fastest hunk of junk" from a galaxy far, far away! You have colors, sounds and lights going on and off 24/7and that's just in the slot area. We have a cabaret theater featuring local comedians in a troop called "Comedians of the Unknown", as well as the return of the Bat-Pack Lounge Singers.
You have all sorts of things happening outside of the con as well; it's Elvis Weekend so amongst the craziness of Batman, Superman and all this stuff at the con you are going to have the king of Rock n' Roll back from the dead – not as zombie – but impersonators doing free concerts in the Wolf Den theater. I think this con is going to feel like the most surreal dream anyone has ever had…it is literally going to be like a comic book come to life, more so that any other comic-con I have been to. I was just marveling at the décor and design of the Mohegan Sun the other day, from elaborate art made of glass, to a massive mural depicting awe inspiring and legendary figures from the Mohegan's culture. Fans will be impressed by what they see there if this is their first time visiting the area.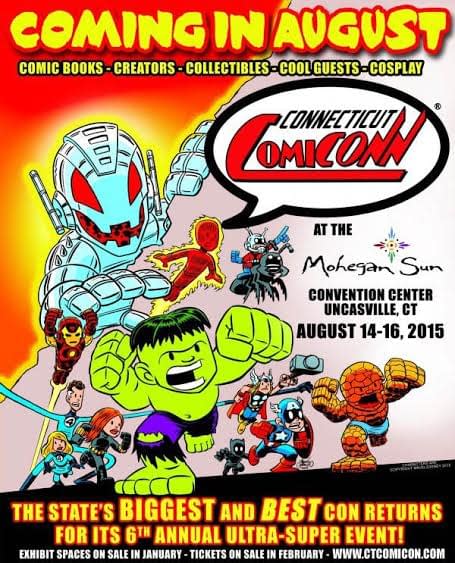 SP: The event has gotten bigger and bigger every year…what do you think it is about Connecticut area that makes it such a great place to hold this event?
MH: It's a terrific area to grow up and to be a fan of comics many of the writers and artists made their homes here over the years. In fact, the first American comic book was created in Waterbury in 1934 by Maxwell Gaines whose son, Bill, would grow up to make MAD Magazine so we have a lot of history. Writer Paul Kupperberg has been educating folks on the history the State has played in the comic industry with his new project Charlton-Neo, a revitalization of Charlton comics which was based in Derby. There is even a documentary in the works about the legendary comic company whose characters went on to inspire the groundbreaking graphic novel, "Watchmen". Paul's efforts just received an official proclamation about the State being the birthplace of comic books from the Governor of Connecticut! The proclamation talks about Connecticut's rich comic book history and mentions the event celebrating it all this August at Mohegan Sun.
I guess you could say the comic book as we know it was born in Connecticut and this whole 'geek chic' has made it bigger than ever. It's kind of weird how you go around now and everyone is wearing superhero shirts and you start to wonder 'where did all these fans come from…were they always there, what's happening?' It's kind of like when the Giants win the Super Bowl and all of a sudden everybody has Giants shirts.' No one wants to be a naysayer but its part of the nature of a fan to be skeptical…but one of the things I love about the comic book community is we don't pick on each other we are family. Even if I am a Marvel fan deep down, I still love DC Comics, and Image, and IDW, and Dynamite, and Bongo and on and on. That is the whole essence of a super hero fighting for the common good fighting and the righteous path and Connecticut and the con is the promise land!
SP: Cool. Hey by the way, I know that Mohegan Sun has a big concert venue so are there any concerts going on during Comiconn?
MH: The Mohegan Sun will have Motley Crue and Alice Cooper performing on on Sunday Night which is great because Tommy Lee and Cooper are both big fans of the comic book industry, I mean, Cooper is kind of like a comic book character come to life and has been involved in a number of projects over the years like the legendary Marvel Premiere comic from back in '79 to the upcoming mini-series Alice Cooper vs. Chaos from Dynamite Publishing by Tim Seeley and Jim Terry.

SP: The con sounds like a great way to 'Kickstart My Heart' and further the action on Sunday Night! It will be great to see Nikki Syxx since he wrote an amazing book using old diary entries from the band's heyday in the late 1980's called The Heroin Diaries that I think would fit in well amidst the latest offerings from Image…any other concerts?
MH: Funny you should ask, we also have Band From TV performing a free show on Friday night with Greg Grunberg (Heroes), Jesse Spencer (Chicago Fire, House), Bob Guiney (The Bachelor), Adrian Pasdar (Heroes, Agents of SHIELD), Scott Grimes (American Dad, ER), James Denton (The Good Witch) and Eddie Matos (Finding Carter). We also have an great line-up of comic book writers and artists, featuring; Roy Thomas (Creator of Ultron, the Vision and Carol Danvers/Ms. Marvel) Mike Zeck (Secret War), Dan Parent (Archie), Jerry Ordway (Superman), Ethan Van Sciver (Green Lantern) Greg Pak (World War Hulk) Tim Seely (Revival, Grayson), Mike Carlin (Superman) and Steve McNiven (The Death of Wolverine, Civil War).
From the world of television and movies, there is actor John Wesley Ship, star of the original Flash and now on the current hit remake, Ke Huy Quan who was Short Round in "Indiana Jones and the Temple of Doom and Data in "Goonies" making his 3rd ever con appearance, plus there are rumors of "Goonies 2" so we can find out what's going on, and voiceover actor Kevin Conroy (Batman: Arkham Knight, Batman: TAS) who has been the voice of Batman on television, films and video games since 1992.
SP: Sounds awesome Mitch, anything else you want to add?
MH: This year's con is going to be terrific – it's more like a rock and roll concert – once it gets up and rockin' it's never going to stop.
Nuff' Said, Bleeders.
Shawn Perry is a proud geek striving to be here now. He currently resides in East Hartford, Connecticut. Tweet him @thesperry and email him at Shawn.Perry88@gmail.com.
Enjoyed this article? Share it!