Thanks, Continuity Bot! Next Week's Superior Spider-Man #2
Next week in the ongoing saga of Spider-people, the Superior Spider-Man — who is actually Doctor Octopus, in case you didn't know (it's hard to keep track of all the Spider-people) — battles Darseid… or is it Terrax? We barely glance at these things. In any case, Terrax is totally wrecking San Francisco, and the best hero around to stop him is freaking Doctor Octopus?!
Well, this isn't a new phenomenon for shared superhero universes like Marvel's. With so many heroes operating in the United States, it's a wonder they don't outnumber the villains at any battle by hundreds. But Marvel has a classic way of dealing with this sort of thing, by simply noting in a throwaway panel that the Fantastic Four or the Avengers or the X-Men can't respond to a particular threat because they're… uh… busy. It's a little thing, but it's part of what makes the Marvel Universe feel like a living thing.
Luckily, the creative team of Superior Spider-Man has come up with a way to automate this important but menial task. Meet: continuity bot!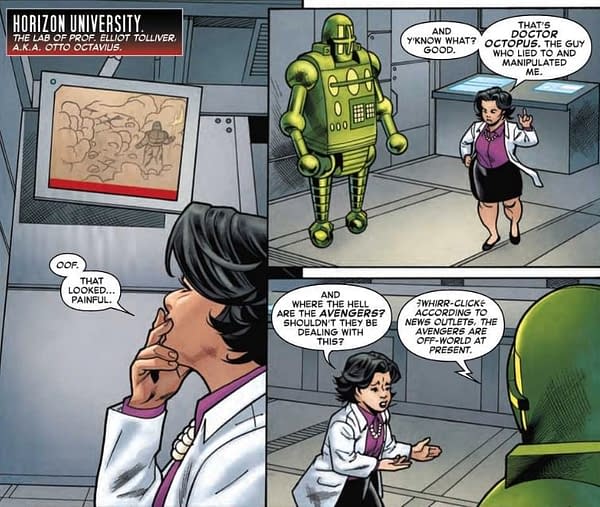 Thanks, continuity bot! That was really helpful.
Superior Spider-Man #2 hits stores next Wednesday, when the Avengers are busy fighting space-Vampires or something.
Superior Spider-Man #2
(W) Christos Gage (A) Mike Hawthorne (CA) Mike McKone
TERRAX HAS LANDED IN SAN FRANCISCO!
• This cosmic-level foe outpowers Otto Octavius, the Superior Spider-Man, by a factor of ten.
• Terrax may have no problem defeating a Spider-level hero, but he's never faced a hero who uses Otto's SUPERIOR tactics.
Rated T
In Shops: Jan 23, 2019
SRP: $3.99