Courtney Ross was a character created by Chris Claremont, Herbe Trimpe and Fred Kida for Captain Britain Weekly #3 back in 1976 as a love interest for Brian Braddock, Captain Britain.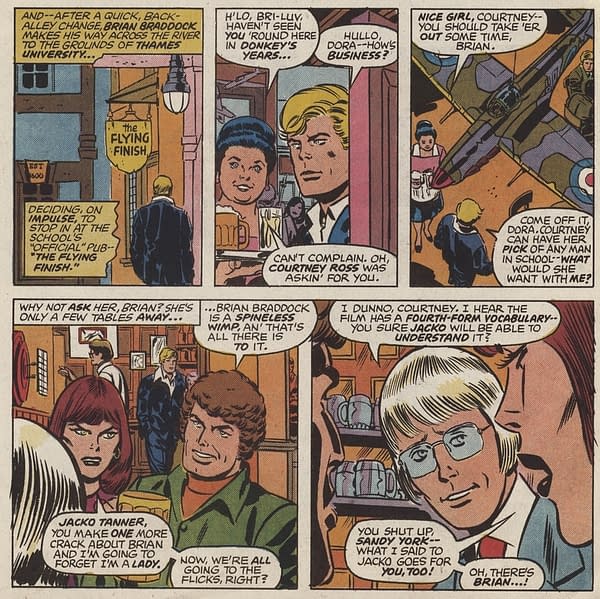 A well to do young woman, she was attending the fictitious Thames University when she met and started to date Brian Braddock, not knowing his secret identity, but she soon found out. But when Captain Britain was rebooted by Dave Thorpe, Alan Davis and Alan Moore, Courtney Ross was dropped when Braddock met a parallel version of her, the Omniversal Majestrix-ruling Saturnyne, and an evil usurper and another parallel dimensional duplicate, Sat-Yr-9.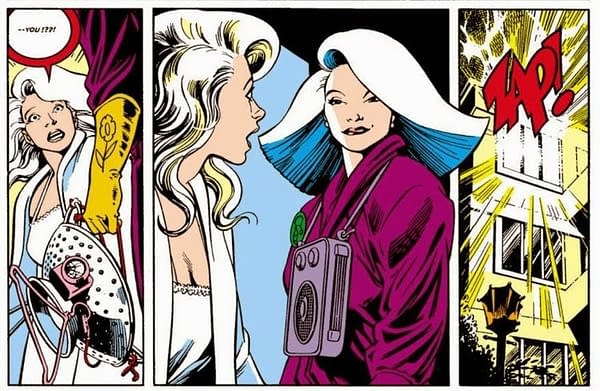 Chris Claremont revived the character for Excalibur, platinum blonde-haired now, but had Sat-Yr-9 kill Courtney Ross, now a banker, and take her place, and engage with Kitty Pryde on what some considered a rather intimate and queer-coded level.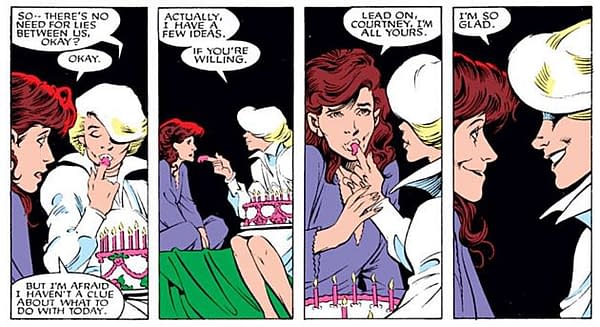 She manipulated Jamie Braddock, knowing about his reality-warping abilities before anyone else and later joined the Hellfire Club as White Queen.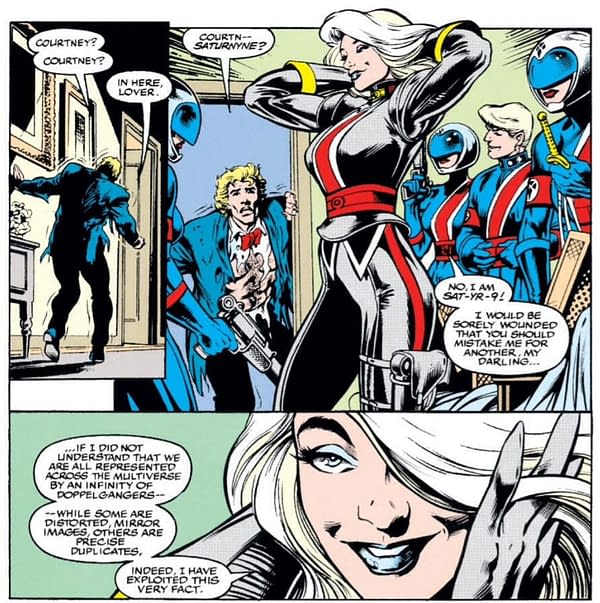 During the House Of M crossover in Uncanny X-Men and New Excalibur, Courtney Ross appeared but was accused of being Sat-Yr-9. But a lack of identifying tattoo, identified her as the real Courtney, possibly resurrected by the House Of M event, though she later sacrificed herself to save Captain Britain from an attack by the Omega Sentinel. So why mention her now? Well, the new Dawn Of X series Excalibur has already made Besty Braddock the new Captain Britain, just as she was in those old days, even though Britain hasn't quite noticed yet.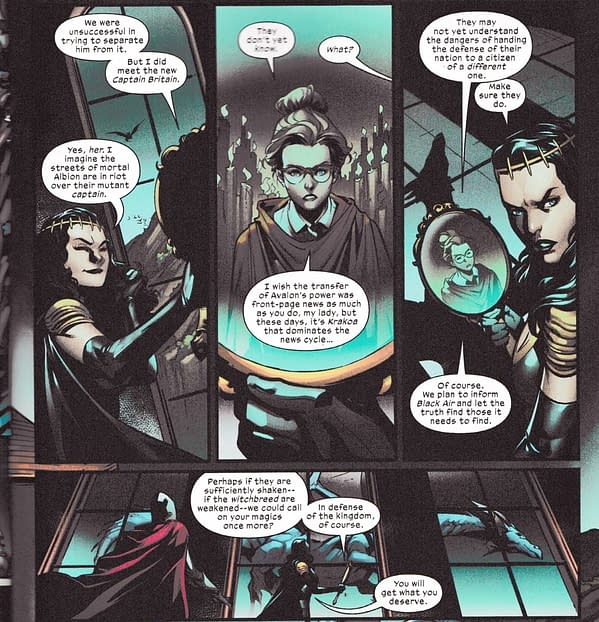 …and we also have had the return of Jamie Braddock. And in today's Excalibur text pages, we get a message from the familiar MI-13 and Black Air secret societies of Britain, naming people to be on the lookout for.
Everyone has been seen in the Dawn Of X books except for one. Now, Courtney Ross wasn't a mutant and so can't be revived like the other mutants are. But then why mention her at all?
Could there be another return on the cards?
Excalibur #3 is published by Marvel Comics today in all good comic shops. I bought mine from Piranha Comics in Kingston-Upon-Thames. Piranha Comics is a small south London comic store chain with a small south-east store in Kingston-Upon Thames's market centre, which runs Magic The Gathering nights on Fridays, and a larger south-west store in Bromley, which also runs Magic nights and has an extensive back issue collection and an online store. If you are in the neighbourhood, check them out.
EXCALIBUR #3 DX
(W) Tini Howard (A) Marcus To (CA) Mahmud Asrar
THE GREEN EARTH TREMBLES!
THE HARD TRUTH OF THE CAPTAINS BRITAIN!
Captain Britain must face the truth about her brother and choose her path forward as MI-13 and the agents of the crown become aware of her ascension. As the lighthouse grows, Apocalypse and Rictor must master the earth beneath their feet. Rated T+In Shops: Dec 04, 2019 SRP: $3.99
Enjoyed this article? Share it!