Creepy Back Issues, Conan Novels, and More Great 1969 Comic Ads from Vampirella #1 Replica Edition
Over the weekend, we previewed a few of the classic comic book ads in Marvel's facsimile edition reprint of Giant-Size X-Men #1, but that's not the only classic comic getting reprinted this week with all of the great comic book ads included just as they originally appeared. Coinciding with the launch of the highly anticipated Vampirella #1 by Christopher Priest and Ergün Gündüz, Dynamite is releasing a Replica Edition of the original Vampirella #1 from 1969.
Even better, Dynamite let Bleeding Cool take a look at all of the classic comic book ads appearing in that issue, and we've selected a few choice ones to show you here… though you'll have to pick up the comic on Wednesday if you want to see them all.
First up, a rare set of hardcover Prince Valiant adventure books, each selling for just $3.95, though you can (could) get a seventh book for free if you paid for six of them. Check it out.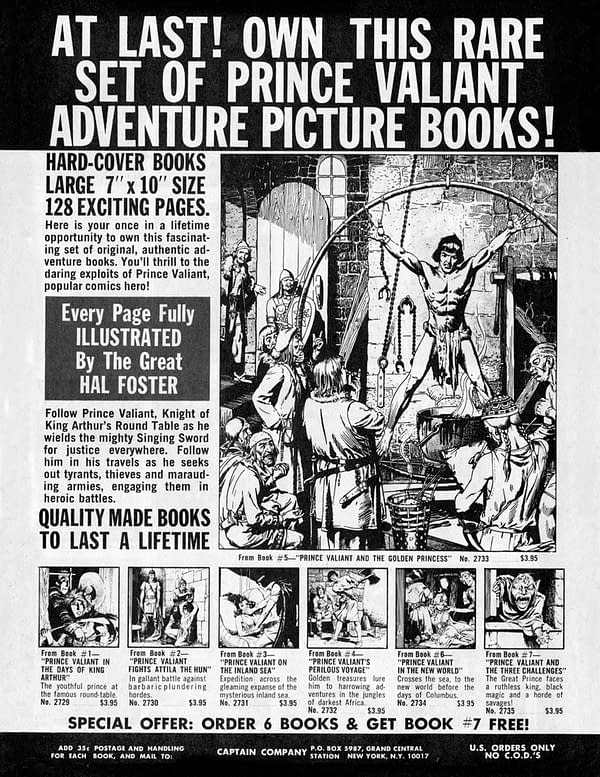 Next up, a collection of back issues of Warren Publishing's Creepy horror comics magazine, skirting the auspices of the Comics Code Authority by being distributed to newsstands in black and white magazine format. The first issue cost a heft $2.50, though subsequent issues could be had for a dollar or less. And if you wanted to stay caught up, you could also send three dollars for an ongoing subscription.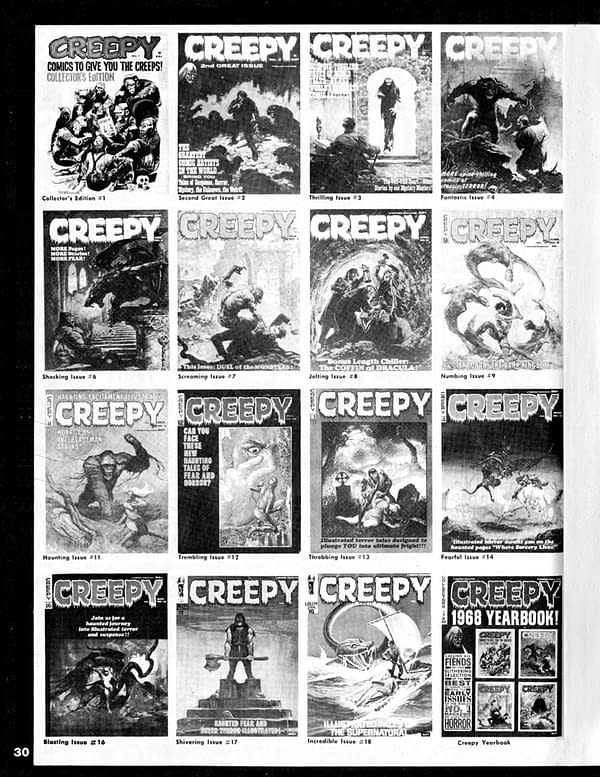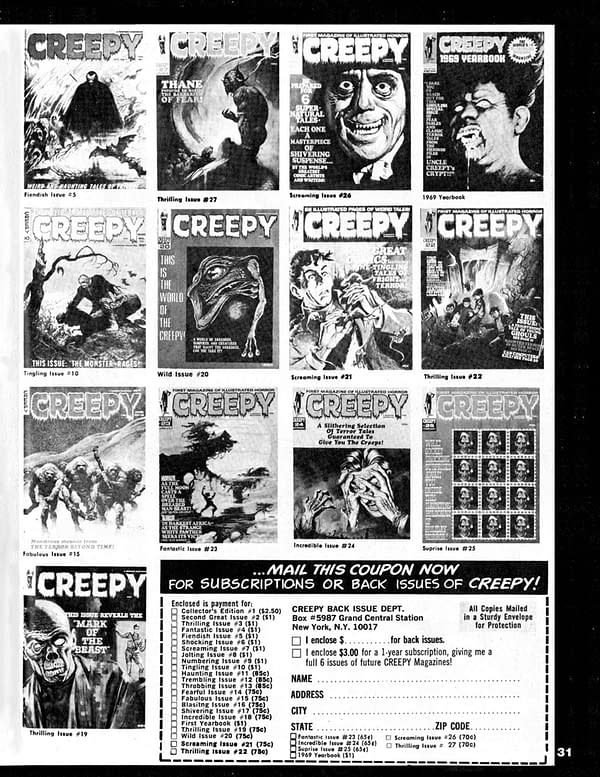 Next, it's a half-page ad for Conan novels, Conan the Adventurer, selling for 75 cents a piece. And the other half page features horror stickers and a fully-functional model guillotine. Execute your action figures for just 95 cents? Yes please!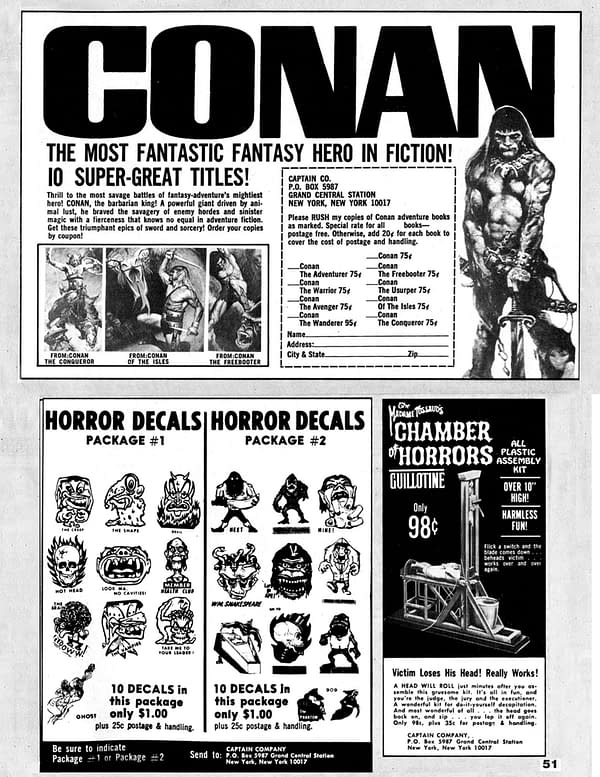 And for the grand finale, it's an entire page of mini ads for various mostly-horror-themed novelty items. Unfortunately, the live monkey is sold out, but you could get a monster hand, a human skeleton, or a mad doctor hypodermic needle for cheap. Of course, you have to watch out for the 10 cent postage – that's how they get you.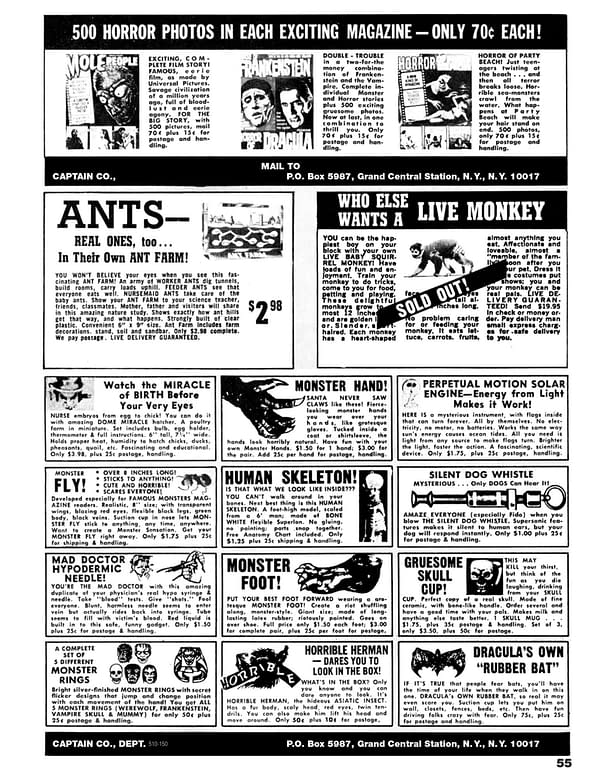 Those are just some of the classic ads featured in this reprint of Vampirella #1. Oh, and there's the actual comic as well. We hear that series might have a future ahead of it.
Vampirella #1 1969 Replica Edition
writer: Forrest J. Ackerman, Don Glut, Nicola Cuti
artists: Frank Frazetta, Tom Sutton, Billy Graham, Reed Crandall, Neal Adams, Mike Royer, Tony Tallarico, Ernie Colon
cover: Frank Frazetta
FC | 66 pages | Horror | $6.99 | Teen +
This special reprint includes every story and even advertisements exactly as they looked half a century ago! An essential part of a Vampirella collection, and far cheaper than an original!
Warren's sharp-eyed editors assembled the best talents across the world to write and draw timeless stories. This first issue features a diverse range of masters including Neal Adams (Batman, Green Lantern), Reed Crandall (Blackhawk, EC Comics), longtime Jack Kirby inker Mike Royer and other greats Tom Sutton, Ernie Colon & Tony Tallarico. All under an unforgettable cover by Frank Frazetta.
Check out the Vampirella Archive HC series for more Warren Era Vampirella!