If you need someone to write your tie-in book…who you gonna call? Cullen Bunn!
Sorry, we're in a very Ghostbusters mood following that news about the new sequel. Not because we particularly care about the movie, but because we're pretty sure it means they'll be making more Ecto-Cooler, and to be honest, our stockpile is not only getting low, but it doesn't quite taste right when it's been expired for two years.
Anyway, what were we talking about again? Oh yeah, Venom. So Marvel is doing their biggest super-mega-crossover ever, at least if we're to believe their claims that War of the Realms will be of "unparalleled scale," and that means we can expect many ongoing titles to be sucked into the tie-in vortex. And apparently, that means it's time for regular Venom creative team Donny Cates and Ryan Stegman to head for the hills until all of this blows over, as they'll be handing over the reins of the Venom ongoing to Cullen Bunn and Iban Coello for the duration of the tie-in.
Marvel media partner Newsarama had the honor of revealing the solicitation for April's Venom #13, which promises to be better than a Watchmen tie-in to War of the Realms. Check out the solicit below:
VENOM #13
CULLEN BUNN (W) • IBAN COELLO (A)
Cover by RYAN STEGMAN
ASGARDIAN VARIANT COVER BY INHYUK LEE
WAR OF THE REALMS TIE-IN!
• The Marvel Comics event of the year makes landfall in the world of the wicked web-slinger as Venom gets swept up in Malekith's campaign to take over the Ten Realms!
• But Malekith has designs for the sinister symbiote…and they may prove fatal!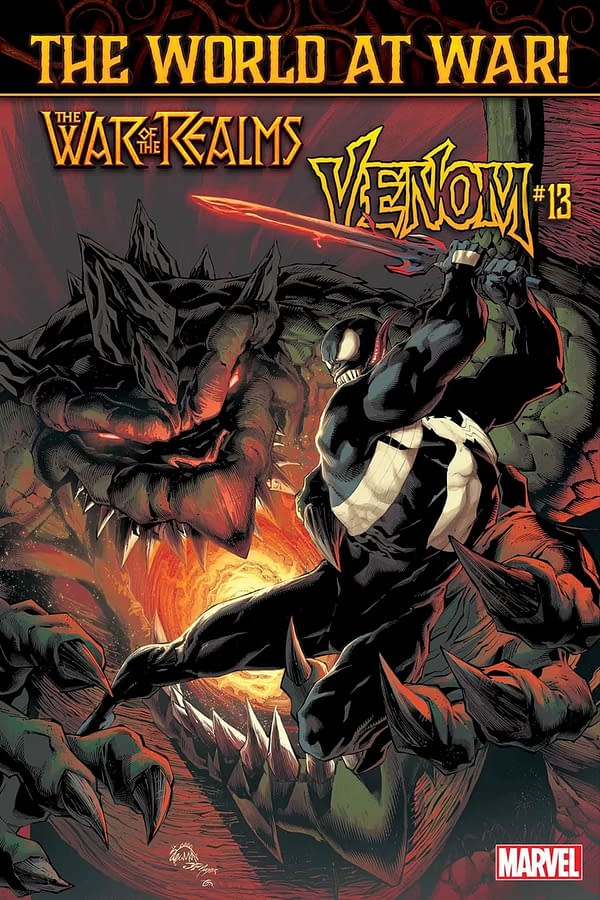 Enjoyed this article? Share it!