Cyclops and Wolverine are the Last X-Men in Uncanny X-Men #12
Uncanny X-Men #12, from the newly announced Uncanny X-Men single creative team of Matthew Rosenberg and Salvador Larroca, will feature the best and the worst of the X-Men, it seems. Marvel has released the cover for the book, featuring Cyclops (the best X-Man) and Wolverine (the worst X-Man) on the cover, and declaring these two to be the "last" X-Men, perhaps lending credence to the theory that the rest of the X-Men will be off in an alternate Age of X-Man universe for the duration of that event.
Cyclops' long-rumored return was confirmed earlier this morning when Marvel sent out the cover to Uncanny X-Men #11 featuring the fan-favorite mutant leader, but the cover's imagery hinted that the rest of the X-Men might be gone… somewhere. With Bleeding Cool breaking the news (pip pip) that six X-books would launch in February, with titles reminiscent of the renamed X-Books from the original Age of Apocalypse event, all signs seem to be pointing to the Age of X-Man taking the rest of the X-Men off into their own alternate-universe adventure, leaving Cyclops and the recently-returned Wolverine to team up.
As if we all weren't already jealous enough of Matthew Rosenberg getting to be the sole writer of Uncanny X-Men, now we have to begrudgingly admit that, yeah, Wolverine is definitely the worst, but his team-ups with Cyclops tend to be pretty goddamn cool. Don't make us like Wolverine again, Rosenberg! We'll never forgive you!
It's a great time to be an X-Men fan, folks.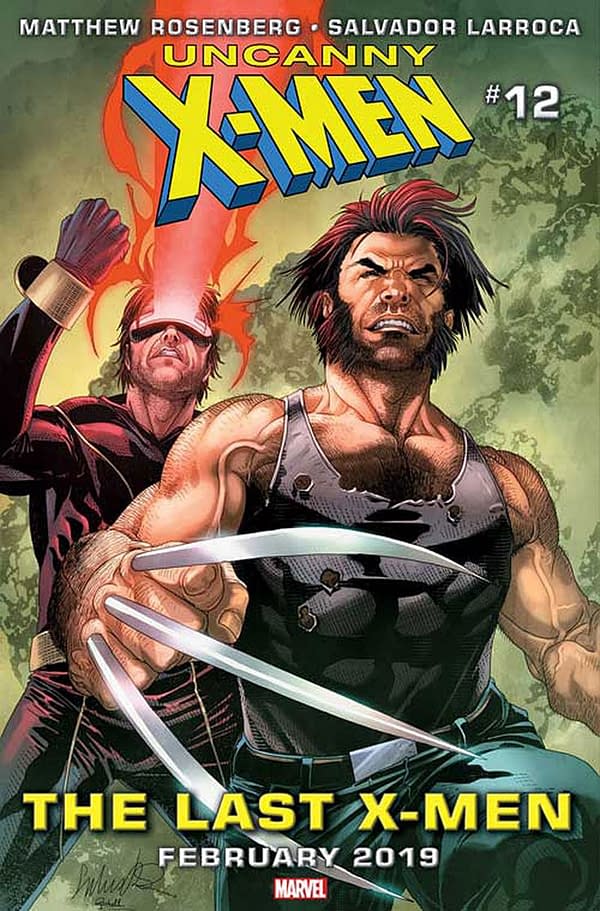 Written by MATTHEW ROSENBERG
Art and Cover by SALVADOR LARROCA
Coming February 2019

"This is the fight to save mutantkind, the fight to restore their legacy, and this is the fight for their lives. This is forever." – Matthew Rosenberg