Cyclops, Wolverine and Jean Grey – Marvel Comics' First Throuple?
Yesterday, looking at the new X-Men #1 out this week by Jonathan Hickman and Leinil Francis Yu, we noted what appeared to be… convenient living quarters for Scott Summers – Cyclops and his wife Jean Grey – Marvel Girl. And adjacent to them, Logan – Wolverine. Whose interest in Jean Grey – and hers of him has been noted over the years. Alongside Mr Sinster's gossip from previous issues:
SINISTER SECRET #5: He's the best there is at what he does. She's married with a kid. The husband knows exactly what's going on, but who is he to point the finger? He's up to much the same, and more. Maybe this is just the new normal on the mutant island.
At the end of House Of X #6, with the instruction to Make More Mutants, we got a big alcohol-fuelled party.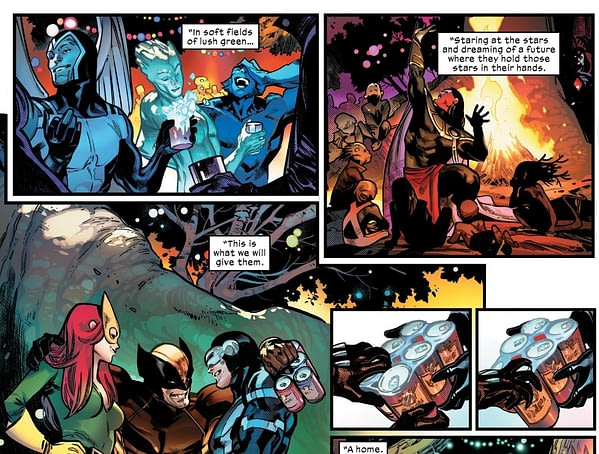 With Logan, Jean and Scott…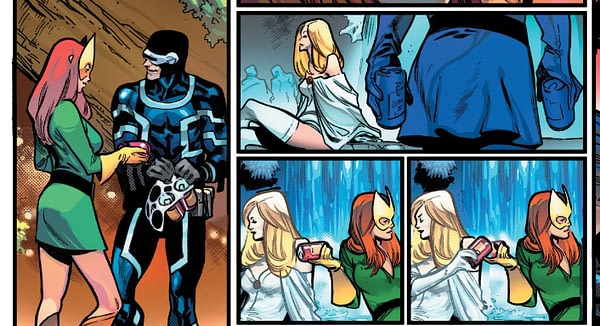 Or Scott, Jean and Emma. And now in X-Men #1 we get to see the Summers' living arrangements. With Jean and Scott having separate living quarters. As does Logan. With Jean located right between Logan and Scott.
And, as was pointed out, Jean having internal door access to both Scott and Logan's quarters.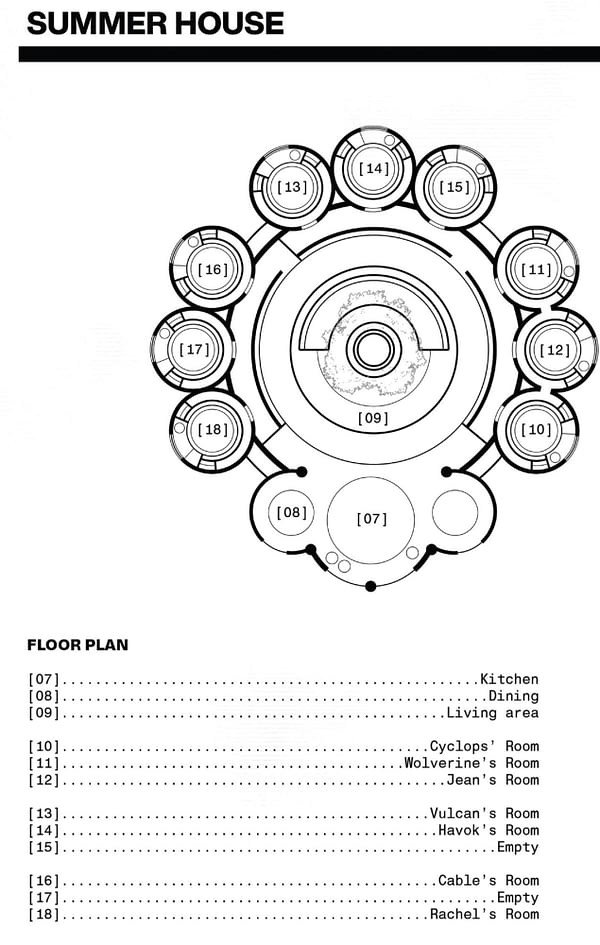 Which does beg the question…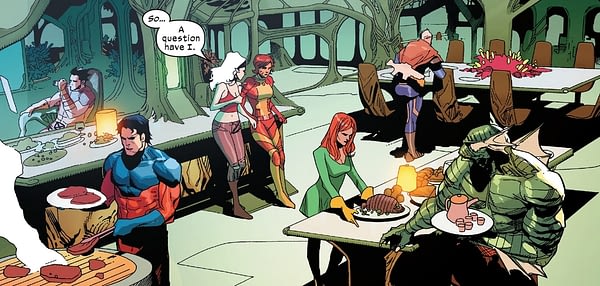 Are Scott, Jan and Logan Marvel's first throuple? If so the comics beat the movies – which have seen a number (including cast members) suggest a similar arrangement for Thor, Captain Marvel and Valkyrie…
And it is worth recalling that one of the most famous superhero characters of all, Wonder Woman, came out of a throuple, William Moulton Marston, Elizabeth Marston, and Olive Byrne that formed the basis for the movie Professor Marston and the Wonder Women.
What could this living arrangement possibly conjure up? And where is Emma Frost in all this? A fourple in the making?
X-MEN #1 DX
(W) Jonathan Hickman (A/CA) Leinil Francis Yu
DAWN OF X! The X-Men find themselves in a whole new world of possibility… and things have never been better! Jonathan Hickman (HOUSE OF X, POWERS OF X, SECRET WARS) and superstar artist Leinil Yu (NEW AVENGERS, CAPTAIN AMERICA) reveal the saga of Cyclops and his hand-picked squad of mutant powerhouses! Rated T+ In Shops: Oct 16, 2019 SRP: $4.99