Welcome to the eighth daily Lying In The Gutters – our week anniversary. A runaround of yesterday's news on the site and what we might expect today. You can sign up to receive it as an e-mail here.
Five most-read stories yesterday
Marvel teased stuff
Comic stores opened and closed or kept going
We got some stats…
Happening today…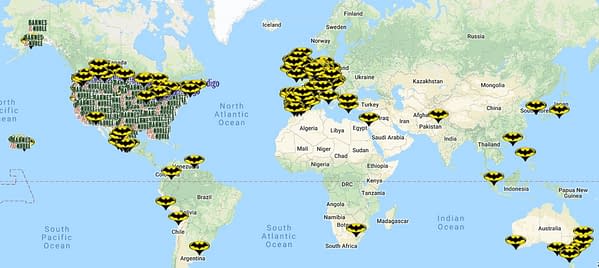 It is Batman Day today in a comic shop, bookstore or library near you…
Including Andy Kubert signing at Vroman's, Pasadena at 11am followed by Jim Lee at 12:30pm
And Paul Dini signing at The Perky Nerd, Burbank at 3pm
Keystone Comic Con from Reed POP, Pennsylvania Convention Center, continues.
Erie Comic Con begins today, at the Bayfront Convention Center in Pennsylvania continues.
Heroes Comic Con Stockholm continues today in Sweden.
Comic Con Africa at Kyalami Grand Prix Cirt, Midrand, South Africa continues.
Cincinnati Comic Expo at Duke Energy Convention Center, Cincinnati continues.
Metal musicians The Sons of Baluar Forbidden Planet London Megastore 11am onwards in support of Alec Worley and Pye Parr signing The Realm Of The Damned, Forbidden Planet London Megastore 1-2pm
Happy birthdays to…
Comic book colourist Laura Martin
IDW Senior Editor Scott Dunbier
Italian artist for StarComics and Sergio Bonelli Editore, Giancarlo Caracuzzo
Max Douglas aka Salgood Sam, cartoonist, author, illustrator, and teacher.
Mark Stokes, comic book creator of Zombie Boy.
Judge Dredd artist Sam Hart.
Ashley Fox, Creative Director / Consultant at Alpha Channel Books
And to American comic books themselves.
Fandom 1842: Happy 176th Birthday, Comic Books in America
Happy birthday comic books…
Enjoyed this article? Share it!