Daily Mail Runs a Story About Dan Slott's Tweets About the Joker Movie
You wouldn't find it out of place to find a Bleeding Cool article about Dan Slott's tweets. But it seems we were beaten by it by none other than the Daily Mail. Who decided that his status as a Marvel Comics writer made his opinions about the Joker movie headline worthy for their readers.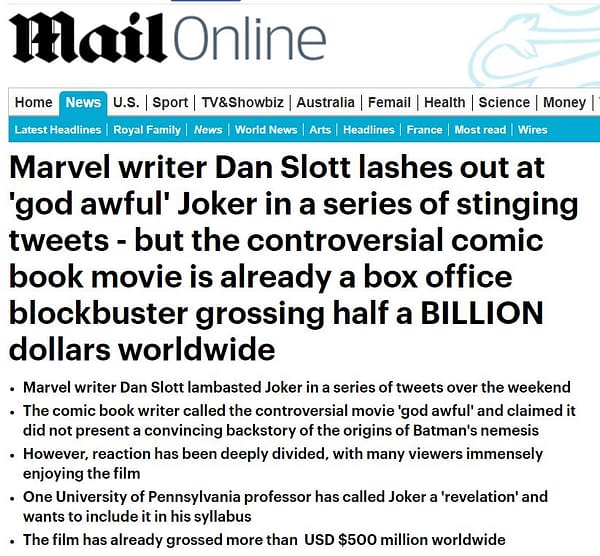 The paper describes him this;
Slott – who has penned popular Marvel comic titles including Fantastic Four and Tony Stark: Iron Man – shared a series of scathing tweets about the film over the weekend. The influential writer, 52, began by insisting he did not dislike the film simply because it featured characters from DC Comics – Marvel's main business rival. Slott insisted he loved films such as The Dark Knight and Wonder Woman, both based on DC fare, but stated that he found Joker to be 'real bad'.
They also note
However, Slott insisted that the backstory was not convincing, stating: 'There are so many EXCELLENT DC Comics that dance around the Joker's origins. ANY of those– just using the comic pages as storyboards– would have made a far better movie than what they put up on the screen. Meanwhile, he appeared to take issue with the inclusion of one scene in particular, writing: 'Just when you think the JOKER movie can't get any worse, they found a way to incorporate a scene we've already seen way too many times in… super hero movies. (If you saw JOKER, you know what I'm talking about.)
Putting pearls before swine, Dan? The paper has currently around 250 comments, including some of whom actually know who Dan Slott is. And, of course, don't like him. Well, it is the Daily Mail.
If only they'd have thought to have run an article about Donny Cates' tweets, they could have got even more comments…