Damian Wayne, Murderer, in Teen Titans #43 – and the Future?
In Legion Of Super-Heroes #3 at the beginning of the year, we got a glimpse of what Damian Wayne's future may be.

Because just as they know all about Jonathan Kent, Superboy, they seem to have a fairly good idea about Damian Wayne. Even if it's something they are not that keen to talk about.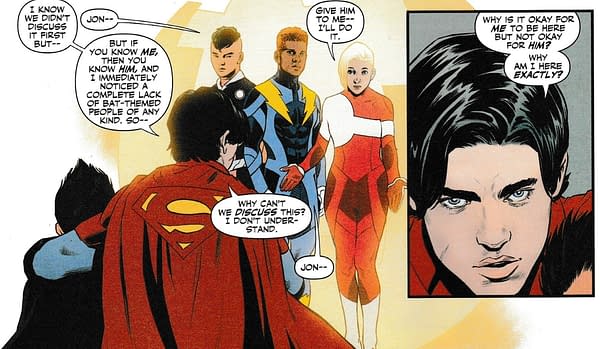 What did Damian do????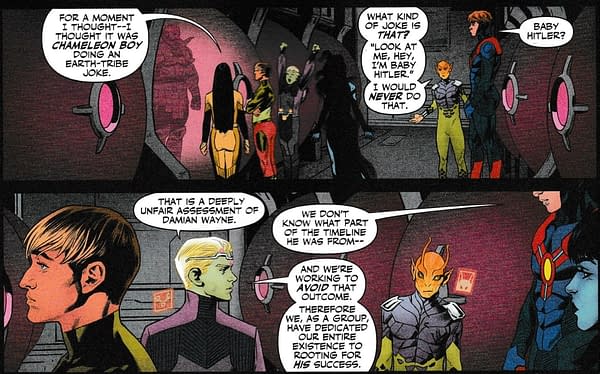 Baby Hitler. An unfair assessment. But still something everyone is very nervous about. What will Damian do that is so impactful that a thousand years later no one dresses as Robin or Batman – but every other Leaguer is represented?
There is one future version of Damian Wayne we have seen, who becomes Batman after he is unable to save Dick Grayson, the second Batman from being killed by an unknown assailant using Joker fish. This Damian also has gained supernatural power, is willing to kill, and has a cat called Alfred. It is implied that Damian made a literal deal with the Devil: his soul in exchange for the immortality and healing abilities he felt he needed to protect Gotham.
Could this be that Damian?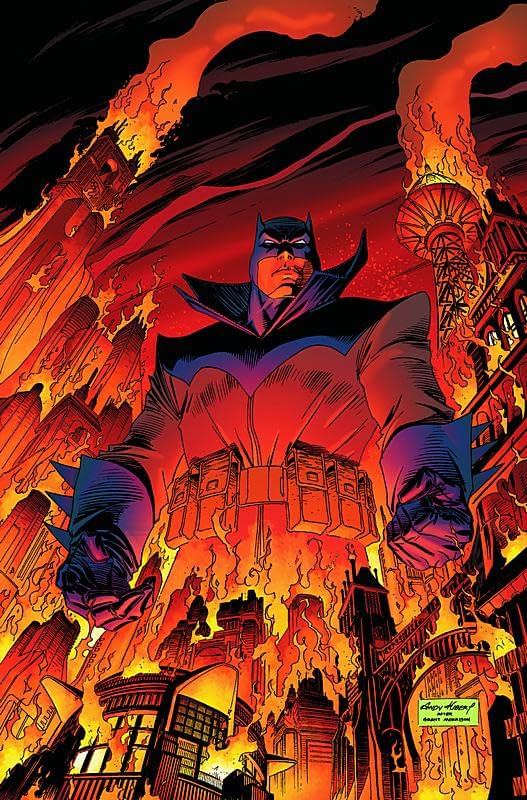 Because this week's Teen Titans #42 sees Damian Wayne visited by a nervous Jonathan Kent. And the worries he has for Damian's future, as seen from a thousand years hence.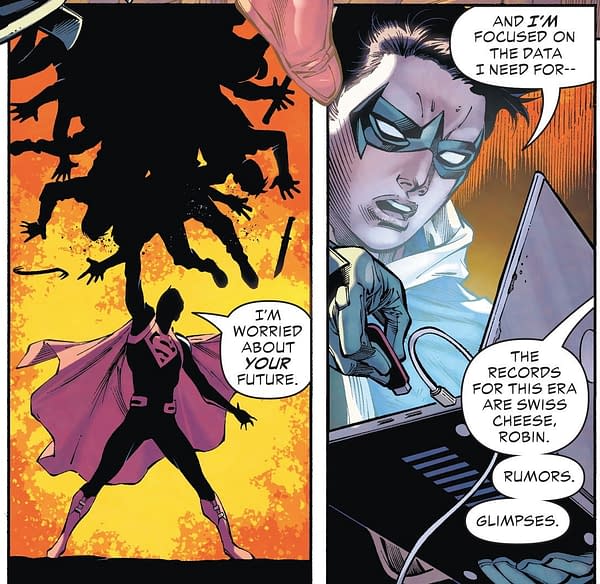 And it's enough for a semi-intervention.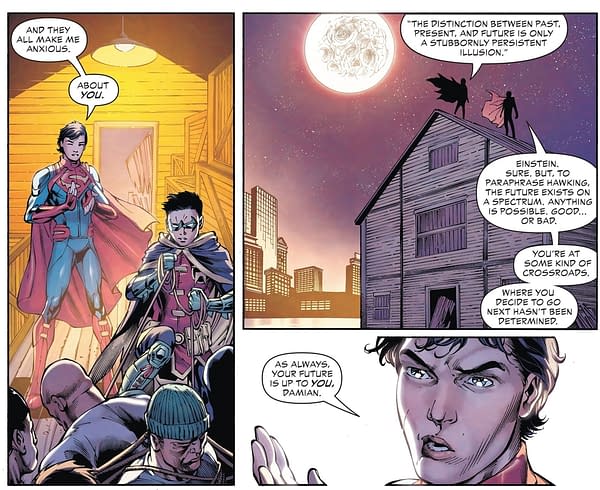 The death of Baron Blood last issue raised some questions amongst the rest of the Teen Titans about who was the killer. And, devoid of Damian Wayne, Red Arrow did her own detective work.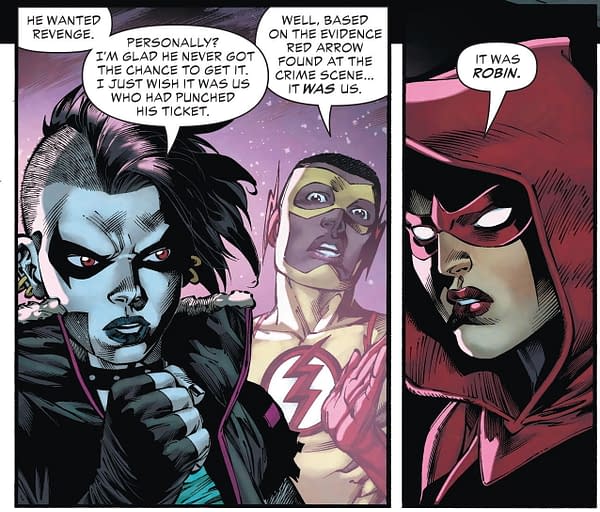 Which leads to the team confront their leader, the youngest amongst them.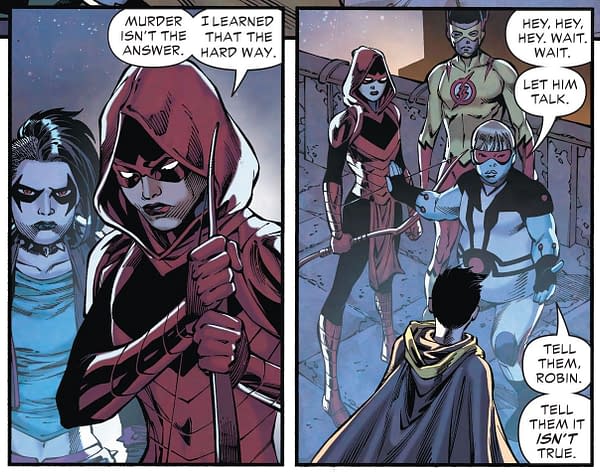 And a confession.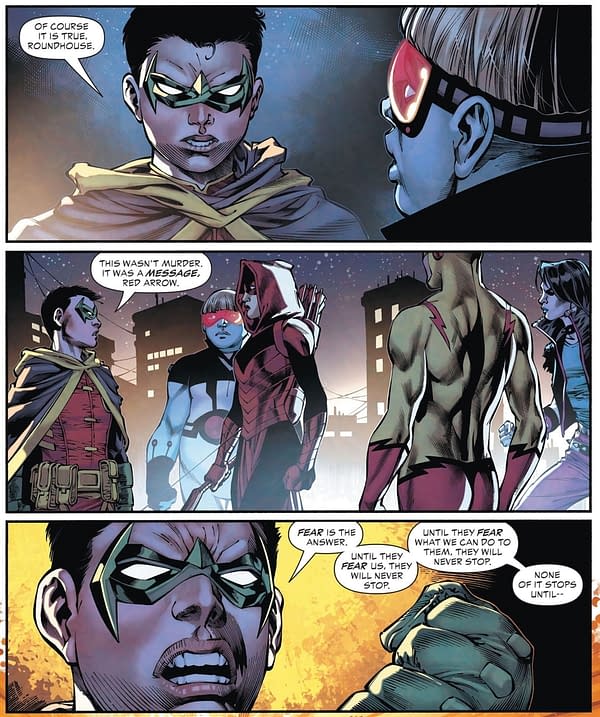 Damian Wayne, as raised by Talia Al Ghul and the Assassin's Guild, then raised by his father, Bruce Wayne and becoming the new Robin. Once a vegan, now a murderer. And he's off to do it again, against the KGBeast who took Dick Grayson away from him.

With a Damian intending to rectify that situation and kill again.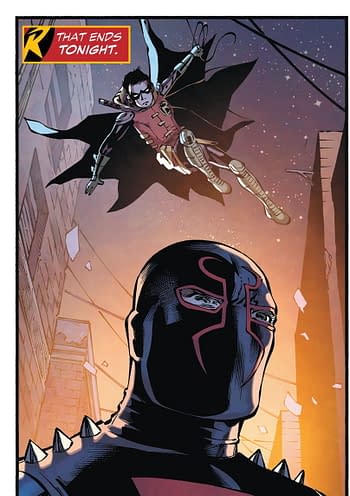 And being someone very different to his father, a man who doesn't kill. And a son who does.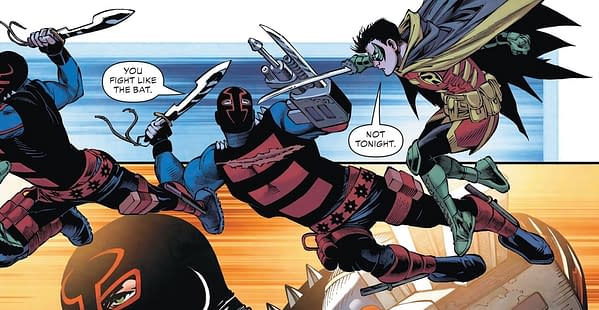 Leading to this particular spoilery scene... there's a lot of this about this week.
TEEN TITANS #43
DC COMICS
APR200611
(W) Robbie Thompson, Eber Ferreira (A) Eduardo Pansica (CA) Bernard Chang
Robin begins a hunt that leads him to the KGBeast, the same assassin who wounded and nearly killed the first Robin, Dick Grayson. Will Damian Wayne cross the line to enact brutal revenge on the Russian villain – or can the Teen Titans temper the current Robin's rage? In Shops: Jun 17, 2020 SRP: $3.99