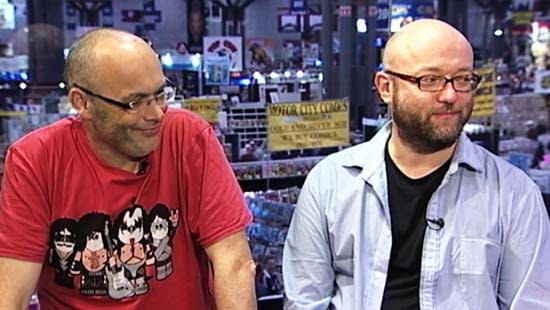 Last week, Bleeding Cool ran an article that stated that comic book writers Dan Abnett and Andy Lanning co-authors of many comics at Marvel and DC, including Legion Of Superheroes and Guardians Of The Galaxy were no longer a working couple, splitting up over personal differences.
Andy Lanning chose not to comment, though he did make minor amendments to the biography we had of him.
Aside from his tweet on the matter, we didn't hear from Dan Abnett until yesterday, when he contacted Bleeding Cool. He laid out his current working situation, that the split had been for a year already, but that the April-solicited movie prequel comic by the pair for Marvel's Guardians Of The Galaxy was new, and created at the personal request of Guardians Of The Galaxy movie director James Gunn.
Dan told us,
Andy Lanning and I are no longer working together, and indeed haven't worked together since early last year except to finish commitments. The very long-standing relationship was no longer working, and the split was for the best. I am very much happier now working solo. Throughout our partnership, I had always worked solo too, and that's what I will be doing from hereon: at the moment on Battlestar Galactica (Dynamite), He-Man (DC), 2000AD strips, projects for Boom! and Dark Horse, and other unannounced work for DC and Marvel, as well as game writing (Alien: Isolation and Shadow Of Mordor), and, of course, my novels for Warhammer 40K and others.

The one exception to our parting is the GoTG work for Marvel, which is new. I am extremely excited at the prospect of the movie, and flattered that the DnA version has been developed in this way. We were lucky enough to get several set visits, and during one of those director James Gunn requested that we work on new material to support the film release. Neither of us wanted to disappoint James, so we took on the work as a 'last job'. These, as I said, are new material, and very much led by the movie continuity.
The announced story in the "100th" issue will be from me solo. Hope this clarifies things.
Sadly, it does rather.
Enjoyed this article? Share it!