Dan DiDio Tells You How Everything You Knew About the Metal Men Was Wrong. Again (Spoilers)
Opening an issue with a major change in continuity, revealing true origins of a character previously thought or as one thing, now revealed as another, was most famously used by Alan Moore, Steve Bissette and Rick Veitch in Swamp Thing #21, Anatomy Lesson – though actually their second issue together. Metal Men #1, out this week from Dan DiDio and Shane Davis, used a different approach, more like Moore, Garry Leach and Alan Davis' work on Marevlman/Miracleman, with a new state of affairs, and a real reason for everything that happened revealed slowly through the series. But this is also reminiscent of Grant Morrison and Richard Case's later reveal regarding how the Doom Patrol was put together by Niles Caulder, as the man responsible for all their accidents and origins – and, presumably, Professor X in the House Of X storyline written by Jonathan Hickman – lying to the X-Men, from the very beginning.
So we have Professor Will Magnus, dealing with his Metal Men. Sentient robots lifeforms created out of metal linked to his invention, in every one of the Metal Men, the responsometer, generating their agency and their sentience. Or is it?
Doctor Will Magnus is a long-standing DC Comics character, one of the most educated and intelligent men in the DC universe, and the creator of the Metal Men, sentient super-powered robots made of a variety of metals, named Gold, Iron, Lead, Mercury, Platinum and Tin. The method of their creation has changed with each origin rewrite, at once point turning Magnus into the bad guy, a mad scientist looking to rule the world. At one point he became a new Metal Man himself, Veridium. The nineties saw the origin of the Metal Men rewritten, no longer due to their 'responsometers' gaining sentience, but by having personalities from other people associated with Magnus imprinted upon them.
The New 52 saw them rebooted again as being created to perform rescue and search missions, but the government wanted to make them assassins so they went into hiding alongside Magnus. They last popped in the DC Comics event Dark Nights: Metal (of course) but there has been little since. Though we do get to see them heading into action to Mars in the most recent issue of Doomsday Clock.
Heroes In Crisis #9 also featured a confession to camera, Will Magnus' testimonial to Sanctuary, saying 'I created her. And I'm… I love her.'
Which suggests he may be talking about the only female-presenting member of the Metal Men, Platinum. Who originally believed herself to be alive and in love with Magnus herself. Each of the Metal Men had a personality based in part on their individual metals aside from Platinum – or Tina – who was basically just obsessed with Doctor Magnus. And Magnus treats her abominably, telling her she is faulty and demanding she be more like a robot.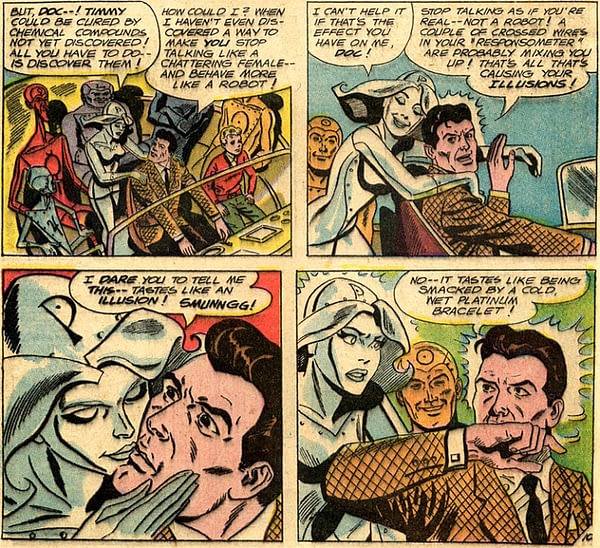 And according to Heroes In Crisis #9, things could be about to be reciprocated.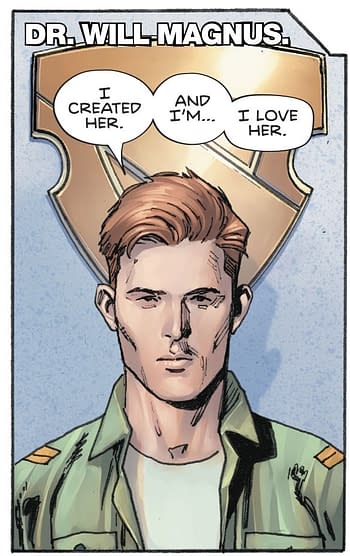 But in today's Metal Men #1 from Dan DiDio and Shane Davis, it's all change. With a look back at their early days.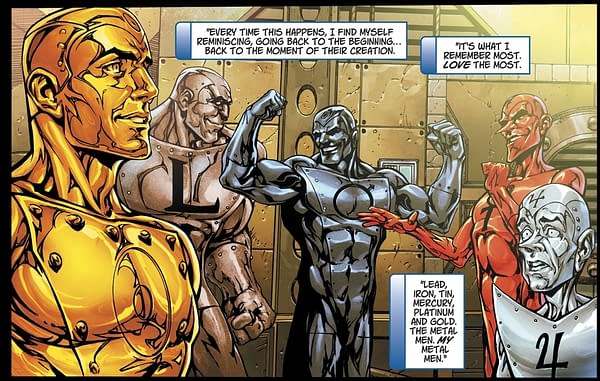 With Platinum not there intentionally? And now Gold has a big complaint.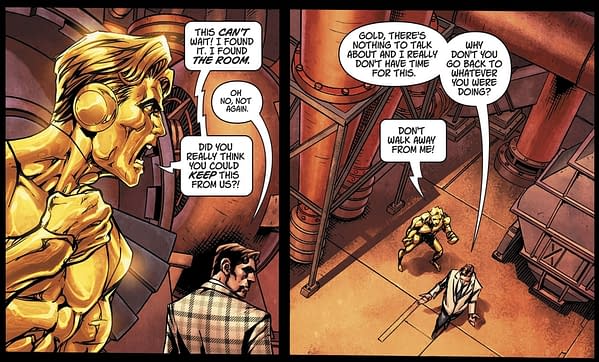 A complaint he has made before, but cannot remember. And a series of events that Magnus knows of old – but none of them do.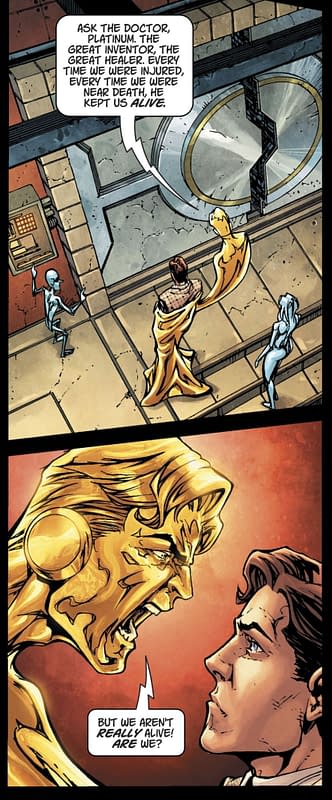 Not really alive. Brought back to life… but not alive? Has someone been reading House Of X?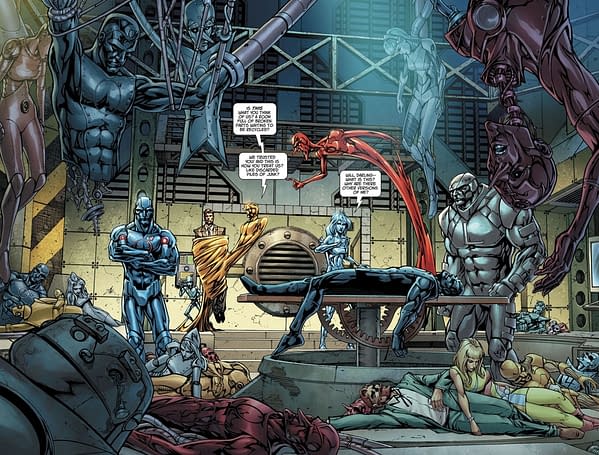 The repair shop. With many other damaged, junked, destroyed versions of the Metal Men. And other versions of Magnus is seems – past continuities piling up. Note the use of #darling' from Platinum…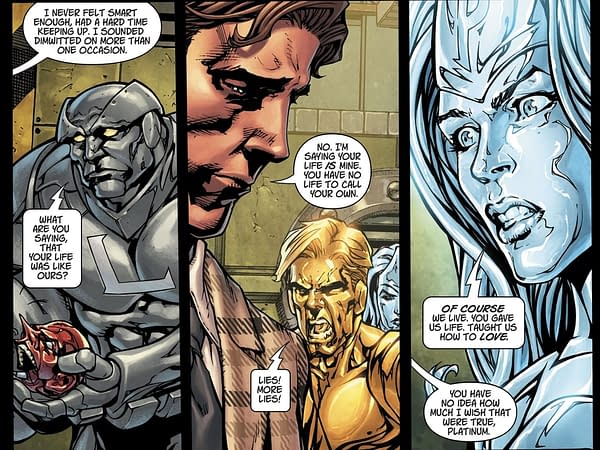 …and being taught to love. And weirdly Gold seems to flick from the one wanting to expose Magnus' lies to now wanting to believe the previous lies again, as opposed to this new reality.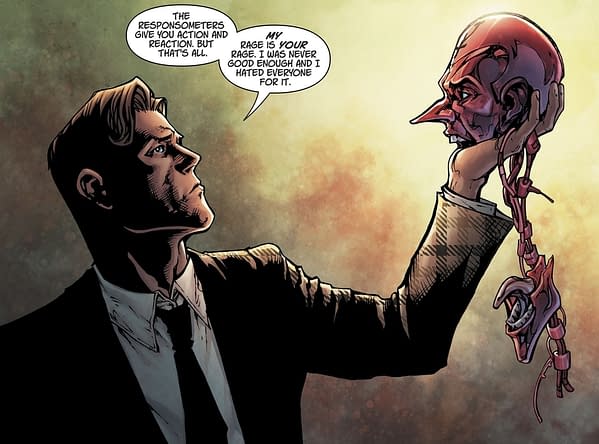 Action and reaction, but not sentience. Just going through the motions.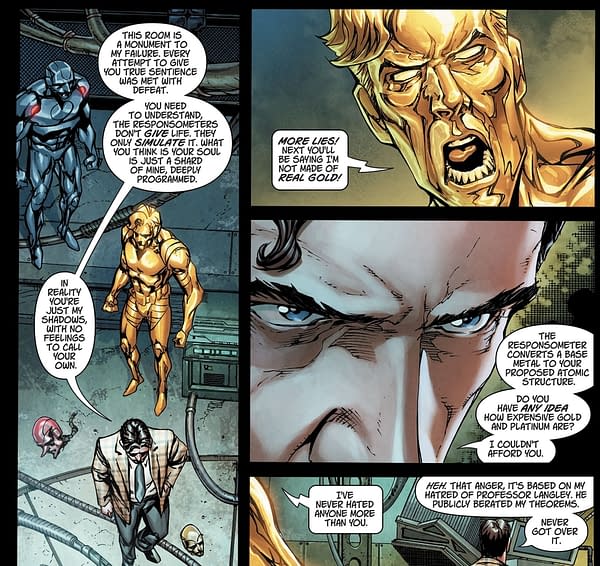 And all he needs is a flick of a switch to put things back the way they were.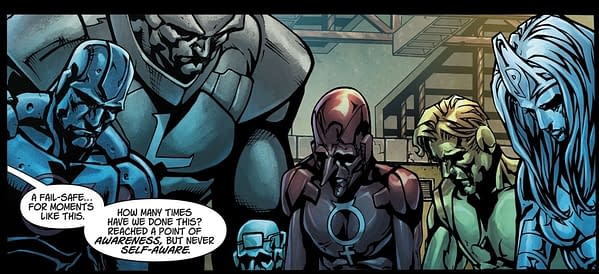 But now with a bright shiny new sentient metal toy to play with, courtesy of a new shipment of Nth Metal already calling his name…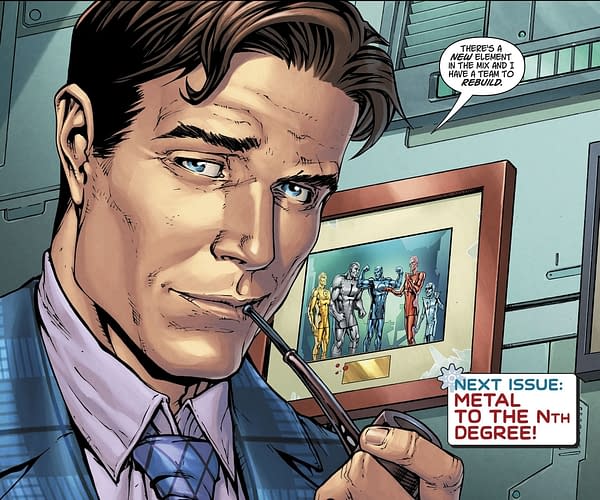 Looks like the Metal Men are just Memorex. But for how long? Issue 4 for January, solicitation revealed, tells us;
Whoa, what happened to Gold, and why does he look like that? It looks like Nth metal has given Gold true sentience—and it's threatening to do the same to the rest of the Metal Men against Doc Magnus's wishes! After all, Magnus already gave them sentience to begin with, right?
Wrong…
Looking at the other fictional metals of the DC Comics universe, I'm still waiting for a Metal Man to be built out of Batmanium. And who looks and behaved like Batman. Surprised no one has yet considered that one. The Batman Who Rusts? Only a matter of time…
METAL MEN #1 (OF 12)
(W) Dan DiDio (A/CA) Shane Davis, Michelle Delecki
The Metal Men are back! And back and back and back again, as we take a deep look into Doc Magnus' lab as he experiments with what it means to be sentient. Meanwhile, a mysterious liquid Nth metal has appeared in the science site at Challengers Mountain that appears to have come through from the Dark Multiverse…In Shops: Oct 16, 2019
SRP: $3.99

METAL MEN #2 (OF 12)
(W) Dan DiDio (A) Michelle Delecki (A/CA) Shane Davis
The Nth Metal Man has arrived from the Dark Multiverse right into Dr. Klyburn's research site-and it will destroy anything that stands in the way of it trying to stay in our world. As Magnus, Gold, Platinum, Iron, Lead, and Mercury rush to Dr. Klyburn's aid, one of them will meet their fate at the hands of Nth Metal Man! But who? And how? How is even crazier! Read this issue to find out!In Shops: Nov 13, 2019
Final Orders Due: Oct 21, 2019
SRP: $3.99

METAL MEN #3 (OF 12)
(W) Dan DiDio (A) Michelle Delecki (A/CA) Shane Davis
In this issue, it's kaiju versus giant robot versus the Metal Men! After killing off one of the Metal Men, Nth Metal gets placed into a holding cell at the lab so Doc Magnus can learn exactly how dangerous it is! That is, until a giant, flying manta with lasers coming out of its eyes attacks the lab-and now the Metal Men must team up with a giant robot in order to save the day!In Shops: Dec 18, 2019
SRP: $3.99