Daredevil #609-#612 Will Be The Death of Daredevil
Since seeing November's solicitations for Daredevil #612, we've been expecting a big change for Daredevil, perhaps a reboot. Last week, Marvel sent out teaser art by Bill Sienkiewicz titled "The End" and showing what appeared to be Matt Murdock in heaven with Karen Page. But now, it looks like we could be seeing more than just a reboot, as the storyline beginning in October and ending with Daredevil #612 in November, will be called "The Death of Daredevil."
Of course, just because the storyline is called The Death of Daredevil doesn't necessarily mean Daredevil will actually die. Even Marvel's own video description seems uncertain:
Charles Soule's long-running tenure on DAREDEVIL is coming to an end…and he is not leaving Matt Murdock in a good place.
Is this THE END for Daredevil?

This October, Charles Soule and Phil Noto will kick off Matt Murdock's darkest chapter yet – one which will lead to a chilling and surprising finale in November's DAREDEVIL #612 that no reader will want to miss!
Charles Soule's Daredevil run is ending with #612. Daredevil will be featured in the upcoming Marvel Knights revival mini-series, in which he has forgotten who he is. There is no Daredevil comic in December's solicitations. Could the "death" be a figurative one, and a new Daredevil series (with a shiny new #1 issue) launching out of Marvel Knights next year?
Perhaps we'll learn more at New York Comic-Con.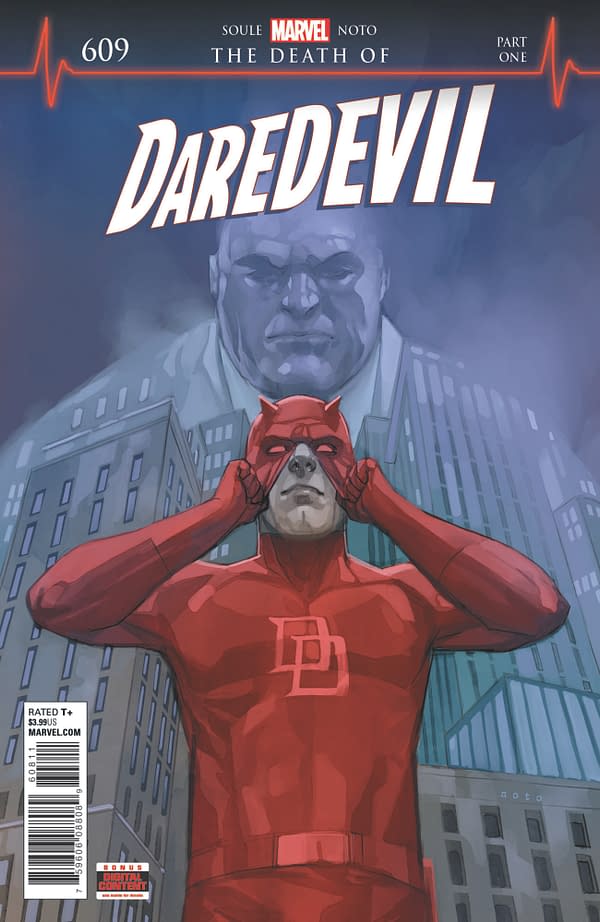 Daredevil #609
(W) Charles Soule (A/CA) Phil Noto
• The eleventh hour draws near as Matt Murdock prepares to square off against the Kingpin of Crime!
• Matt is forced to ask himself how long he can take hits against the ropes as Daredevil before he has to hang up the horns.
• But first, Matt will have to embark on a crusade to free the city of New York from Wilson Fisk's mayoral reign!
Rated T+
In Shops: Oct 17, 2018
Final Orders Due: Sep 24, 2018
SRP: $3.99

Daredevil #610
(W) Charles Soule (A/CA) Phil Noto
• Determined to prove the Kingpin cheated his way into the mayor's office, Matt is pulling out all the stops!
• His resolve has set him down a path that will either tear down the Kingpin's empire or will cost Matt everything.
• When the final bell rings, only Fisk or Murdock will be left standing!
Rated T+
In Shops: Oct 31, 2018
Final Orders Due: Oct 08, 2018
SRP: $3.99

Daredevil #611
(W) Charles Soule (A/CA) Phil Noto
• As DAREDEVIL's crusade against the Kingpin moves into its endgame, the stakes have never been higher.
• But a mysterious new villain has arrived in Hell's Kitchen, with Daredevil squarely in his sights…
Rated T+
In Shops: Nov 14, 2018
SRP: $3.99

Daredevil #612
(W) Charles Soule (A/CA) Phil Noto
• The whirlwind adventure of the fall ends here, in an oversized and overwhelming DAREDEVIL epic as only Charles Soule and Phil Noto could deliver it.
• Face forward, True Believers, this one'll have you talking for MONTHS!
Rated T+
In Shops: Nov 28, 2018
SRP: $4.99

Marvel Knights 20th #1 (of 6)
(W) Donny Cates (A) Travel Foreman (CA) Geoff Shaw
In celebration of the legendary imprint founded by Marvel's CCO Joe Quesada, a new crop of talent stands poised to tell a groundbreaking story across the Marvel Universe!
In the cemetery, the blind man does not know who he is, or why he has come to this particular grave at this moment.
He doesn't know the burly police officer with the wild story who has approached him.
Or the strangely intense man who sits in the rear seat of the patrol car, his eyes flashing green.
But all of that is about to change.
Because Matt Murdock is beginning to remember…
In a colorless world without heroes, the spark of light…must come from the dark…
Rated T
In Shops: Nov 07, 2018
SRP: $4.99