Dave Sim Turns Cerebus Into a Married Spider-Man in August 2020
All those comic book fans who say they want a married Spider-Man again, well Dave Sim and friends are looking to give you just that with the latest Cerebus In Hell one-shit (this one you have to pay for) coming in August 2020. The Amicable Spider-Vark Annual One-Shot. Though given Dave Sim's opinions about both women and marriages, it may not be one that any Mary Jane/ Spider-Man fan will want to read.
He promised this take on a Married Spider-Man a year ago, and now it's coming to fruition. And the cover features the first original Cerebus artwork that Dave Sim has personally drawn in years, after his wrist surgery.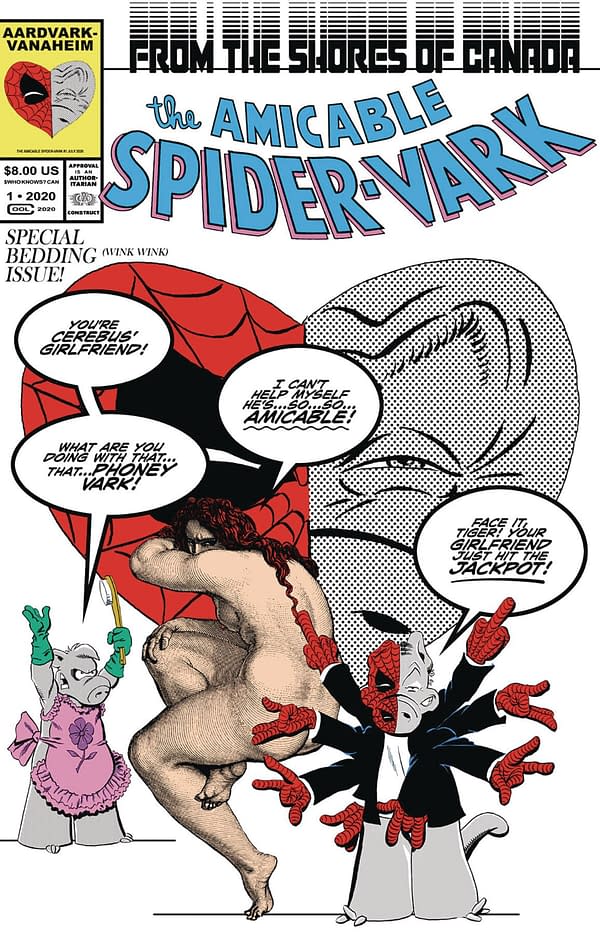 Here's the solicitation for August 2020. Which apparently will see Cerebus becoming the Alpha-Plus Male Feminist of the Western World in order to win back the attention of The Whore Of Babylon in Hell. Dave Sim, sometimes you don't help yourself, you really don't. But I do enjoy your Steve Ditko riffs. You can feel the pain in every stroke.
AMICABLE SPIDER VARK ANNUAL ONE SHOT
JUN200822
(W) Dave Sim (A) Dave Sim, Gustave Dore (CA) Benjamin Hobbs
Origin and first appearance of The Amicable Spider-Vark! Count the Steve Ditko riffs! The Origin story is called "Never Shtup in a Spider!" which is good advice for all of us! See SPIDER-VARK in action fighting back against The Iron Manticore (featuring the first appearance of Princess Manticore) and The Mighty Minotaur! In the follow-up story, The Whore of Babylon falls for Spider-Vark big time which means Cerebus has to try to win her back by becoming The Alpha-Plus Male Feminist of the Western World! He doesn't do half of the housework, he does all of the housework!
In Shops: Aug 26, 2020
SRP: $4.00
Yes, yes, this is what the original Married Spider-Man wedding comic book annual looked like. An early variant cover, there. Catch up with other Augst 2020 solicitations with this tag.