He's still not approving it. And still probably not going to approve it. But Dave Sim has created three new Cerebus images to be finished in watercolours by Joe Rubenstein for the opening titles of the Cerebus animated feature film adaptation, Fractured Destiny, directed by Oliver Simonsen.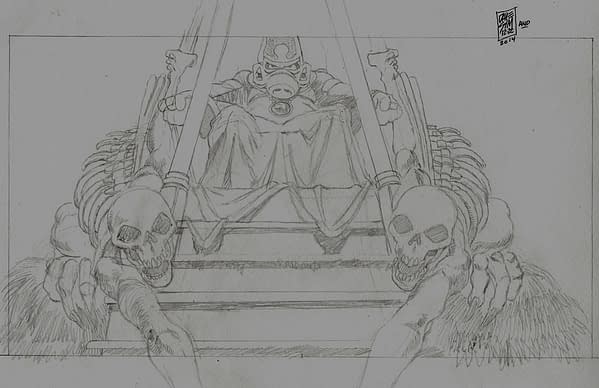 And the titles will be created by Antony Buonomo, who did the same for 12 Years A Slave. You can read the full description on Moment Of Cerebus… 
The third piece, I enlarged the first drawing about 200% for an extreme close-up of Cerebus where he's really showing his age — sagging flesh, bags under his eyes, liver spots would be a nice touch, mad scientist eyebrows with stray hairs curling up and away, sort of blood-shot eyes.

The key thing is that he only looks like that in the close-up. In the medium shot he just looks pretty much like Classic Cerebus the Pope.

Basically, these are the three images that feature the line: "Does Cerebus LOOK "LIGHT-HEARTED" and 'HAPPY-GO-LUCKY' to YOU, Young Lady?"
Enjoyed this article? Share it!