A Writer's Commentary from David Avallone on Elvira: Mistress Of The Dark #1 from Dynamite, out now. David writes,
As always, go read the issue and come back. These things are full of spoilers. Full, I tell you!
Covers:
More pinup goodness from Linsner, something literally cheeky from Hack… but I will admit to special fondness for Craig Cermack's, since I suggested the image. I like that Vlad kinda looks like Dave Grohl here.
Pages 1 – 2:
Let's start with the title. I will confess I laughed when I came up with it. It's an old joke, but I'd never heard it applied to Bram Stoker's name, so I was pretty happy about it. The dirty pun is perfectly in keeping with the tone of what we've got going here. Researching this issue… and finding out about Bram and Florence's unhappy marriage, it felt like there was a connection between Bram's yearning for his wife's affection, her preference for the more flamboyant and worldly Oscar Wilde, and the undercurrent of sexual jealousy in Bram's Dracula. It informed the whole issue, as you can see. Meanwhile, on the bottom of page two, Elvira gives me a hard time for being lazy. Personally, I think the recaps are funnier coming from her.
Pages 3 — 4:
A good place to give the art team a shout out. Dave Acosta's work on this series has been amazing, and he has risen to every challenge I throw at him. These two pages really show off Andrew Covalt's color work, with the onset of evening and the light show of the time travel coffin. Also pay attention to Taylor Esposito's expressive lettering work, with his see-through sound effects and Vlad's trademark "Gaaahhhrrrr" on emerging from the coffin.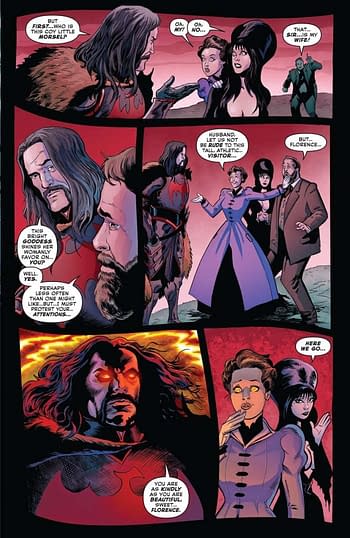 Page 5:
Florence Stoker was famously very beautiful, and Vlad isn't a guy to fail to notice a thing like that… while Florence was easily impressed by passionate, larger-than-life characters.
Page 6:
I've been trying to have Elvira mention the name of everyone who's ever played Dracula/Vlad in this series, and "sexy Vlad" was the ideal time to bring up Frank Langella. The crumbing structure where this issue is set is Whitby Abbey, a very real place. The real Bram Stoker lived nearby and supposedly drew inspiration for his Dracula novel from hanging around the place. We've just dialed that up to 11. As Elvira says… "chicks dig a monster", which is, to me, always the subtext of vampire stories.
Page 7:
I didn't have a good quip for panel three. Cassandra Peterson (Elvira herself) wrote the RuPaul line, which I liked.
Page 8:
Dave Acosta does an amazing job with the interior of Whitby Abbey, beautiful torchlit color from Andrew Covalt.
Pages 9 – 10:
Nice stockings, Flo. Vlad fends off an attack, and rejects the brand-new insult "mother-impaler".
Page 11:
Vampire stories are forever rejecting and reinventing their tropes. Researching this issue, I discovered that the wooden stake bit DOES NOT come from Bram Stoker, so he has no idea what Elvira is talking about here.
Pages 12 – 13:
Elvira begins to figure it out. I've said this before, but I think it's much more interesting to write about (and read about) smart people. If your plot hinges on the characters being dumb, or missing something obvious, you lose me. I try my best never to do that in my own writing.
Page 14:
Elvira takes her first shot at calling out the mastermind, and Vlad reveals the scope of his evil. Elvira still finds the time to break the fourth wall and share a dirty joke with the reader, though.
Pages 15 – 16:
If you have to define heroism, sometimes it comes down to sacrifice. Elvira is willing to give up Instagram and Penicillin (and her life and friends and everything she knows) to trap Vlad in the past. The only good news: if she was trapped she'd discover they did have indoor plumbing back in Bram Stoker's day. Panel one of page 15 is a tribute to the cover of every paperback Gothic novel of the 1970s. My dad wrote a bunch of them, and every single one has a woman running away from a dark mansion or castle, looking back over her shoulder, and often wearing a fairly unbelievable garment.
Pages 17 – 18:
Our secret bad guy is finally revealed. When I told Dave Acosta who it was, I had an idea in my head of who we'd use as a photo reference/inspiration for his look. Before I could even tell him, he sent me a picture of the actor I had in mind and he said, "like this, right?" I love working with Dave. We've seen a lot of the same movies, including a pretty terrible one about Faust. Not to pat my own back, but Faust telling Vlad he sold his soul pretty cheap is one of my favorite things in the comic. I mean. For Transylvania? Way to dream small, Vlad.
Page 19:
When we started working together, Dave said he was terrible at caricature, and this entire series gives the lie to that statement. My wife laughed at the last exchange between Bram and Florence. Is that a good sign? I hope so…
Page 20:
An AMAZING final page, setting us up for issue four and the last chapter of our Timescream arc. Next time… 1930s Hollywood hosts the Elvira and Vlad show. Join us in about a month for the next installment!
Enjoyed this article? Share it!