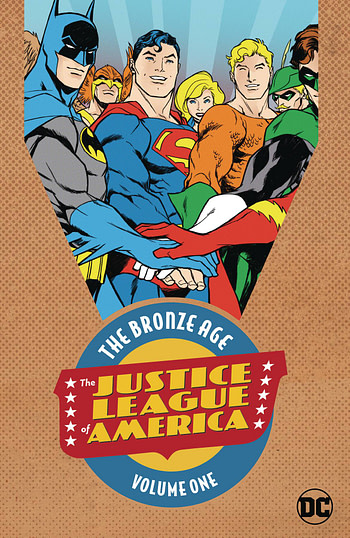 Another one bites the dust, for DC Comics' reorganisation and reconsideration of what they are collecting, how and when. Now all retailer orders for Justice League Of America: The Bronze Age Vol 1 trade paperback have been cancelled.
JUSTICE LEAGUE OF AMERICA THE BRONZE AGE TP VOL 01
(W) Dennis O'Neil & Various (A) Dick Dillin & Various (CA) Karl Kerschl
In these adventures of the Justice League from the early 1970s, classic members of the League including Superman, Batman, the Flash, Green Arrow, the Atom and Black Canary battle villains including The Joker and the Doomsters, and meet supernatural heroes including the Spectre and Deadman! Collects JUSTICE LEAGUE OF AMERICA #77-95.
Instead the very same contents, Justice League Of America #77-95 will be included in a new collection that drops the Bronze Age name. It seems that DC Comics has decided that having the Bronze Age as part of a title turns off potential readers. Instead it will now be called Justice League Of America: The Last Survivors Of Earth! TP. And will have to be ordered all over again…
In other DC collection news, DC Comics will be putting New Gods by Jack Kirby TP into a second printing, Nightwing Vol 1: Better Than Batman TP into a third printing and Saga Of The Swamp Thing Book 6 TP into a fourth printing.
While The Flash By Mark Waid Book 1 TP is gettng a second printing – and a slight price bump.
However Batman: The Dark Knight Detective Vol 3, which would have collected Detective Comics #592-600, has been schedule-shifted on Amazon to the year 2080, usually a sign of either cancellation or potentially just not sure of what's happening with it.
Just that it's not coming out when DC thought it might, like the recently shifted Legion collection.
Batman: The Dark Knight Detective Vol 3,

Collecting the hard-hitting crime tales starring the Dark Knight from the late 1980s in Batman: The Dark Knight Detective Vol. 3.

In these tales from the late 1980s, Batman's war on crime continues as he encounters a madman with hypnotic powers, battles a serial bomber in the streets of Gotham City, and faces a terrorist cell threatening the entire populace of the city.
More when we hear it.