DC Comics' Missing FCBD Story Appears in Flash Forward TPB (Spoilers)
The big DC Comics Free Comic Book Day title was meant to be Generation Zero, an epilogue to Scott Lobdell and Brett Booth's Flash Forward, and would lead into the Generation volumes that would end with Generation Five – otherwise known as 5G. It would also show off the new DC Timeline.
A version of the story appeared in Flash #750, but it was then meant to be followed by an expanded version for the Free Comic Book Day title, tieing in with Death Metal and setting up 5G to come.
Then DC publisher Dan DiDio was fired and everything changed. 5G was no longer a line-wide transformative future for the DC Universe, but now restricted to a planned imprint/mini-event. The DC Timeline lost being fixed to certain periods in history and the length certain characters had been around amended to something closer to the usual version. And suddenly the Generation One story was not quite the done thing. I understand it was rewritten, to remove aspects about Wally West changing the timeline to changing the reality of the multiverse instead.
But after it was printed in time for Free Comic Book Day, things changed even more. The pandemic hit and DC Comics looked at its schedule and plans more closely. A number of books disappeared and a number were delayed. And one of those disappeared comics, the Generation line of books – and the Free Comic Book Day Generation Zero book that would lead up to it.
However, the Flash Forward epilogue story has been scheduled to be collated in the Flash Forward collection published today. And no one considered that to be an issue – especially as it wasn't actually listed in the solicitations or any of the listings. And so we get to see a little more of what was planned and how it would tie into Dark Metal – but only if you pick up the trade paperback, published today. Or get the jist from some of the Bleeding Cool snippets below. As Wally West with the power of Dr Manhattan, riding the Mobius chair with Tempus Fuginaut at his side…
We have DC Continuity as a mess. Elements there from the past and the future, 1930s Superman, the death of Supergirl, the death of Maxwell Lord, the New 52 Justice League, one punch Guy Gardner, Crisis upon Crisis, where's Jess Nevins when you need him. And so we have Wally West picking and choosing to recreate reality.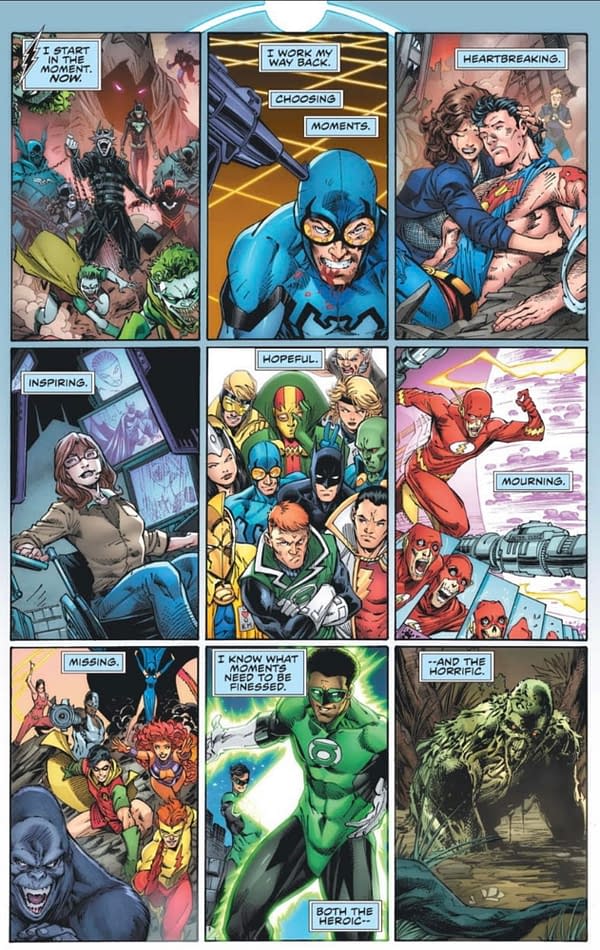 Amongst other things, including the Justice League International era, now restored along with the Teen Titans and the Death Of Superman.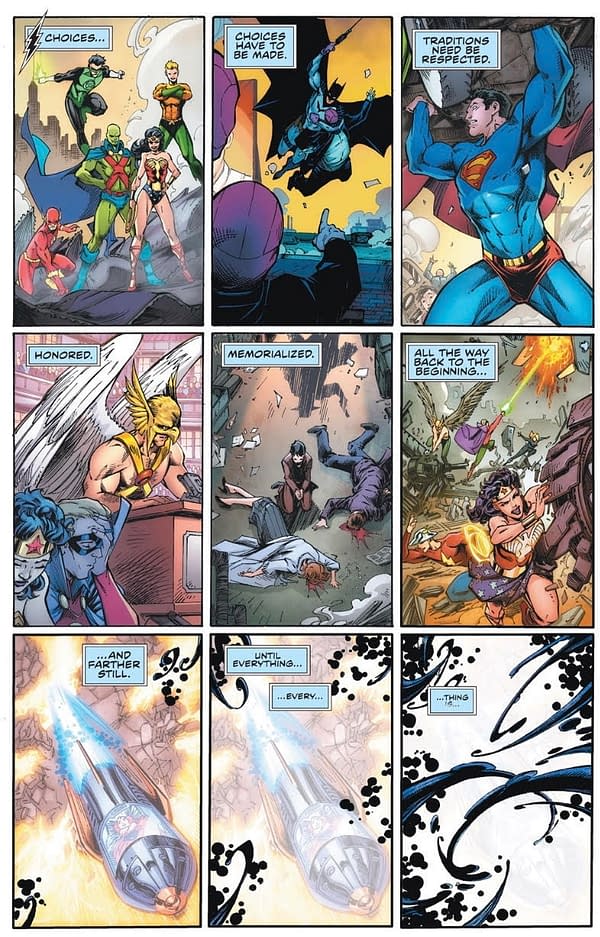 A Justice League more like the original version and one that includes Martian Manhunter, origin appearances for Batman and Superman, a Justice Society Of America being taken to court, the death of Bruce's parents, the JSA in action with Wonder Woman and the destruction of Krypton. This fits the DC Timeline that Bleeding Cool first reported last year – but all that may be up in the air too. And who is to blame for that?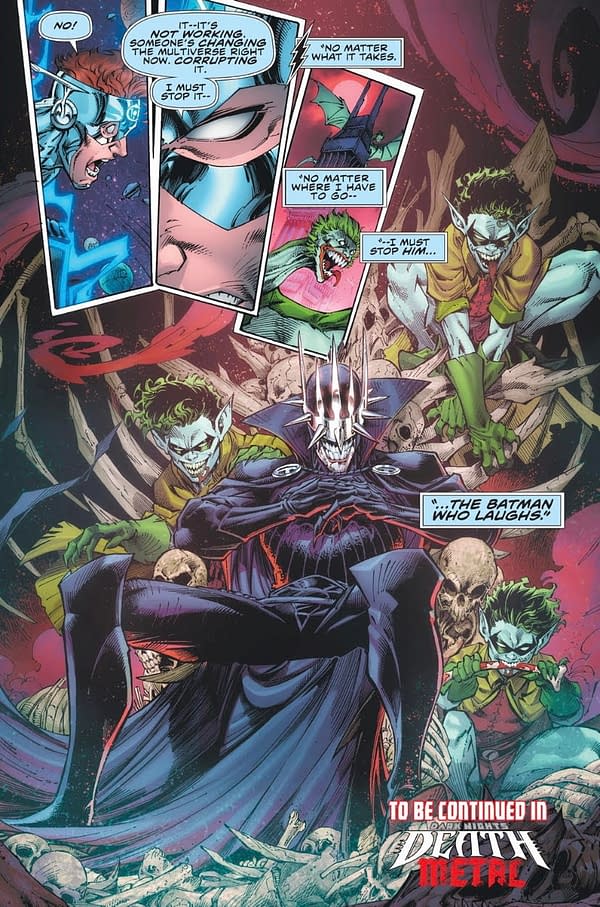 We have seen Wally West in Death Metal. This story, unseen unless you bought the Flash Forward TPB, shows you how DC Comics planned to get him there. And still has wisps of the original 5G and Timeline plan that can be seen around the edges. The other question to ask is… how do you make 300,000 copies of a Free Comic Book day comic disappear without any of them leaking to eBay or any of the comics speculator groups? That's one hell of a pulping operation…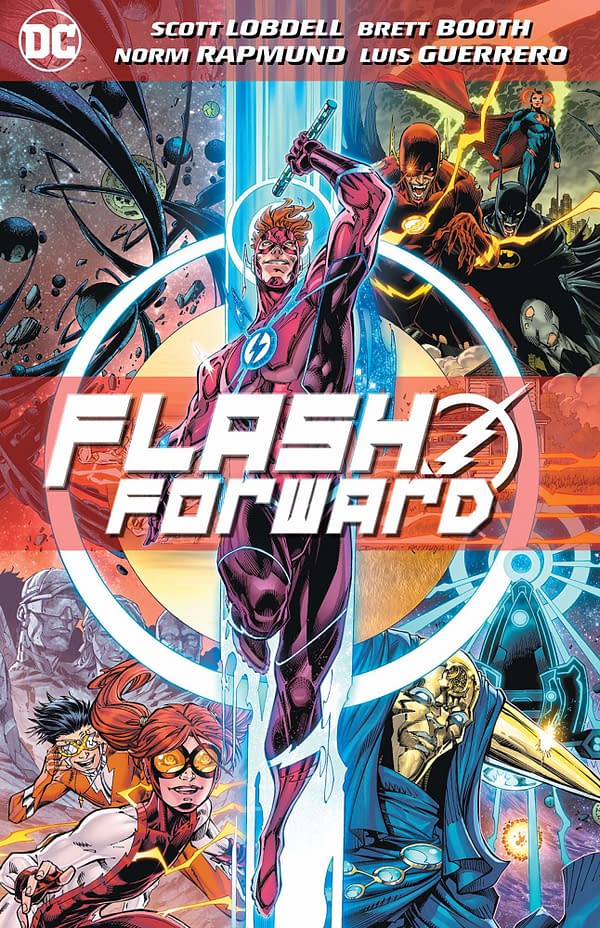 FLASH FORWARD TPB
By Scott Lobdell and Brett Booth
When the border between the Multiverse and the Dark Multiverse starts to buckle, Wally West must answer the call and journey to these worlds and purge them of this darkness, but the greater darkness is that from within. His name is Wally West–and he was the Fastest Man Alive. That is, until the Multiverse was rewritten without him or his family in it. Wally returned and tried to make it work, but the damage was done. Spinning out of the events of Heroes in Crisis, follow the man who called himself Flash on an adventure to find redemption in a cosmos that has fought so hard to destroy him. Collects Flash Forward #1-6.
---
---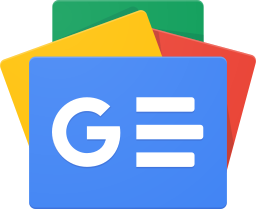 Stay up-to-date and support the site by following Bleeding Cool on Google News today!