Ten Thoughts About Dark Nights: Death Metal #1 (Spoilers)
Here are Ten Thoughts about Dark Nights: Death Metal #1, out this Tuesday or Wednesday, depending. There are no serious spoilers here but there may be semi-spoilers. Your mileage may vary of course. But you might want to ease on caution, depending on your risk-aversity.
1. Sergeant Rock goes full blown American soldier closer to Hank the Yank in Adventures Of The Rifle Brigade. Sadly he doesn't quite say 'gawdammit' but he does carry a Rob Liefeld gun. Oora.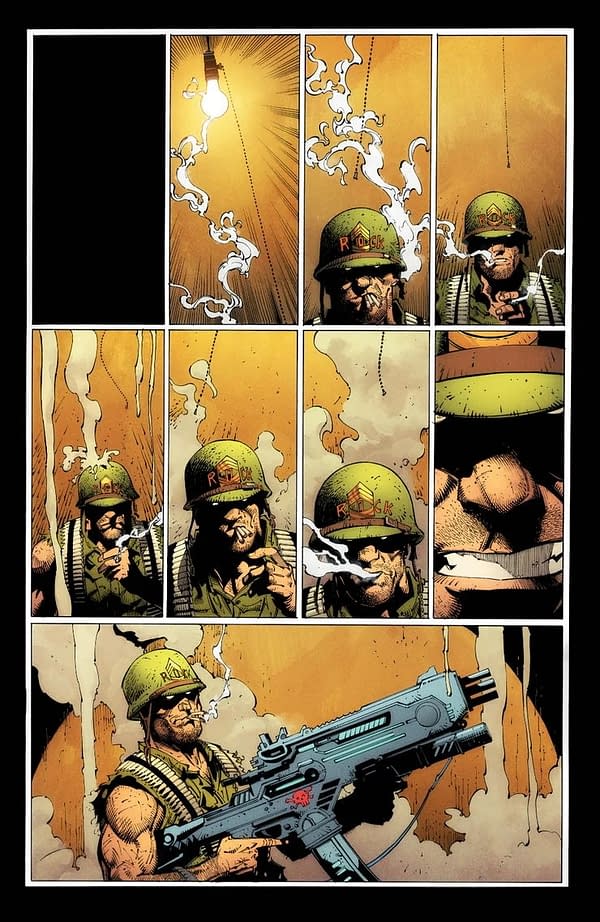 2. There was some pressure for the original Metal series to be called Dark Crisis. Death Metal is subtitled An Anti-Crisis. It posits that the DC Crisis events are a destructive rather than a creative force, getting rid of continuity, where Death Metal celebrates it all. Part One, 'It All Matters' underlines this with a big fat marker pen. It's written as a kind of rallying cry for the Comics industry to be proud of what it has – all of it – and is a call to come together and fight for comics. Which seems rather pertinent right now.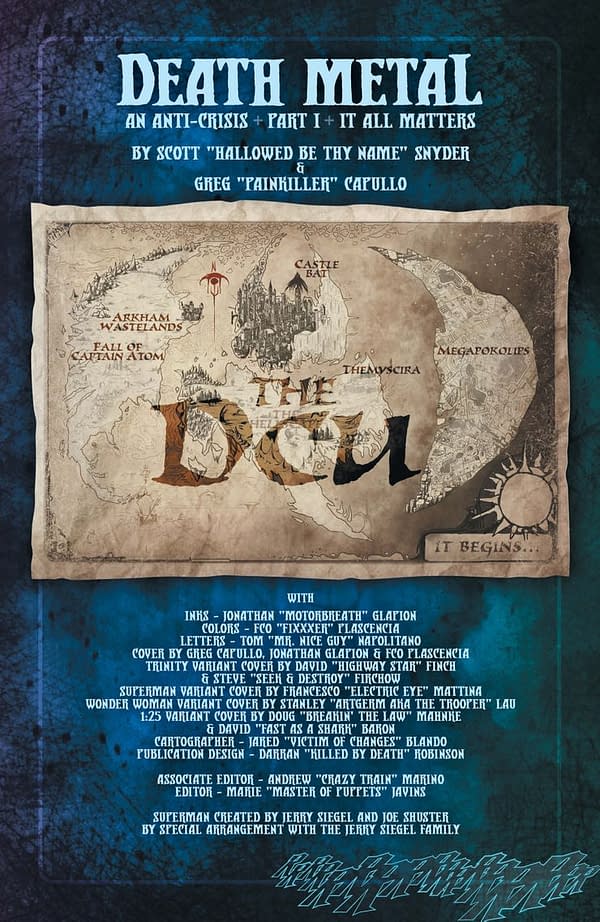 3. Captain Atom has fallen. Arkham is a wasteland. The Batman Who Laughs has transformed Gotham into a castle above of which he is the king. Apokalips transformed into a 2000AD-style police state. While Paradise Island is now in Hell, with all the John Milton references (and heavy metal album cover references) such a move would need. Death Metal insists that yes, this is the DCU. The real one. The actual one. Live with it, just don't live in it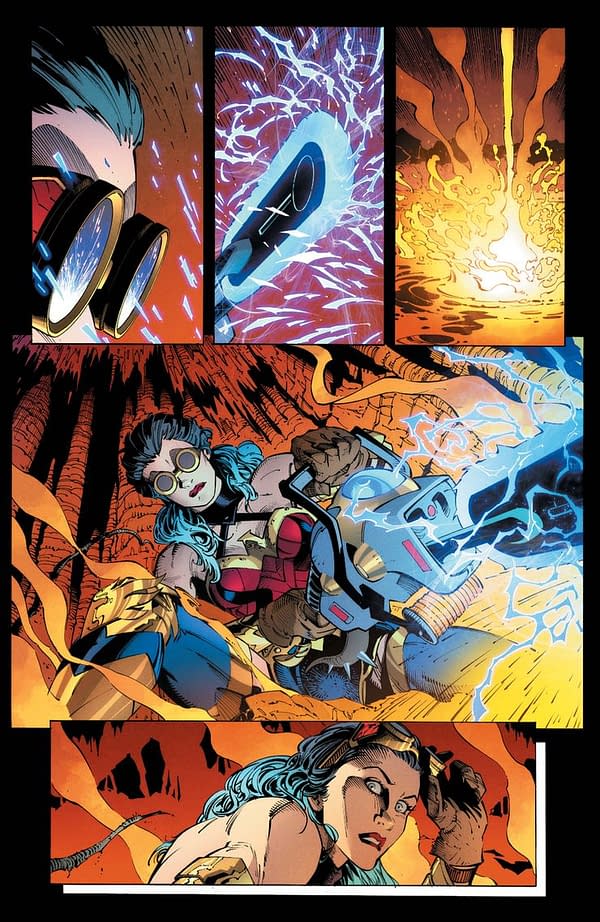 4. Wonder Woman is the centre of this story, with the compromises she has had to make to save so many more. But her plans go up against the Batman Who Laughs. Can she get outside and around his Heist-o-tron logic? Is this her Death Valley?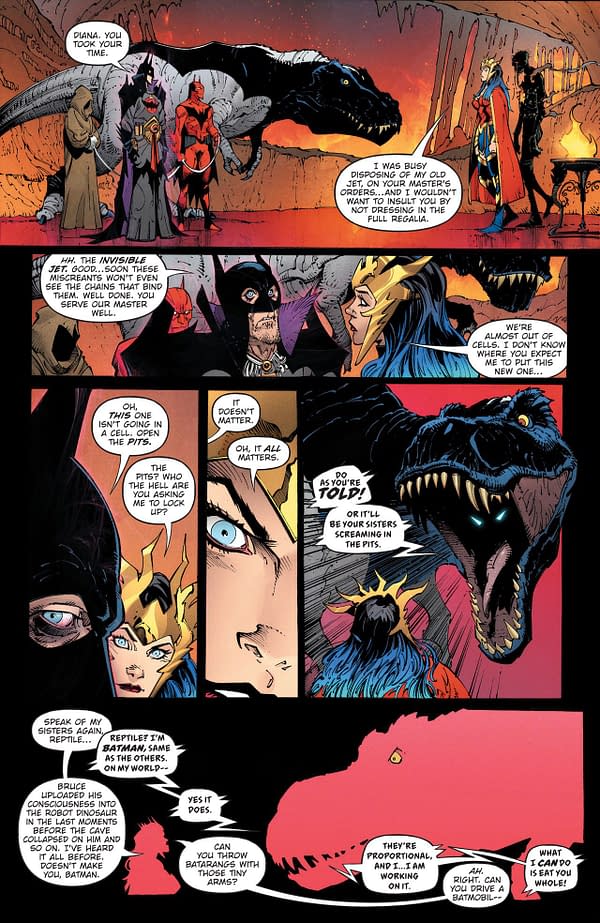 5. Forget Tyrannosaurus Batman, that is a very fine-looking Burning Swamp Thing.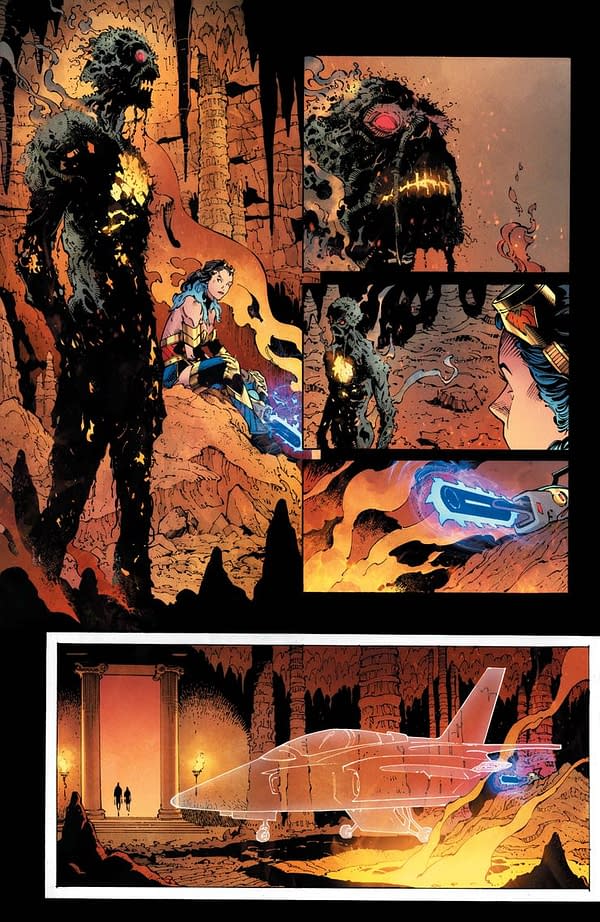 6. The Batman Who Laughs knows you are fed up with him. And cares not. He has a much bigger plan, whether he is there or not, and his finger on the button turns a familiar smile upside down. Yes, he is king, but Batman has an actual revolutionary army to take him down… how very American of him.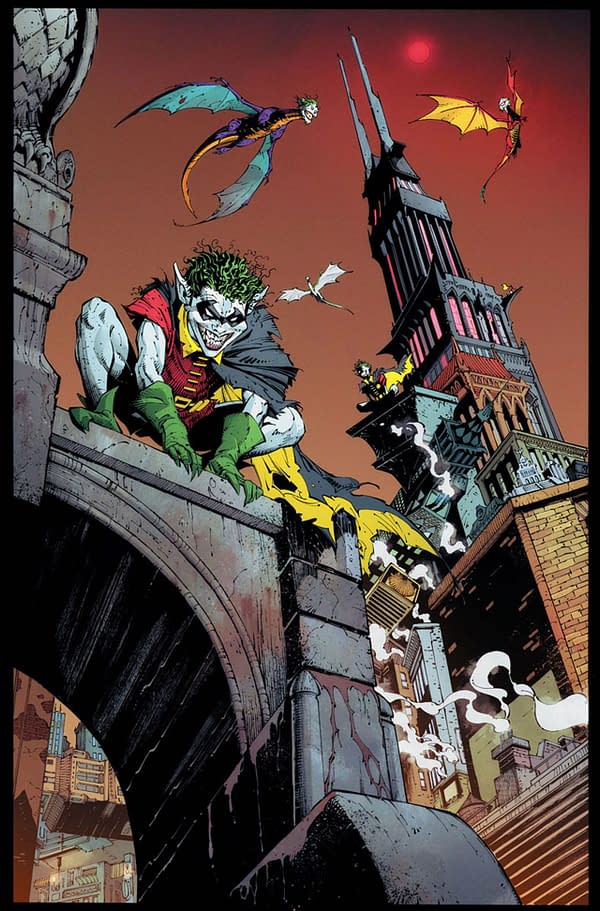 7. We also get a new history of Gotham during the American Revolution and what happened when the British were coming. And how even that history can be weaponised. Scott Snyder does love a field.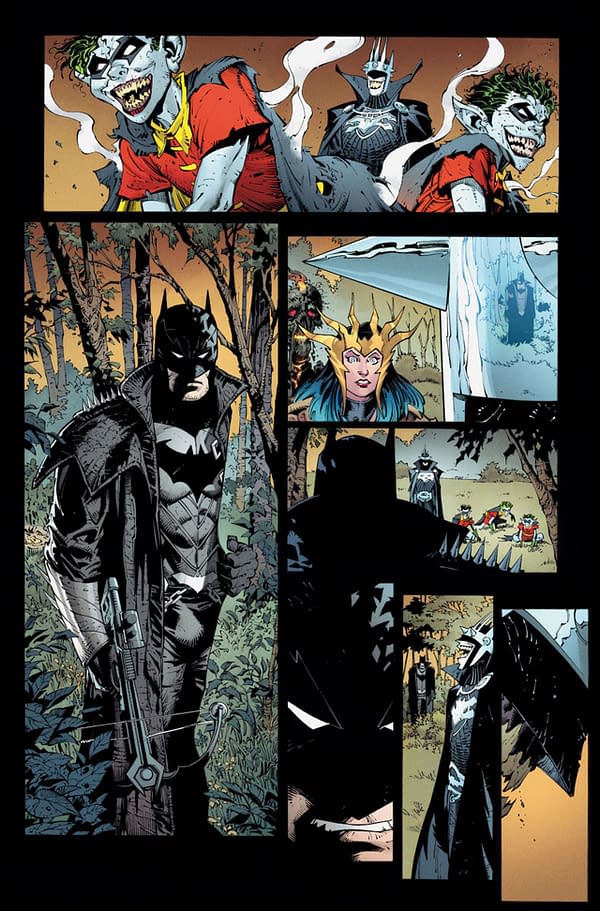 8. There are only eight universes of the New 52 left. Perpetua has been busy. Wally West remains as we saw him in Flash Forward. In fact, plenty of this may be his fault. Death Metal works as a sequel to the unpublished Free Comic Book Day DC Generation Zero comic book – maybe, as with Marvel's titles, we will get this sooner rather than later? And what happened in Doomsday Clock was only the start.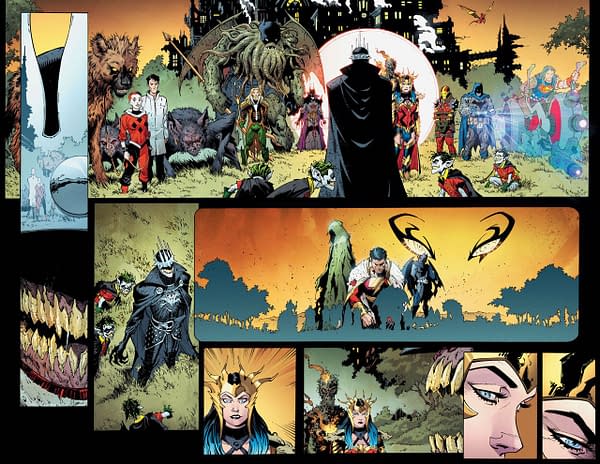 9. The fightback fights within itself and no one can agree. Is the best way to try and put everything back the way it was? Or is it to make the best of what you have? And all about fighting your way back to who you are after falling short
10. I have no idea what Lobo is up to on his bone planet. But there's none more Metal than him.
DARK NIGHTS DEATH METAL #1 (OF 6)
MAR200477
(W) Scott Snyder (A) Jonathan Glapion (A/CA) Greg Capullo
Get ready for the earth-shattering encore! The legendary team behind Dark Nights: Metal and Batman: Last Knight on Earth take center stage and reunite for one last tour. When the Earth is enveloped by the Dark Multiverse, the Justice League is at the mercy of the Batman Who Laughs. Humanity struggles to survive in a hellish landscape twisted beyond recognition, while Batman, Wonder Woman, and Superman have all been separated and fight to survive. Unleash the beast and let the head banging begin! In Shops: Jun 17, 2020 SRP: $4.99