Four exclusive DC Comics featuring Justice League Super Heroes are now available in specially marked boxes of Big G cereals.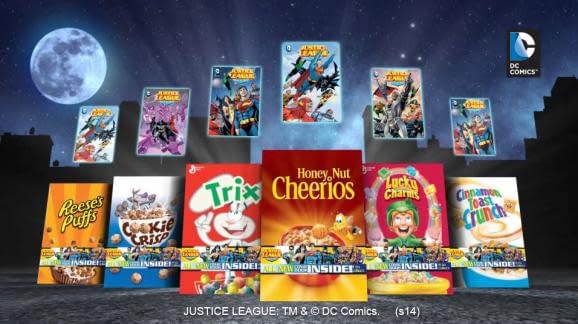 Select General Mills Big G cereals now include four comic books featuring the iconic DC Comics' characters, on shelves now through April 2014. Four specialty issues can be found in grocery retailers nationwide, with a bonus fifth issue available only in select boxes of Cheerios at Target.
Each specially marked box of Big G cereal also features several DC Comics Super Hero costume piece cutouts on the back. Those who have read Part One of each in-box comic book can then visit www.BigGCerealHeroes.com to read Part Two.
Participating Big G cereals include Cinnamon Toast Crunch (12.2 oz. and 21.25 oz.), Lucky Charms (20.5 oz.), Honey Nut Cheerios (12.25 oz. and 21.6 oz.), Trix (10.7 oz.), Cookie Crisp (11.25 oz.), and Reese's Puffs (13 oz.).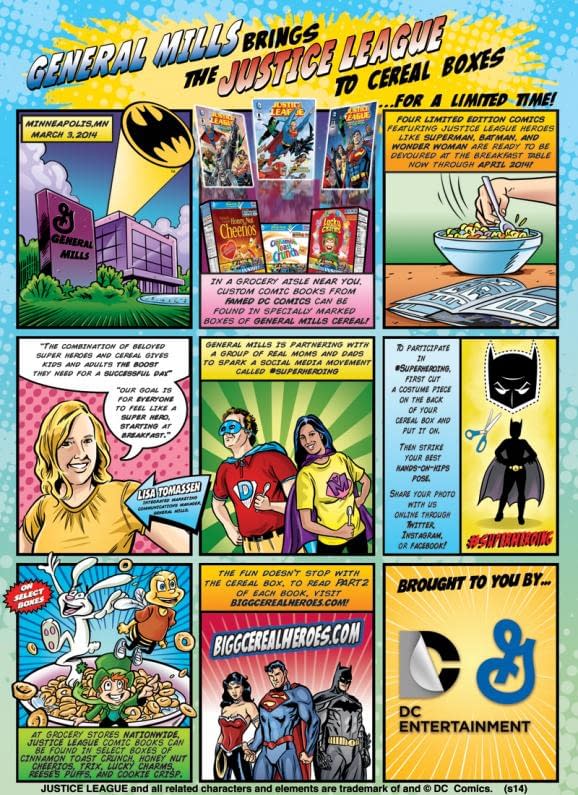 Norm Rapmund and Dan Jurgens seem rather pleased.
@NormRapmund @djjurgens why am I not surprised it's Cookie Crisp!;)

— Brett Booth (@Demonpuppy) March 5, 2014
Enjoyed this article? Share it!