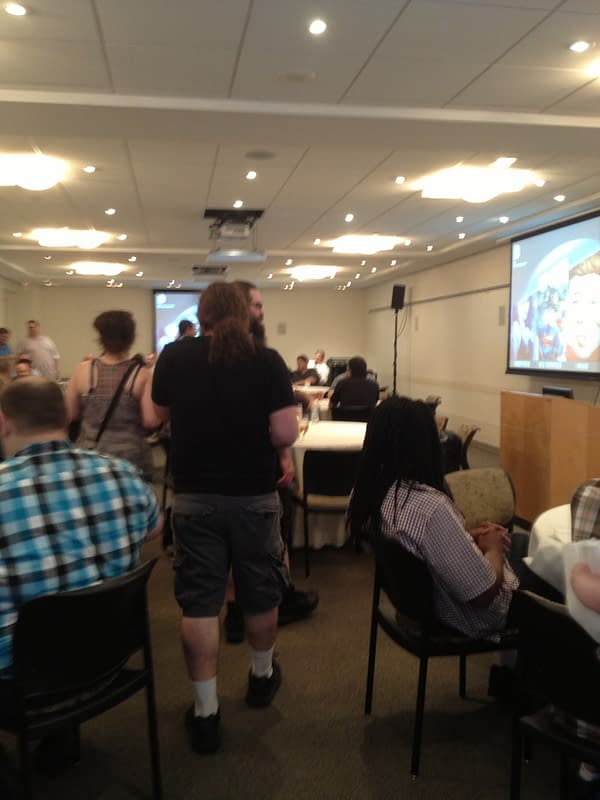 Straight from the DC Retailer Roadshow…
The event held today, with around a hundred retailers present, showed off upcoming DC Comics work. But the focus was on the 3D covers for September's Villain's Month, in person.
All retailers should have received (or will be receiving) a copy of the new technology 3D cover for Superman Unchained. Printed and manufactured in China, with several layers of art, the back of each Villain's Month issue will be 3D too.
The process is so pricey (and proprietary as a result), DC will be losing money on each print sale (even at $3.99) and print runs have already been set based in existing sales, before they have received their first order – it has to be that way. But retailers got the impression that there won't be reorders available on the books and they might need to up their orders in advance – and do it sooner rather than later.
We learned a number of other things along the way, too.
That DC Comics gets "the lion's share" of its comics revenue from Diamond, and ten percent of its business from digital comics. Retailers asked if DC would join the comic store-based Diamond Digital, but DC didn't seem interested. They did moot the idea of placing digital codes in every comic, but retailers overwhelming voted against that in the meeting.
Unlike other comparable superhero movies, DC report they saw a spike in sales with the release of Man Of Steel.
Jim Lee sees September every year as about courting the mainstream press for new and for lapsed customers. DC plan to do something special every September going forward.
Dan DiDio admitted that DC lost momentum. Trinity War is an attempt to fix that, with three Justice League tea,s at war, and how that leads into Villain's Month and then into Forever Evil. And the first issue of that will also be a motion cover. DC sees their physical form innovations as a bulwark for print sales, die cuts, acetate, fold out posters, 3D covers… and more to come.
They also showed off Sandman Zero artwork, but individually via a handler, so that it could not be photographed. Expect this to be shown publicly at San Diego Comic Con. Enjoyed this article? Share it!