Deaths, Resurrection & Future Past In X-Men Comics Today (XSpoilers)
X-Men time! It was the exposed policy of Krakoa that they could and would resurrect mutants, that caused the situation now known as AXE: Judgment Day at Marvel Comics. Druig of the Eternals took advantage of the news to redefine mutants as deviants and launch a war against mutants, rallying the popular support of humanity, to do so. The fightback saw the emerging Progenitor Celestial choose to, instead, judge the entire world, who pass and survive, or fail and be wiped out. Writer Kieron Gillen says it's about climate change, I see it as an example of recent political fights, where rising up against absolute injustice only triggers far greater injustices for all sides. But that's me.
1. Days Of Future Future
Today's Judgment Day-related comics paint different pictures. For Cerebra from the year 2099, in today's Marauders #7, has memory of all this, dismissing Progenitor as just one example of what is to come. That there may be more refugees from her future, too.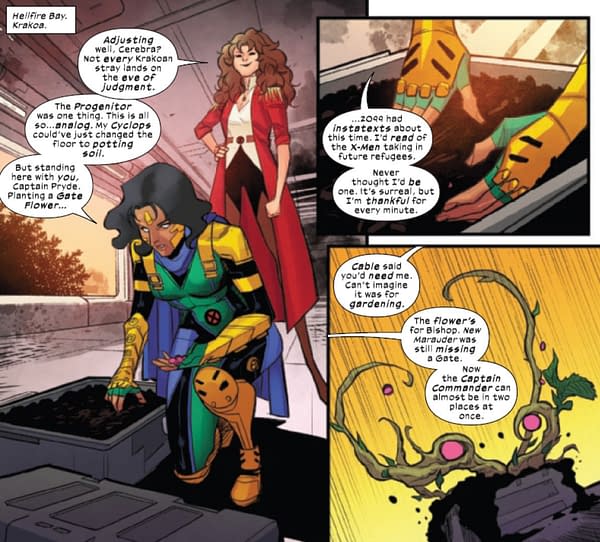 Such as over in today's Savage Avengers, I guess, where Jake Galloway, the Punisher 2099 is stalking his prey, in the Marvel present.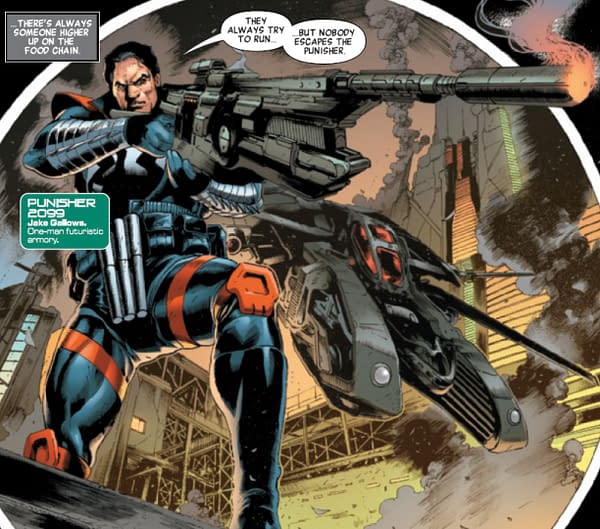 But does this make the whole Judgment Day story moot? As it reveals there is a humanity in the future that survives this? Well no, as the comic also hints, there are competing futures at play here, with Bishop as an example of another.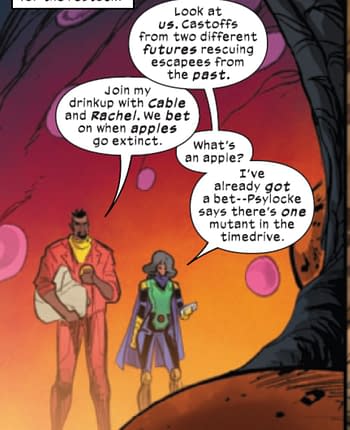 2. Rather Be Dead And Red
And there are no apples in the future, any of them. What happened to this guy, who has saved thousands of varieties from extinction single handed? Magneto, whose heart was ripped out by Uranos on the planet of Mars/Arakko, but managed to hold everything together until Uranos was defeated, finally meets his end in X-Men Red #7.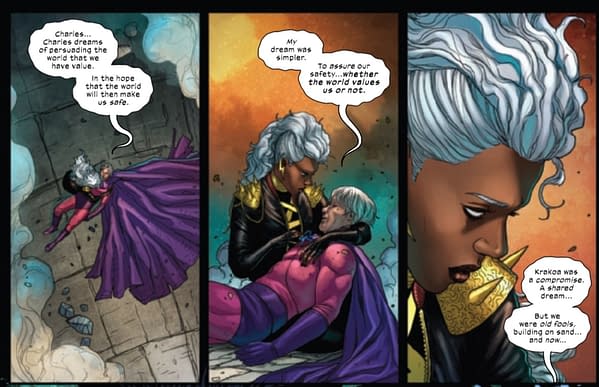 Magneto, as Storm, had deleted their Krakoan backups and so can no longer be resurrected by The Five of Krakoa. So he has some very final words of warning for Storm.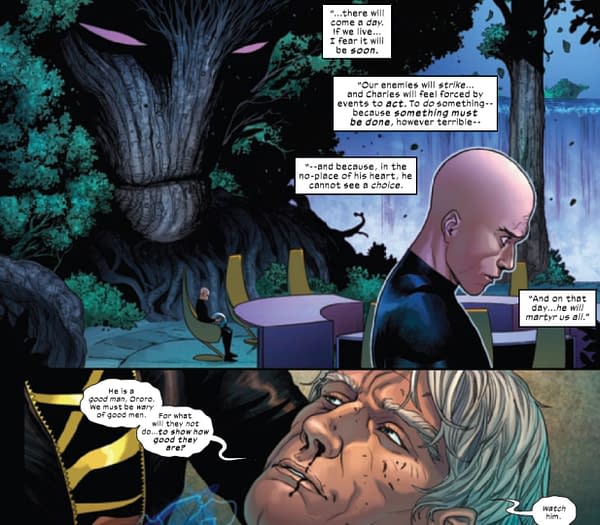 Earning of what Professor Xavier may do, as the sole founder of the New Krakoa. With an idea that he may be Marvel's Adrian Veidt in the making.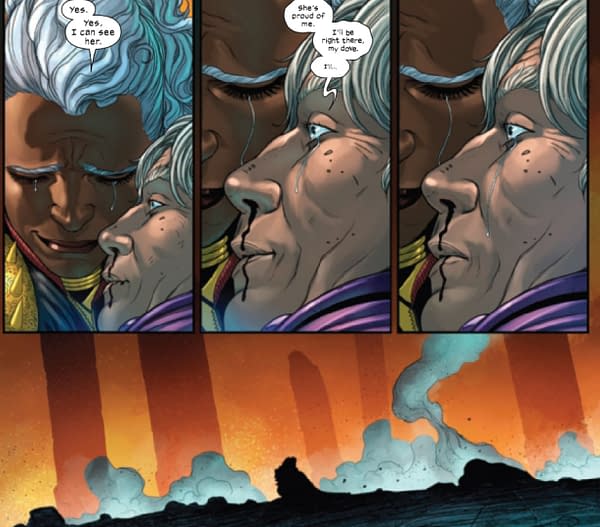 And so Magneto ends. But on Arakko, he is most definitely not alone in that. One of millions.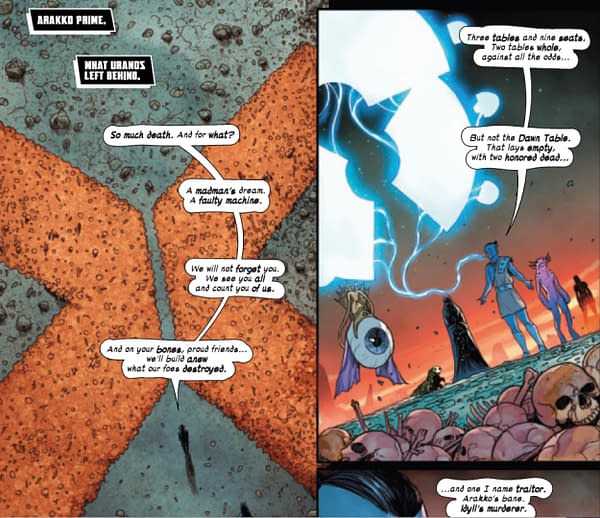 3. Eternally Murderous
And it looks like what Uranos did with the mutants on Arakki, the Eternals will do with the rest of the Eternals if Starfox succeeds in evacuating them from Celestial judgment, in AXE: Starfox #1.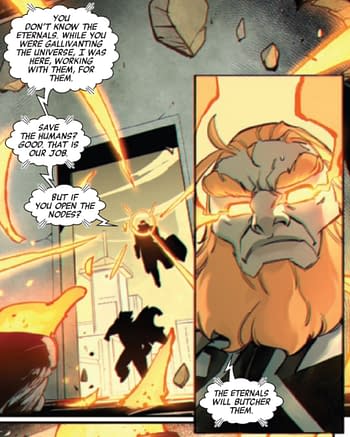 4. Judgment Calls
Would that even work? As X-Men Red #7 shows, the Celestial judgment stretches from Earth to Arakko.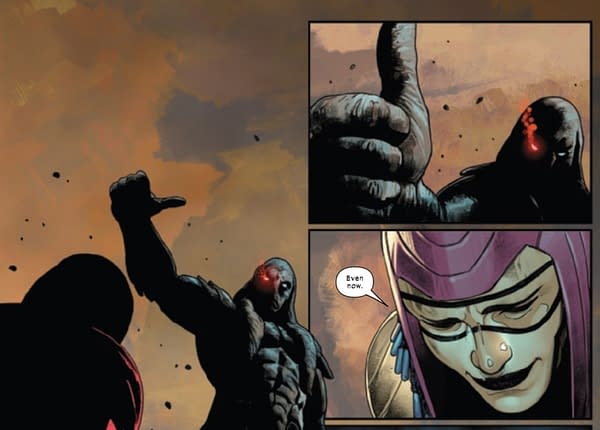 So that is a pass for Isca The Unbeaten. The clue is in the name. Jean Grey is not so lucky in AXE: X-Men.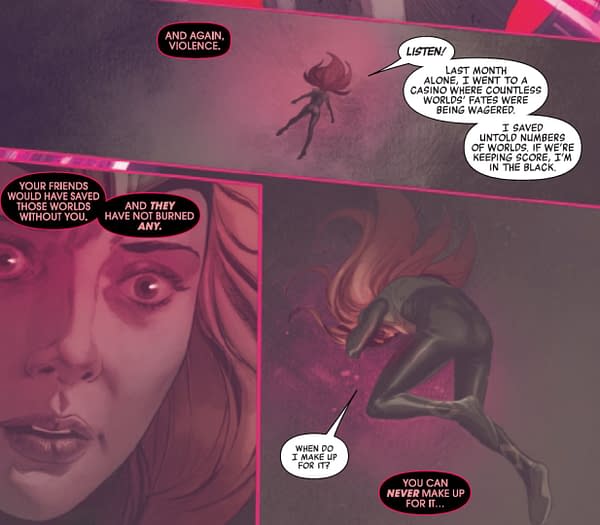 Oh, that will be fun in the Summer House, with Scott Summers having passed, and Jean Grey not.

5. Bringing All Back The Good Times
Starfox tried to save humanity from judgment by the book, in the knowledge that maybe, just maybe, he could have saved them all by trickery.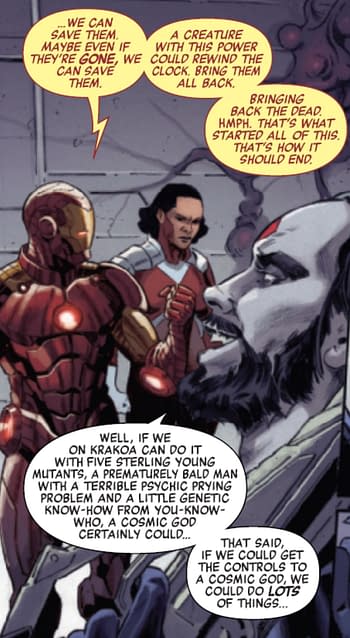 Iron Man suggests the resurrection of all humanity using the power of the Celestial, while Mr Sinister gives out the full details of Krakoan resurrection that not even Ben Urich of the Daily Bugle had to hand.
6. When Five Become One
But there is another option as well in Marauders.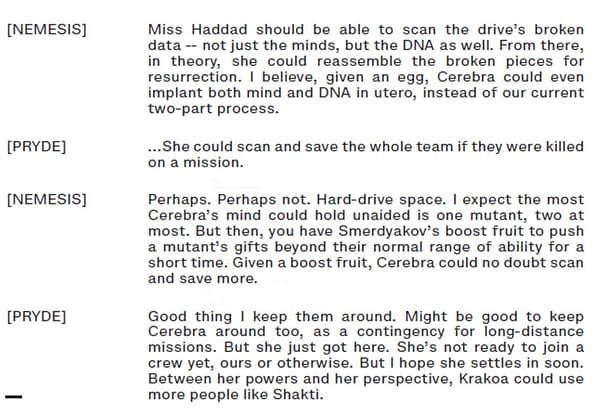 The idea that Cerebra, working with Egg, could bring mutants back herself, without the rest of The Five. And looks to resurrect the long lost mutants from the past.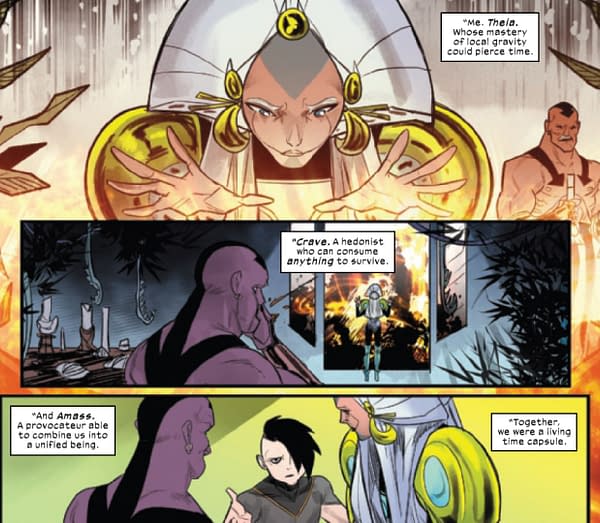 Powers and warriors would could prove useful to the Krakoans of the present, especially when there are being judged by a Celestial.
7. Clone Confessions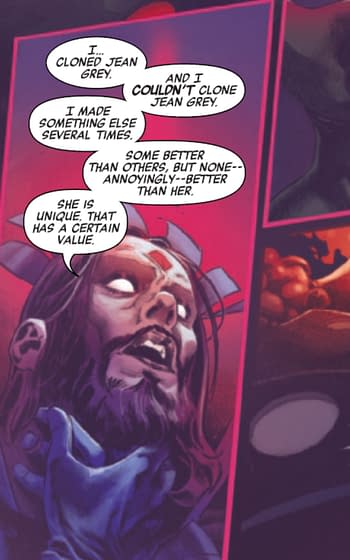 Mister Sinister also makes his confession as to the many resurrections of Jean Grey as clones he had performed over the years. I do hope Madelyne Pryor wasn't listening…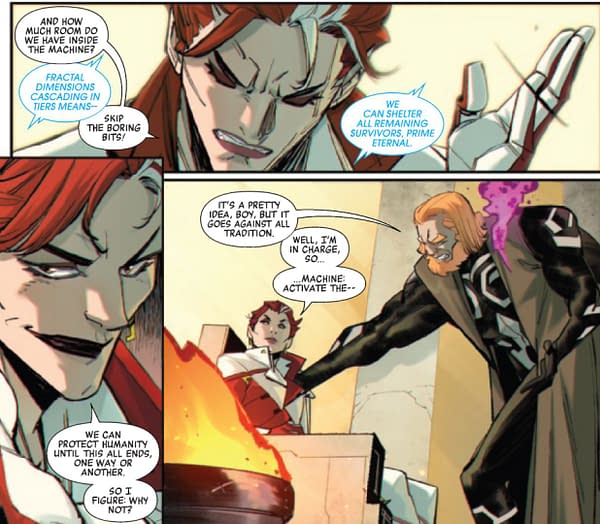 8. Miracle Workers
It has been noted that House Of X, as created by Jonathan Hickman, bore some resemblance to Alan Moore's Marvelman and Miracleman. In which a whole world is transformed by the presence of alien superheroes, who end up bringing technology and gifts, and shifting the balance of power overnight. The resurrection protocols are also akin to those set up by Moore and explored by Gaiman and Buckingham, which had Andy Warhol resurrecting himself many times over. Today's Miracleman #0, a reworking of Miracleman Apocrypha, includes a take by Mike Carey and Pete Davidson, looking at a hardboiled pulp detective living in the remade Miracleman world. Where murder is no longer a crime.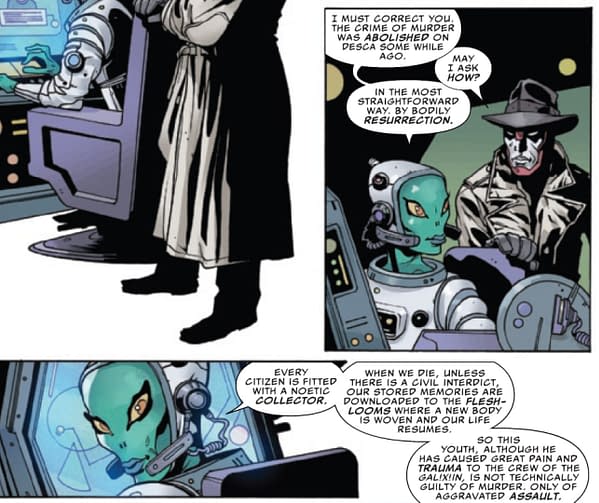 Mike Carey didn't have time in his schedule to return to the Xbooks recently when asked by Hickman. But might he have used his short story in Miracleman #0 to join a link between that storyline and the current Xbooks? Especially since, in recent Judgment Day, we have seen that, yes, Krakoa can resurrect humans if deemed necessary…
AXE STARFOX #1
MARVEL COMICS
AUG220778
(W) Kieron Gillen (A/CA) Daniele Di Nicuolo
AN A.X.E. TIE-IN! Eros the Eternal! Starfox of Titan! The equal of his brother Thanos, matching his achievements every step of the… What? Oh. But you know what they say. Come the hour, come the…intergalactic layabout who'd rather have a drink? At least if this is Judgment Day, he won't be around for a hangover tomorrow.
Rated T+In Shops: Oct 05, 2022
SRP: $3.99

AXE X-MEN #1
MARVEL COMICS
AUG220771
(W) Kieron Gillen (A) Francesco Mobili (CA) Nic Klein
THE SECOND STORY-CRITICAL A.X.E. ONE-SHOT! It wasn't her. It wasn't her. It wasn't her. It wasn't her. It wasn't her. Yet: "I am fire and life incarnate! Now and forever." Which part of "Now and forever" is confusing to you? As one world burns, can Jean justify her existence after burning another?
Rated T+In Shops: Oct 05, 2022
SRP: $3.99

MARAUDERS #7
MARVEL COMICS
AUG220851
(W) Steve Orlando (A) Eleonora Carlini (CA) Kael Ngu
HERE COMES YESTERDAY – PART 1! The Marauders have rescued the last survivor of Threshold from certain death with an assist from one of 2099's mutant heroes! Captain Pryde promised to help mutants in need, no matter where they are or when. But can the Marauders rescue an entire civilization in the past without erasing the future? And wait, haven't they seen Threshold's annihilators before?
Rated T+In Shops: Oct 05, 2022
SRP: $3.99

MIRACLEMAN #0
MARVEL COMICS
AUG220743
(W) Neil Gaiman, Various (A) Mark Buckingham, Various (CA) Alan Davis
Forty years ago, Miracleman's modern era began and changed the world of comics as we know it. Now, on the cusp of a new era of Miracleman, we celebrate all things Kimota with a who's who of the best talent in the industry! Plus, Neil Gaiman and Mark Buckingham set up this issue and their return to MIRACLEMAN: THE SILVER AGE!
Rated T+In Shops: Oct 05, 2022
SRP: $5.99

X-MEN RED #7
MARVEL COMICS
AUG220789
(W) Al Ewing (A) Madibek Musabekov (CA) Russell Dauterman
FINAL JUDGMENT FOR THE RED PLANET! – AN A.X.E. TIE-IN! As the dust settles and the costs are counted, change is coming to Arakko – starting at the top. After the catastrophic war with the Eternals, the Great Ring declares that ISCA THE UNBEATEN is no longer fit for the Seat of Victory. But Isca's power is never to lose. If she won't step down…is there anyone on Arakko who can make her?
Rated T+In Shops: Oct 05, 2022
SRP: $3.99