Deathstroke #28 Review: Back to Basics for Slade Wilson
[rwp-review-recap id="0"]
Defiance is dead. Deathstroke must deal with the fallout while tracking down his daughter, Rose, who is making nighttime hits in Chinatown as figure called "Willow." He is also having to skirt the Superman of China, Kong Kenan. Slade recruits Terra to help with the task.
Rose herself has come across the super-powered David Isherwood, who has a profound grudge against Slade Wilson.
Joseph Wilson is having his on troubles in the shadow of Defiance.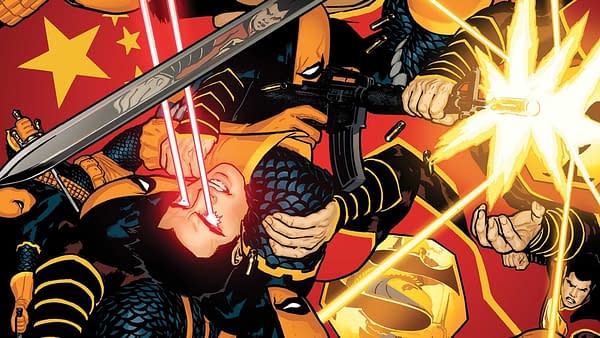 Though "Defiance" was an interesting arc for Deathstroke, it is nice to see Slade back in the old orange-and-blues.
This issue also brings to the forefront the subplots that Christopher Priest had running in the background during "Defiance." Deathstroke must deal with the Superman of China as well as Rose's nighttime escapades as Willow.
Priest manages to continue the delicate balance of giving us a character who we are constantly in the personal headspace of while never really knowing what he will do next. He allows the reader to know Slade while contending with the mystery that is Slade.
Deathstroke is also a consummate badass, but Priest keeps the complexities and nuances of the character that keep him from being just a badass.
The support cast is compelling, too, with a couple of twists coming at the reader courtesy of Wintergreen, Rose, and Jericho/Joseph.
The somewhat vain and social media-obsessed Kong Kenan will also be a good foil to Slade to watch. Kong is probably going to annoy the crap out of Slade, and that would be pretty entertaining.
The one drawback to all these spinning plates is that no plot advances too far this issue, though they all cooperate in a way that it seems like they may come to a head in unison.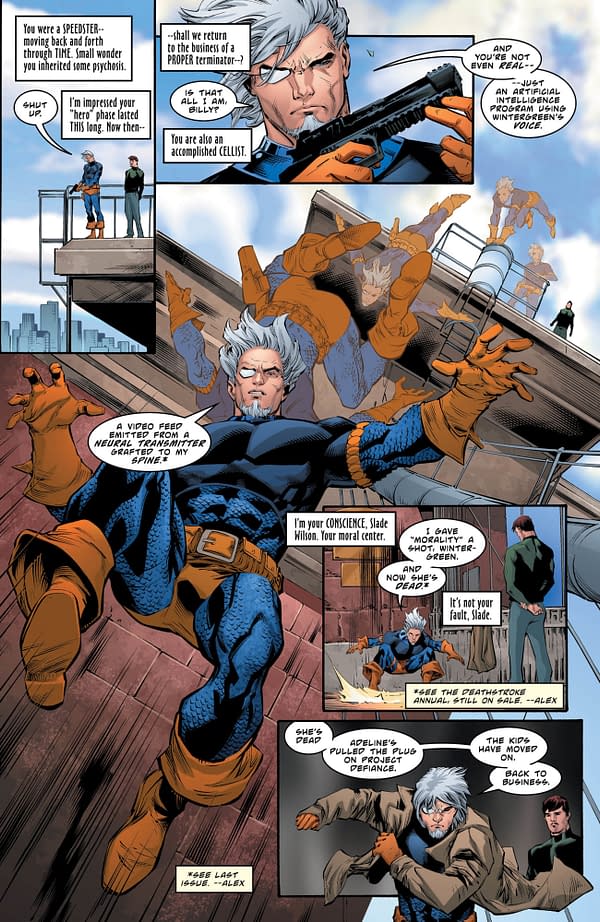 Diogenes Neves returns to cover the art for this comic, and he continues to be the perfect for this book. His is a gritty and detail-heavy style that creates a grounded world for Deathstroke to maneuver within. Trevor Scott's inkwork emphasizes that quality detailing. Jeromy Cox creates a balanced color palette to coincide with the grounded line artwork.
Deathstroke #28 finds Slade returning to his morally questionable activities, and it's almost refreshing to watch this ruthless man continue his work. Priest continues to show his firm control on this title, and the art team of Neves, Scott, and Cox bring quality art to coincide. This is a great series, and I highly recommend reading it. Check it out.
[rwp-review-ratings id="0"]
[rwp-review-form id="0"]