In 1989, Christopher Priest – then known as Jim Owsley – wrote a story for Batman Annual #13 called Faces, with art by Michael Bair and Gray Morrow.
Which featured this scene, Bruce Wayne rising from bed in the nip, and heading out to change into his Batman clobber.
A functional, non ezplicit nude scene. Now, in Batman Damned by Brian Azzarello and Lee Bermejo, the original planned printing of the comic, and the one that was sent out to retailers as a preview copy weeks in advance, much of what would later cause a fuss was hidden in darkness. Somewhere along the way, the decision was made for the printers to lighten the book up a bit – and which point all was revealed.
Now comic book printing in 1989 was at its infancy compared to know, regarding the quality of image, the absorbtion of newsprint and it was often guesswork as to which lines would make it to the page. So if you take this scene…
And ramp up the contrast – it appears to reveal more than might be considered seemly.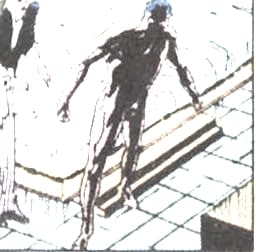 If the printer malleabilty had been available to DC Comics back then, who knows if Batman Annual #13 would have caused a scandal ending up on Letterman?
There but by the grace of Barbatos…
Enjoyed this article? Share it!