Doctor Strange Takes a Day In The Office For 400th Anniversary (#10 SPOILERS)
At the beginning of the new Doctor Strange series by Mark Waid and the gloriously beautiful Jesus Saiz, the good Doctor lost his magic. He tried to get it back and failed. And in a rather Swamp Thing style, left the Earth on a Tony Stark space ship to find other magicks from other worlds he could use to learn.
Which was, apparently, the last thing he should have been doing. And has given himself a cocksure certainty…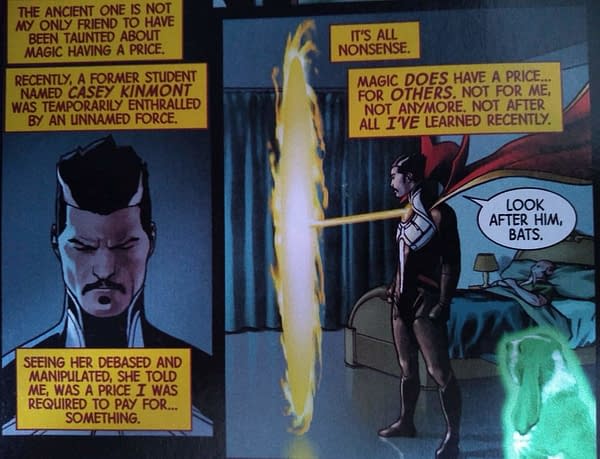 …that, as Doctor Strange becomes more and more like John Constantine, is always going to be pride cometh before a fall. And at the expense of his friends.
Now Jesus Saiz makes Doctor Strange one of the best looking comic books on the stand. But also that's because Mark Waid gives him lots of cool things to draw, monsters, space ships, planets, dimensional portals, magical energy, all the Doctor Strange-type stuff. He doesn't, like Spider-Man say, find himself stuck in an office.
Until now.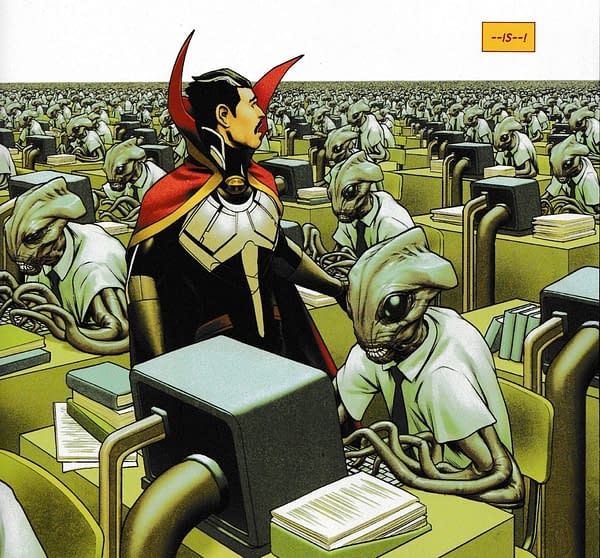 Well, at least Jesus got to do some cut and pasting. For the four hundredth issue of Doctor Strange, we get a better explanation of how magic works in the Marvel Universe. And the idea of a civil service-style bureaucracy behind an elaborate fantasy is always a fun one.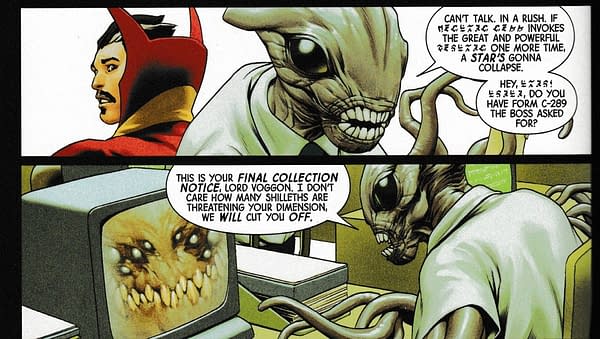 And it seems that Doctor Strange's comments about his magic not having a price are for the birds. So we even get some entertainingly illustrated exposition, setting out the reality for how magic works in the Marvel universe now – and then.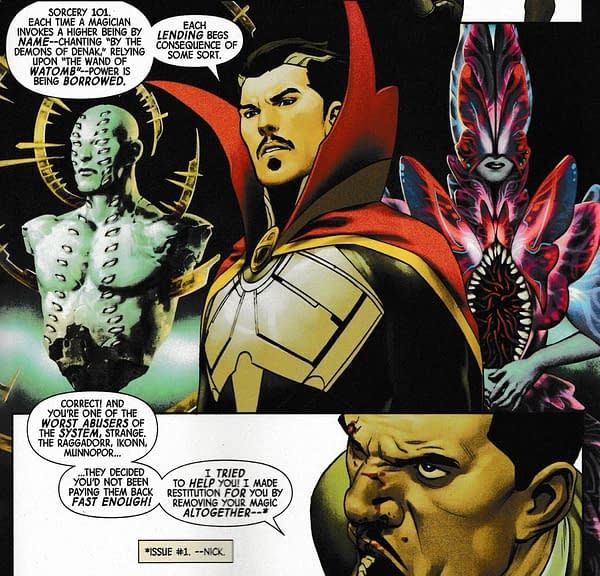 So basically after Doctor Strange has had his credit cards cut off in his country, he just took them abroad and started spending them there…
The comic also comes with stories written by Waid and drawn by Kevin Nowlan, Butch Guice and Daniel Acuna – though not the solicited Chris Bachalo. Including, courtesy of Kevin, a remodernising of a certain Doctor Strange origin…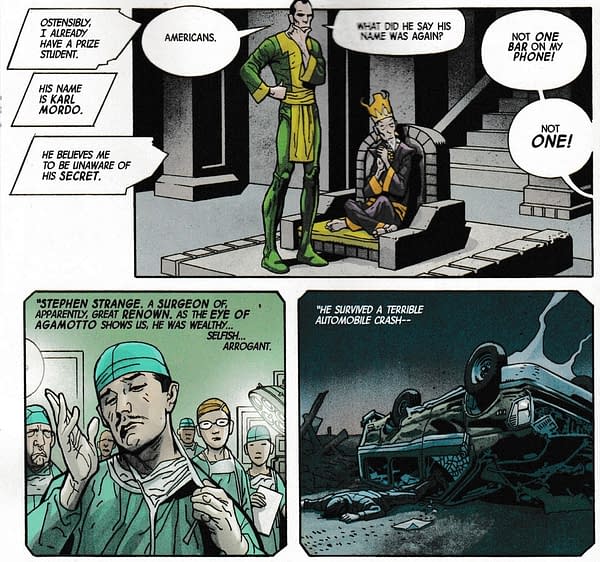 …maybe he was texting?
Doctor Strange #10 is published tomorrow from Marvel Comics.
DOCTOR STRANGE #10
(W) Mark Waid (A) Chris Bachalo, More (A/CA) Jesus Saiz
DOCTOR STRANGE HITS HIS MILESTONE 400TH ISSUE!
Creative team Mark Waid and Jesus Saiz are joined by some of the best DOCTOR STRANGE artists of all time to tell a monumentally strange tale! Someone has been working in the background since the first issue, chipping away at Doctor Strange and other magicians, undercutting and depleting their magic, and the other shoe finally drops. Does Strange stand a chance against someone who can take his magic away with the snap of their fingers? Rated T+In Shops: Jan 30, 2019 SRP: $5.99