Donny Cates Promises Thor Will Be "Real, Real Bad" in New Thor #1 Trailer
Marvel has released a trailer for Thor #1, the upcoming relaunch from global entertainment superstar and fashion icon Donny Cates and artist Nic Klein. In the trailer, Cates promises to break all of the gods in the Marvel Universe.
"If you've read anything that I've ever done, you know that I like to dive deep into mythology, into lore, into gods," the Bad Boy of Comics said in the trailer. "And now I get to play with them and build them up, build their mythology out, and break all of them."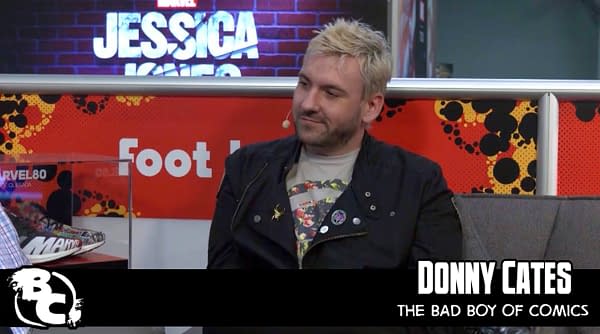 Despite threatening to destroy precious Marvel intellectual property, Marvel Editor-in-Chief C.B. Cebulski had nothing but praise for the handsome young writer.
"For as long as I've known Donny Cates, I've known that he wanted to write Thor," Cebulski gushed. "He has coveted this book. He's a character who's been around in Marvel forever and you think he's seen it all, and Jason Aaron took him in different places than where Walt Simonson took him than where Stan [Lee] and Jack [Kirby] took him. But Donny has this unique mind and this unique take, doing things with Thor on such a scale that it's unimaginable."
"I try to pull out all the stops and make things as big and loud as I can," Cates admitted.
"Donny's ideas are so big that we had to look for a penciler who could live up to what those scripts, what we knew that they were going to be," Cebulski said, continuing to heap compliments on the deserving Cates. "And in the end, it came down to Nic Klein. He's the only guy that we knew could live up to the action, to the adventure, and to the seismic scripts that Donny is turning in."
"Nic is such a brilliant actor as well as doing some of the most beautiful Thunder and lightning and war and wrath that you've ever seen," said Cates, trying to share some of that praise with his creative teammate, but Cebulski was having none of it.
"They say that comics, the only limit is the limit of the writer and the artist's imagination," said Cebuslki, whose pupils had literally turned into the shape of hearts by this point. "There is no limit to Donny's imagination, and there is no limit to where he's going to be taking Thor in this new series."
Cates, for his part, says that the series is going to be "real, real bad." Not "bad" like "not good." In the sense of Michael Jackson's bad, of course.
"I find him at the top of his game," said Cates. "He has everything. And now he's sitting on his throne kinda thinking about what happens tomorrow. Well tomorrow is me and Nic Klein, and tomorrow is gonna be real, real bad."
Check out the trailer below. Thor #1 hits stores on January 1st. Final order cutoff is next Monday.
THOR #1
AUG199016
(W) Donny Cates (A) Nic Klein (CA) Olivier Coipel
A BRAND-NEW, SUPERSTAR CREATIVE TEAM TAKES THE KING OF ASGARD TO NEW REALMS OF GLORY!
The prince is now a king. All Asgard lies before Thor, the God of Thunder. And after many months of war, the Ten Realms are finally at peace. But the skies above the Realm Eternal are never clear for long. The Black Winter is coming. And the God of the Storm will be powerless before it.
Rated T+
In Shops: Jan 01, 2020
Final Orders Due: Nov 25, 2019
SRP: $4.99