Doomsday Clock #11 Printed, In Stock at Diamond, In Comic Shops Next Week Alongside Legion: Millennium #1
Once upon a time, DC Comics writers were told they couldn't do stories with the Legion of Super-Heroes or the Justice Society Of America, as they were all tied up with Doomsday Clock, the unauthorised sequel to Watchmen by Geoff Johns and Gary Frank, published by DC Comics.
But then, as Doomsday Clock got more and more delayed, DC's other writers strained at the leash, somewhat. Especially when the bright and shiny Brian Bendis joined the boys from Burbank.
And so the Legion Of Super-Heroes returned, whether or not it conflicted with whatever was being set up in Doomsday Clock. Hell, Batman has just done that with the fate of Alfred.
And with Doomsday Clock getting later and later, and issues with pulpings of the lead-ins to Legion Of Super-Heroes with Supergirl #33 and Superman #14 getting the chop, everything was up in the air a bit.
Well, Bleeding Cool can now confirm that Doomsday Clock #11 is in the Diamond warehouses, to be shipped out to comic book stores for a week on Wednesday. And it will be joined by Legion Of Super-Heroes: Millenium #1.
I wonder which will sell more? Place your bets, ladies and gentlemen, place your bets…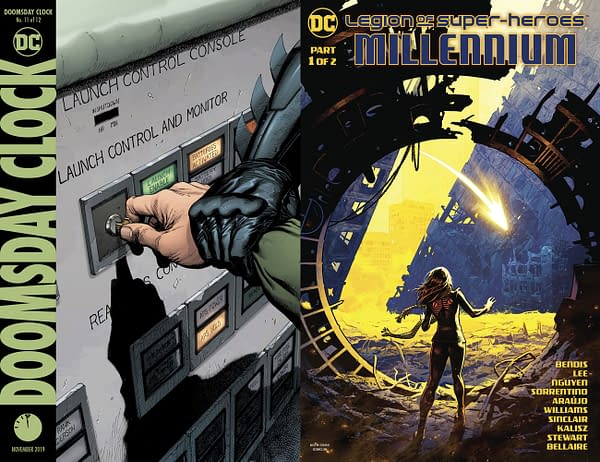 DOOMSDAY CLOCK #11 (OF 12)
(W) Geoff Johns (A/CA) Gary Frank
The critically acclaimed series by the renowned team of writer Geoff Johns and artist Gary Frank marches toward its conclusion. In this penultimate issue, the truth behind "Rebirth" is revealed as Batman searches for the one person he believes can help him save the world…Rorschach!In Shops: Sep 04, 2019
SRP: $4.99

LEGION OF SUPER HEROES MILLENNIUM #1 (OF 2)
(W) Brian Michael Bendis (A) Jim Lee, Dustin Nguyen, Andrea Sorrentino, Andre Araujo, Others (CA) Ryan Sook
Brought to you by some of comics' greatest talents, this epic story spans the course of 1,000 years and, for the very first time, connects all of DC's future timelines! Starring the unlikeliest of DC heroes as she learns to cope with newfound immortality and roams through the disparate societies of Batman Beyond, Kamandi and Tommy Tomorrow, wrestling with her own inner demons and desperately trying to find her purpose in an ever-changing world. Do not miss this truly unique take on tomorrow's DC Universe, all leading up to a special launch on the millennium!In Shops: Sep 04, 2019
SRP: $4.99
Doomsday Clock #1 was published in November 22nd 2017…