Doomsday Clock #12 Beat All-Comers in December 2019 Charts, as DC and Marvel Comics Grew Closer in Units But Further Apart in Dollar Marketshare
In November, Marvel saw their marketshare down with a 37.41% dollar share and a 42.68% unit share but still ahead of DC Comics as they dropped down to a 30.72% dollar share though up a bit to a 32.41%% unit share,
In December, Marvel had a slight uptick in dollar share with 37.89% and a massive jump in unit sales to 45.60%. While DC Comics also jumped to 33.55% dollar share with a slight drop down to 31.35% unit share.
Image Comics suffered this squeeze, dropping down from 7.90% dollar share and a 7.87% unit share to 5.91% and 5.93%. This is half of what they used to get.
Both four-week months, December 2019 beat December 2018 in comic book sales by a considerable amount, helping to round out 2019 beating 2018 in terms of dollars spent, 2.54%, even if the actual unites sold dropped by -1.44%. Fewer items sold but for much money.
Doomsday Clock #12 topped the charts in both dollars and units sold, with Incoming #1 coming second on dollars, as it was a $10 book. but further back at #8 in actual copies.
IDW Publishing's Teenage Mutant Ninja Turtles #100 was the publisher's top book at #17; Mighty Morphin Power Rangers/Teenage Mutant Ninja Turtles #1 from BOOM! Studios ranked #29; Todd McFarlane and Jason Shawn Alexander's Spawn #303 was Image Comics' top book at #45; and Dynamite Entertainment's Vampirella #6 ranked #61 for the month.
Marvel Comics' House of X/Powers of X, a hardcover collection of the two mini-series by Jonathan Hickman, Pepe Larraz, and R.B. Silva that heralded a revitalization of Marvel's mutant franchise, was the best-selling graphic novel of December and one of the publisher's four titles among the top ten. DC's Batman Volume 11: The Fall and the Fallen by Tom King and Mikel Janin led DC's slate of three titles in top ten at #2. Jeff Lemire, Dean Ormston, and Rich Tommasco's Black Hammer Volume 4: Age of Doom Part 2 from Dark Horse Comics ranked #5, and Garth Ennis and Darick Robertson's The Boys Omnibus Volume 6 from Dynamite Entertainment ranked #6.
Zenescope Entertainment's Grimm Fairy Tales Adult Coloring Book Volume 1 was December's best-selling book.
Depicting a scene from Marvel Comic's 1991 series The Infinity Gauntlet, Funko's POP! Marvel Heroes: Thanos "Snap" 6-Inch Deluxe Vinyl Figure, a PREVIEWS exclusive, was December's best-selling toy. Also in the top ten from Funko, the PREVIEWS exclusive POP! Dragonball Z: Super Saiyan 2 Vegeta Vinyl Figure ranked #2. Diamond Select Toys had a strong month with six products in the top ten, led by the Marvel Select: Avengers Endgame: Hero Suit Hulk Action Figure at #3.
Green Ronin Publishing's Critical Role: Tal'Dorei Campaign Setting, a perennial seller, returned to the top of the sales charts as December's best-selling game product. Paizo Publishing had eight products in the top ten, and S7 Game's My Hero Academia: The Card Game also returned to the charts at #3 for the month.
TOP COMIC BOOK PUBLISHERS
RETAIL MARKET SHARE
PUBLISHER
SHARE
MARVEL COMICS
37.89%
DC
33.55%
IMAGE COMICS
5.91%
IDW PUBLISHING
4.34%
BOOM! STUDIOS
4.03%
DARK HORSE COMICS
2.67%
DYNAMITE ENTERTAINMENT
2.56%
VIZ MEDIA
1.00%
TITAN COMICS
0.57%
RANDOM HOUSE
0.48%
OTHER NON-TOP 10
7.00%

UNIT MARKET SHARE
PUBLISHER
SHARE
MARVEL COMICS
45.60%
DC
31.35%
IMAGE COMICS
5.93%
BOOM! STUDIOS
3.66%
IDW PUBLISHING
3.51%
DYNAMITE ENTERTAINMENT
2.51%
DARK HORSE COMICS
1.87%
TITAN COMICS
0.51%
ARCHIE COMICS
0.47%
ABLAZE
0.44%
OTHER NON-TOP 10
4.14%
COMPARATIVE SALES STATISTICS
DOLLARS
UNITS
DECEMBER 2019 VS. NOVEMBER 2019
COMICS
0.18%
-1.28%
GRAPHIC NOVELS
-11.06%
-18.03%
TOTAL COMICS/GN
-3.00%
-2.48%
TOYS
13.47%
16.61%
DECEMBER 2019 VS. DECEMBER 2018
COMICS
7.08%
5.36%
GRAPHIC NOVELS
15.77%
2.87%
TOTAL COMICS/GN
9.20%
5.21%
TOYS
166.96%
191.68%
YEAR 2019 VS. YEAR 2018
COMICS
4.33%
-0.92%
GRAPHIC NOVELS
-2.01%
-7.95%
TOTAL COMICS/GN
2.54%
-1.44%
TOYS
25.96%
28.65%
NEW TITLES SHIPPED
PUBLISHER
COMICS
SHIPPED
GRAPHIC NOVELS
SHIPPED
MAGAZINES
SHIPPED
TOTAL
SHIPPED
MARVEL COMICS
103
32
0
135
DC COMICS
86
32
1
119
IMAGE COMICS
36
7
0
43
IDW PUBLISHING
28
13
0
41
BOOM! STUDIOS
23
14
0
37
DARK HORSE COMICS
22
9
0
31
DYNAMITE
14
4
0
18
KODANSHA COMICS
0
13
0
13
TITAN COMICS
8
2
2
12
ARCHIE COMIC PUBLICATIONS
9
0
0
9
OTHER NON-TOP 10
80
109
11
200
TOTAL
409
235
14
658
TOP 10 COMIC BOOKS BY UNITS SHIPPED
| | | | | |
| --- | --- | --- | --- | --- |
| RANK | DESCRIPTION | PRICE | ITEM CODE | VENDOR |
| 1 | DOOMSDAY CLOCK #12 | $5.99 | OCT190523-M | DC |
| 2 | X-MEN #3 | $3.99 | OCT190903-M | MAR |
| 3 | BATMAN: LAST KNIGHT ON EARTH #3 (MR) | $5.99 | SEP190478-M | DC |
| 4 | DARK KNIGHT RETURNS: THE GOLDEN CHILD #1 | $5.99 | OCT190471-M | DC |
| 5 | VENOM #21 | $3.99 | OCT191001-M | MAR |
| 6 | HARLEY QUINN: VILLAIN OF THE YEAR #1 | $4.99 | OCT190466-M | DC |
| 7 | SYMBIOTE SPIDER-MAN: ALIEN REALITY #1 | $4.99 | OCT190971-M | MAR |
| 8 | INCOMING #1 | $9.99 | OCT190860-M | MAR |
| 9 | AMAZING SPIDER-MAN #35 | $3.99 | OCT190926-M | MAR |
| 10 | SUPERMAN #18 | $3.99 | OCT190580-M | DC |
TOP 10 COMIC BOOKS BY DOLLARS INVOICED
| | | | | |
| --- | --- | --- | --- | --- |
| RANK | DESCRIPTION | PRICE | ITEM CODE | VENDOR |
| 1 | DOOMSDAY CLOCK #12 | $5.99 | OCT190523-M | DC |
| 2 | INCOMING #1 | $9.99 | OCT190860-M | MAR |
| 3 | BATMAN: LAST KNIGHT ON EARTH #3 (MR) | $5.99 | SEP190478-M | DC |
| 4 | DARK KNIGHT RETURNS: THE GOLDEN CHILD #1 | $5.99 | OCT190471-M | DC |
| 5 | HARLEY QUINN: VILLAIN OF THE YEAR #1 | $4.99 | OCT190466-M | DC |
| 6 | TEENAGE MUTANT NINJA TURTLES #100 | $7.99 | SEP190620-M | IDW |
| 7 | HARLEEN #3 (MR) | $7.99 | SEP190494-M | DC |
| 8 | X-MEN #3 | $3.99 | OCT190903-M | MAR |
| 9 | SYMBIOTE SPIDER-MAN: ALIEN REALITY #1 | $4.99 | OCT190971-M | MAR |
| 10 | VENOM #21 | $3.99 | OCT191001-M | MAR |
TOP 10 GRAPHIC NOVELS BY UNITS SHIPPED
| | | | | |
| --- | --- | --- | --- | --- |
| RANK | DESCRIPTION | PRICE | ITEM CODE | VENDOR |
| 1 | HOUSE OF X/POWERS OF X HC | $60.00 | SEP190963-M | MAR |
| 2 | BATMAN TP VOL 11 THE FALL AND THE FALLEN | $17.99 | SEP190554 | DC |
| 3 | WATCHMEN TP | $24.99 | JUN190614-M | DC |
| 4 | SILVER SURFER BLACK TP TREASURY EDITION | $29.99 | SEP190990 | MAR |
| 5 | BLACK HAMMER TP VOL 04 AGE OF DOOM PART II | $19.99 | MAY190209 | DAR |
| 6 | BOYS OMNIBUS TP VOL 06 (MR) | $29.99 | OCT191313-M | DE |
| 7 | GREEN LANTERN TP VOL 01 INTERGALACTIC LAWMAN | $17.99 | SEP190568 | DC |
| 8 | DAREDEVIL BY CHIP ZDARSKY TP VOL 02 NO DEVILS ONLY GOD | $15.99 | SEP190982 | MAR |
| 9 | MY HEROES HAVE ALWAYS BEEN JUNKIES TP (MR) | $12.99 | AUG190092 | IMA |
| 10 | STAR WARS DOCTOR APHRA TP VOL 06 UNSPEAKABLE REBEL SUPERWEAP | $15.99 | SEP190997 | MAR |
TOP 10 GRAPHIC NOVELS BY DOLLARS INVOICED
| | | | | |
| --- | --- | --- | --- | --- |
| RANK | DESCRIPTION | PRICE | ITEM CODE | VENDOR |
| 1 | HOUSE OF X/POWERS OF X HC | $60.00 | SEP190963-M | MAR |
| 2 | ANNIHILATION OMNIBUS HC | $125.00 | JUL191087 | MAR |
| 3 | Y THE LAST MAN OMNIBUS HC (MR) | $150.00 | APR190576 | DC |
| 4 | INJUSTICE GODS AMONG US OMNIBUS HC VOL 01 | $125.00 | MAR190580 | DC |
| 5 | ABSOLUTE DARK KNIGHT III THE MASTER RACE HC | $125.00 | APR190525 | DC |
| 6 | ANIMAL MAN BY JEFF LEMIRE OMNIBUS HC | $99.99 | APR190524 | DC |
| 7 | SILVER SURFER BLACK TP TREASURY EDITION | $29.99 | SEP190990 | MAR |
| 8 | MMW FANTASTIC FOUR HC VOL 21 | $75.00 | JUN191034-M | MAR |
| 9 | WATCHMEN TP | $24.99 | JUN190614-M | DC |
| 10 | BOYS OMNIBUS TP VOL 06 (MR) | $29.99 | OCT191313-M | DE |
TOP 10 BOOKS BY UNITS SHIPPED
| | | | | |
| --- | --- | --- | --- | --- |
| RANK | DESCRIPTION | PRICE | ITEM CODE | VENDOR |
| 1 | GRIMM FAIRY TALES ADULT COLORING BOOK VOL 01 | $12.99 | OCT151871 | ZEN |
| 2 | OVERSTREET COMIC BK PG SC VOL 49 | $29.95 | APR191757-M | GEM |
| 3 | BLOODBORNE OFFICIAL ARTWORKS SC | $44.99 | MAR172148 | UDO |
| 4 | DARK SOULS III DESIGN WORKS HC | $49.99 | JUN182173 | UDO |
| 5 | MEGA MAN ZERO HC OFFICIAL COMPLETE WORKS | $44.99 | APR192142 | UDO |
| 6 | ART OF ATARI HC | $39.99 | JUL161467 | DYN |
| 7 | KONOSUBA LIGHT NOVEL SC VOL 10 | $14.00 | OCT192327 | YEN |
| 8 | OKAMI OFFICIAL COMPLETE WORKS SC | $39.99 | MAY073783 | UDO |
| 9 | DOCTOR WHO TARDIS TYPE FORTY INSTRUCTION MANUAL HC | $19.99 | MAY188247 | PEN |
| 10 | GEARS OF WAR RETROSPECTIVE HC | $49.99 | MAY192131 | UDO |
TOP 10 TOYS BY DOLLARS INVOICED
| | | | |
| --- | --- | --- | --- |
| RANK | DESCRIPTION | ITEM CODE | VENDOR |
| 1 | POP MARVEL HEROES THANOS SNAP 6IN PX DELUXE VINYL FIGURE | MAY198251 | FUN |
| 2 | POP ANIMATION DBZ SUPER SAIYAN 2 VEGETA PX VIN FIG | JAN199073 | FUN |
| 3 | MARVEL SELECT AVENGERS ENDGAME HERO SUIT HULK AF | JUL192664 | DST |
| 4 | MARVEL MILESTONES AVENGERS 4 ARMORED THANOS STATUE | OCT188304 | DST |
| 5 | MARVEL SELECT AVENGERS 4 IRON MAN MK85 AF | SEP192494 | DST |
| 6 | MARVEL GALLERY AVENGERS ENDGAME CAPTAIN AMERICA PVC FIG | JUL192669 | DST |
| 7 | GX-88 ARMORED FLEET DAIRUGGER XV SOUL OF CHOGOKIN (NET) | MAY198128 | BLU |
| 8 | YU GI OH YAMI YUGI NENDOROID AF | DEC188202 | GOO |
| 9 | IT CHAPTER 2 GALLERY PENNYWISE PVC FIGURE | JUN192381 | DST |
| 10 | MARVEL PREMIER GREEN GOBLIN COMIC STATUE | MAR192445 | DST |
TOP 10 GAMES BY DOLLARS INVOICED
| | | | |
| --- | --- | --- | --- |
| RANK | DESCRIPTION | ITEM CODE | VENDOR |
| 1 | CRITICAL ROLE: TAL'DOREI CAMPAIGN SETTING HC | JUN173357 | GRE |
| 2 | PATHFINDER CORE RULEBOOK SPECIAL EDITON HC (P2) | MAY193228 | PAI |
| 3 | MY HERO ACADEMIA: THE CARD GAME | JUL183082 | S7 |
| 4 | PATHFINDER ACG CORE SET | MAR198499 | PAI |
| 5 | PATHFINDER LOST OMENS WORLD GUIDE HC (P2) | MAY193231 | PAI |
| 6 | STARFINDER RPG ALIEN ARCHIVE 3 HC | JUN193098 | PAI |
| 7 | CREATURE CODEX HC | JUL183073 | PAI |
| 8 | STARFINDER RPG CORE RULEBOOK HC | JUN173371 | PAI |
| 9 | STARFINDER RPG CHARACTER OPERATIONS MANUAL HC | SEP193078 | PAI |
| 10 | PATHFINDER LOST OMENS CHARACTER GUIDE HC (P2) | AUG193363 | PAI |
Dollar Market Share – December 2019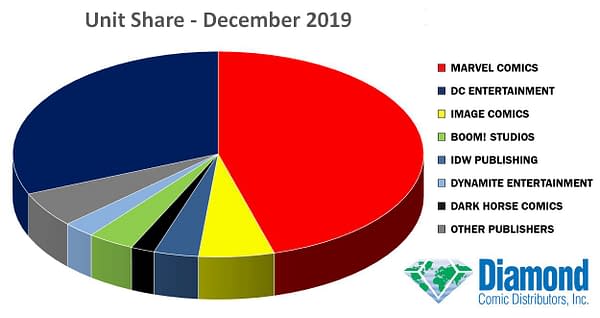 Unit Market Share – December 2019