DC Rebirth Special #1 by Geoff Johns and Gary Frank began the journey that led to the unauthorised sequel to Watchmen, Doomsday Clock, currently being published by DC Comics. But it wasn't just the Watchmen elements of that comic that are being picked up. Doomsday Clock #3, also by Geoff Johns and Gary Frank and published today.
Including revisiting, for the first time, the scene with Johnny Thunder from the Justice Society Of America, from DC Universe: Rebirth. Remember that? But to no avail. History has been stolen. And in Flash #21, Johnny Thunder is still tilting against the thunderstorm. It was all his fault. Did he banish them? Well, in Doomsday Clock #3, he's back. As the anti-superman marches kick off across Gotham…
Sorry, no, that's Detective Comics #973, so hard to keep track. Here's Doomsday Clock #3.
What is Johnny Thunder's role with Dr Manhattan? How does that relate to Superman and the Justice Society Of America? Well, this inclusion of his story in Doomsday Clock #3 does suggest the series may be used to bring back the Justice Society. After all, they had them on the cover of Rebirth, trapped in that hourglass…
…and hourglass imagery did reoccur in Watchmen.
UPDATE: Thanks to John Joshua who e-mails in:

If you check the last page of the backmatter there's a reference to 'boxing champion Ted Grant' – aka Wildcat – in the second article; and the third article has references to 'screenwriter John Law' and 'former Olympian Libby Lawrence' – aka the All-Star Squadron's Tarantula and Liberty Belle, respectively.
And all tying into the Nathaniel Dusk movies appearing in posters and on the screen in the DC universe. Back in the day, Bleeding Cool ran the rumour that the Justice Society Of America did exist in the forties in DC Universe continuity but had been written out of history, Manhattan's doing again?
But onwards! Doomsday Clock #2 showed us that somehow the Comedian has survived his death and was back to seek vengeance on Adrian Veidt, Ozymandias. But how did he survive? Well, we know how he died…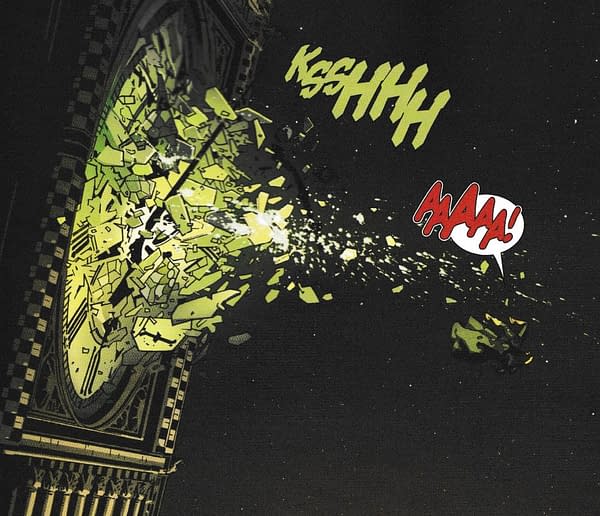 Sorry, sorry, that's today's Amazing Spider-Man #797, so hard to keep track. Hang on…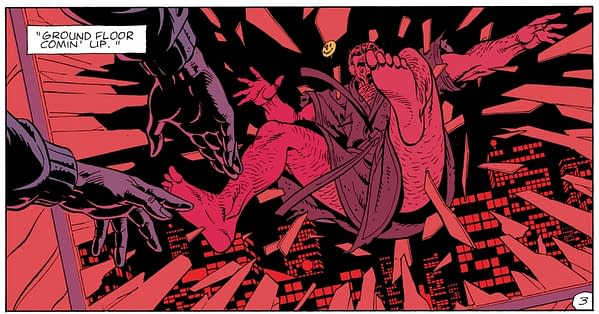 That's from Watchmen #1 by Alan Moore and Dave Gibbons. The Comedian's death and the imagery associated soak through the rest of Watchmen. The blood, the smiley button, the blood on the button, the conspiracy, the planning, the brute force and the decades of history that led to this point. The murder mystery that uncovers so much more. Well, today's Doomsday Clock #3 takes away the murder. He still gets thrown.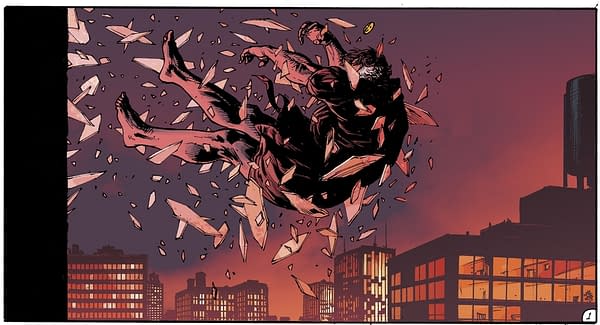 But Dr Manhattan takes him somewhere else.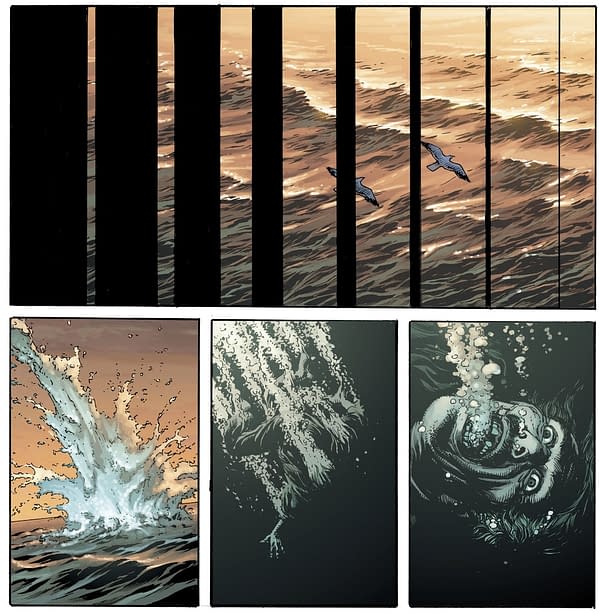 Saved by Manhattan transfer. But Veidt's plans were hidden from Manhattan by tachyon bursts flooding backwards in time. Wouldn't this intervention have revealed this to Manhattan? Unless it's Manhattan doubling back on himself and snatching The Comedian from the point of death, as happened to Jor-El and as Jor-El did to others like Tim Drake (both of him), Doomsday and Mr Mxyzptlk?
Still, it's enough to take revenge. Remember the question posed to Veidt by Dan?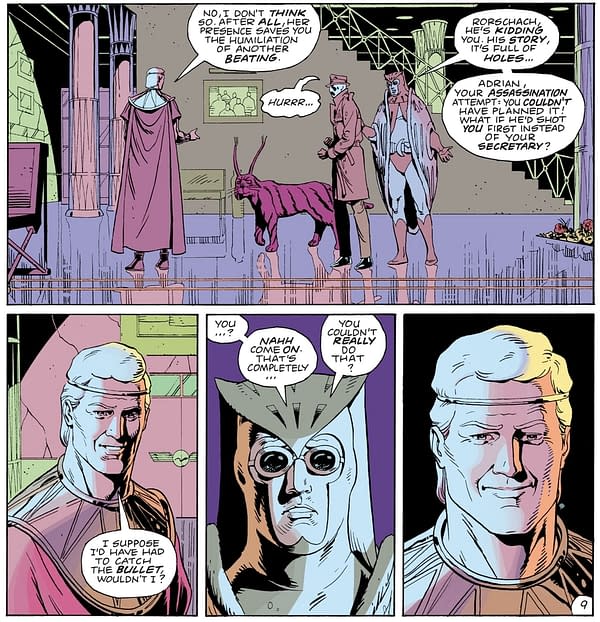 One could equally have asked what if Comedian had thrown Ozymandias out of the window.
I suppose he'd have just had to land on his feet, wouldn't he?
As for the identity of Rorschach, well we had plenty of guesses, Malcolm Long or the son of Malcolm Long were probably favourites... well we don't get any clarity other than it's not Malcolm. Too young. But he was in Manhattan on that day…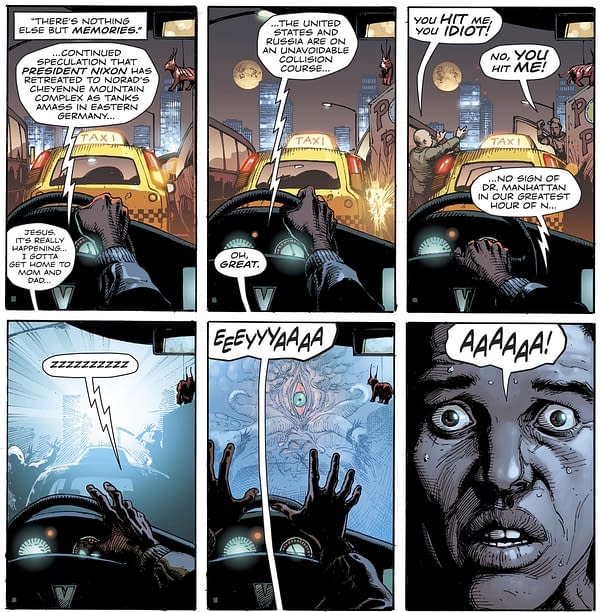 With the Question lineage, could it follow the Steve Ditko-preferred route of it just being some utterly random guy, rather than someone we had to have met before?
Oh and yes, Stewart Lee, a good friend and work colleague of Alan Moore, getting bottled in the face for telling bad jokes. Exhibit A, m'lud.
Oh yes, and it's the Joker's club. Well, no one else would take him after his death of Princess Diana routine.
https://www.youtube.com/watch?v=-CylNonqfW0
So when are we going to find out that Marionette and Mme's child was The Joker? Or rather, one of the three Jokers?
DOOMSDAY CLOCK #3
(W) Geoff Johns (A/CA) Gary Frank
The story takes a turn in the third chapter of this 12-issue series you never thought you'd see, from writer Geoff Johns and artist Gary Frank.
RATED T+In Shops: Jan 24, 2018
SRP: $4.99
Enjoyed this article? Share it!