Dorothy McGreal Comic Strip Collection SDCC 2018
Steve Wyatt writes:
The Dorothy McGreal Original Comic Strip Art Collection will be on display during the 2018 San Diego Comic-Con at Booth 1300 'Big Wow Comic Fest', with most pieces available for purchase.
From 1966 through 1972, Dorothy McGreal published and edited The World of Comic Art, the first professional periodical of its kind in the United States. Devoted to the history of comic art and caricature, the magazine contained lavishly illustrated and meticulously researched articles on comics industry greats.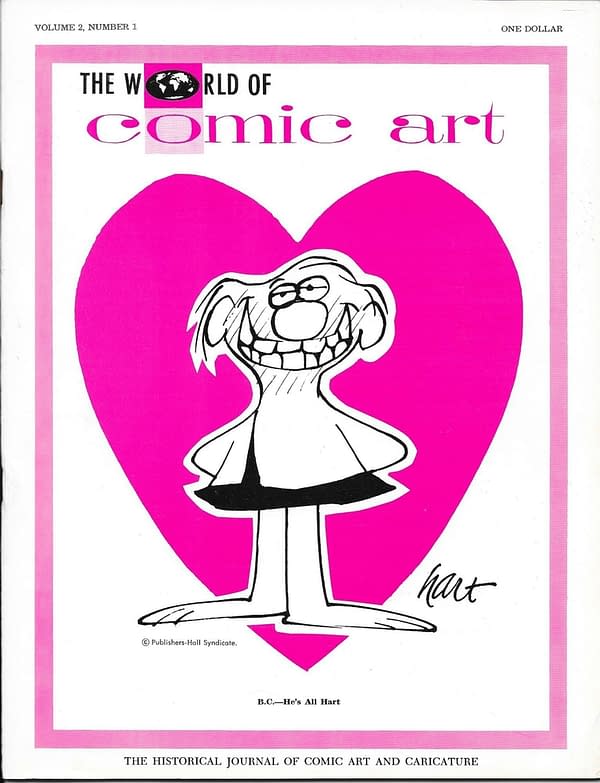 During the publication of The World of Comic Art, Dorothy acquired a collection of original comic art that she kept in her personal archives until her death in 2000. Following her passing, the collection was divided between her sons, Terry and Pat McGreal.
For the past 18 years, Pat – an Eisner Award nominated comics and graphic novels writer – has kept his share of the collection in his own archives. None of the pieces have ever been exhibited or offered for sale. That has now changed.
Strips from the collection include: The Wizard of Id (Parker & Hart), Beetle Bailey (Mort Walker), Abbie An' Slats (Raeburn Van Buren), Superman (Wayne Boring), Barney Google & Snuffey Smith (Billy DeBeck), Kitty Higgins (Frank Willard), School Days (Clare 'Dwig' Dwiggins), Mutt & Jeff (Al Smith), Little Jimmy (Jimmy Swinnerton), Brenda Starr (Dale Messick), On Stage & Little Orphan Annie (Leonard Starr), Alfy (Ving Fuller), Felix the Cat (Otto Messmer), Big George (Virgil Partch), Harold Teen (Carl Ed), editorial cartoons by Carey Orr, Karl Hubenthal and Dick Locher, and many more.
If you're a fan of classic American comic strip art, drop by Booth 1300 'Big Wow Comic Fest' at San Diego Comic-Con and check out this unique collection.