Christopher Troy writes;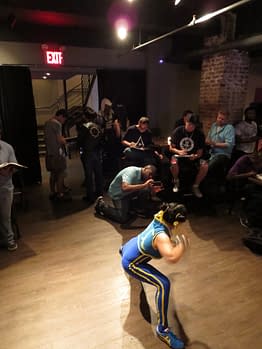 On July 2nd, I attended the first Drink and Draw and Cosplay in Midtown Manhattan, literally steps away from Midtown Comics' flagship Time Square location. Now I'm not going to claim Drink and Draws are a uniquely New York experience, even with the added Cosplayer element, but it was a really cool experience, and my wife took pictures, so I though I'd do the event a solid and share it with the BC readers.
The event was presented by SONICBOOMBOX, who run monthly fighting video game meet ups in NYC (usually sponsor by Midtown Comics), and was done in conjunction with Drink and Draw NYC ( Artist Khary Randolph, who heads up D&D NYC was present for most of the session, and is a super nice guy)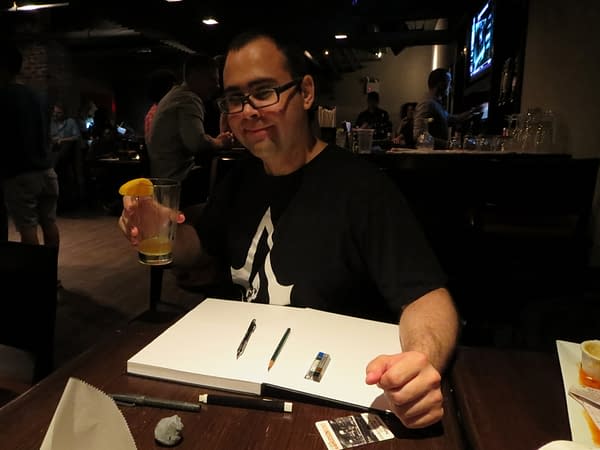 The 3 hour session (free to attendee, bring your own supplies, attendees must be 21+) was very laid back and the venue, The Hudson Bond, easily fit the 40-50 people in attendance. Also there was air conditioning which was probably the 2nd most important thing to me there at time (the first being a tie between the beer and my wife).
Before the onslaught of photos, let me just give props to Jon Haehnle, who oversaw the event, the attendees who were cool with my wife and I taking photos and asking questions, and the cosplayer-models- Scarlet Stepford (Zantanna), NYC Assassin (Conner from Assassin's Creed 3) and Gidget (Chun Li from the Street Fighter Zero/Alpha series).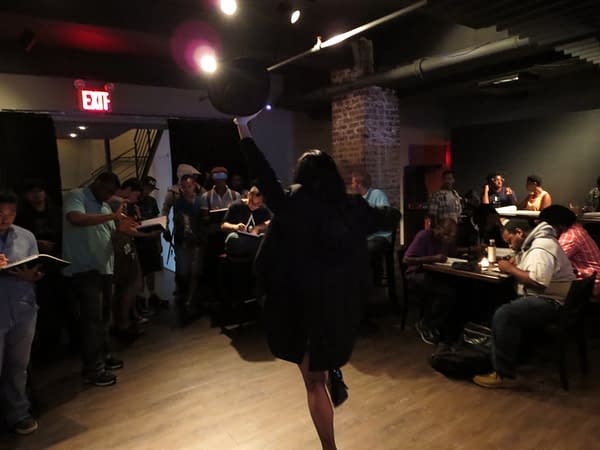 If you're in the area for the next one on July 30th, it's well worth you time, and you can both SONICBOOMBOX and Drink.Draw.Cosplay on Facebook. And yes, there a drink specials, which is pretty great if you ever gone drinking in Time Square.
-Chris Troy can be yelled at over on twitter: @theanarchris
Enjoyed this article? Share it!