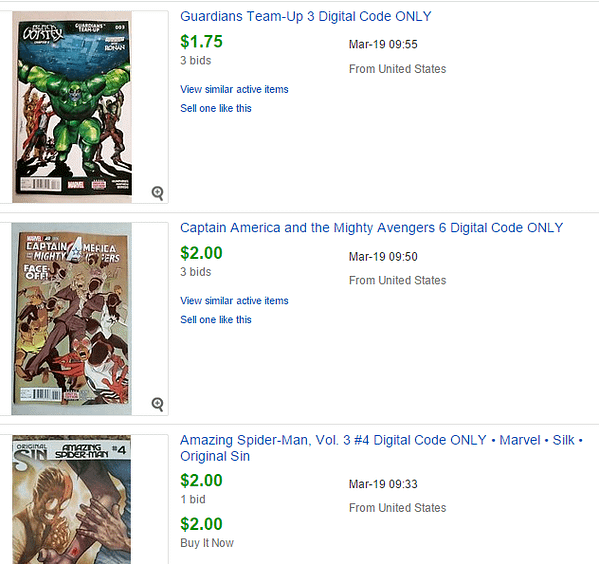 Both Marvel and DC Comics sell digital codes with certain comic books, allowing the reader to add the comic in question to their digital library as well as print. Marvel have it as standard with their $3.99 titles, DC with their Combo comics for a dollar extra, though that program is coming to a close.
One way a number of enterprising folk have taken to subsidise the cost of their comics is to sell the digital code on eBay where they generally sell from $1 to $2, depending on the digital-only price of the comic.
But of late, some folk have discovered their listings being pulled by eBay for violation of terms, though no more information is given.
So I decided to ask eBay, who told me,
We have looked into your enquiry and can confirm these listings were removed as they contravene our Downloadable Media policy, specifically because sellers must own the IP or be authorised to distribute comic book digital codes before listing them.

This would have been explained to the sellers when the items were removed.  As always, our goal is to keep the eBay marketplace a safe place to buy and sell.
The policy states,
Your listing clearly states that you legally own the content (sometimes called intellectual property) or are authorised to sell it by the owner, the owner's agent or the law.
You're responsible for complying with the contractual agreements you may have entered into with licensors. If you're reselling a digitally delivered good, you must state in your listing that you're selling a legally purchased item and that you've removed all copies from your devices and the cloud, or have otherwise disabled your own use of the good. You must act in accordance with that statement.

eBay doesn't automatically know that the digital code only works for one person. So why not try spelling it out in the listing? Something like,

This is a legitimate sale. I own the digital code, courtesy of buying it from Marvel Comics and it is unused. It can only be used once. There are no other copies available from this digital code. Once sold and used, I am not able to use it myself.
And let us know how it goes…