Posted in: Comics | Tagged: AWA, cullen bunn, Ed Brisson, mike deodato, Sins Of The Salton Sea
---
Ed Brisson's Sins Of The Salton Sea in AWA June 2023 Solicits
Ed Brisson and C.P. Smith are launching a new comic book series, Sins Of The Salton Sea through AWA Studios, in their June 2023 solicits.
---
Ed Brisson and C.P. Smith are launching a new comic book series, Sins Of The Salton Sea through AWA Studios, in their June 2023 solicits, alongside the final issue of Red Zone and the collection of Trojan.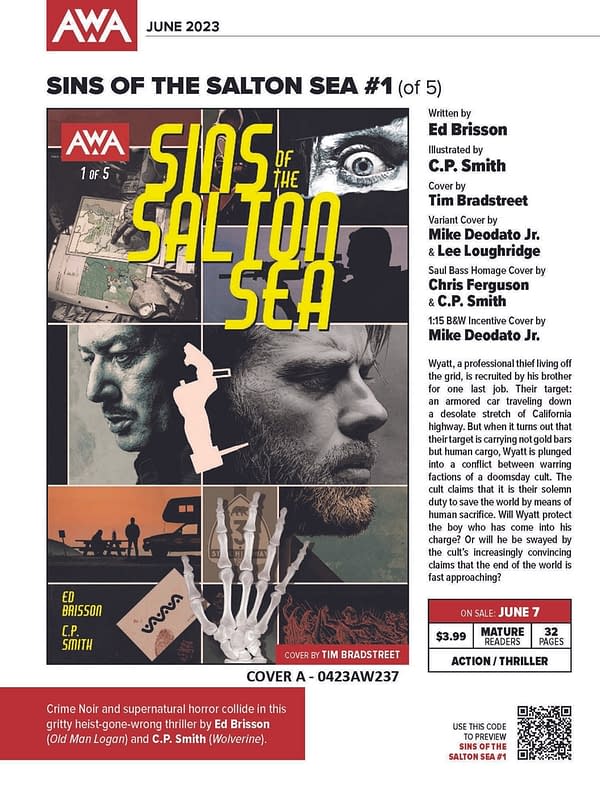 SINS OF THE SALTON SEA #1 (of 5)
Written by Ed Brisson Illustrated by C.P. Smith Cover by Tim Bradstreet Variant Cover by Mike Deodato Jr. & Lee Loughridge Saul Bass Homage Cover by Chris Ferguson & C.P. Smith 1:15 B&W Incentive Cover by Mike Deodato Jr.
Crime Noir and supernatural horror collide in this gritty heist-gone-wrong thriller by Ed Brisson (Old Man Logan) and C.P. Smith (Wolverine).
ON SALE- JUNE 7 $3.99 MATURE READERS 32 PAGES
Wyatt, a professional thief living off the grid, is recruited by his brother for one last job. Their target: an armored car traveling down a desolate stretch of California highway. But when it turns out that theirtarget is carrying not gold bars but human cargo, Wyatt is plunged into a conflict between warring factions of a doomsday cult. The cult claims that it is their solemn duty to save the world by means of human sacrifice. Will Wyatt protect the boy who has come into his charge? Or will he be swayed by the cult's increasingly convincing claims that the end of the world is fast approaching?
RED ZONE #4 (of 4)
Written by Cullen Bunn Illustrated by Mike Deodato Jr. Colored by Lee Loughridge Cover by Rahzzah Variant Cover by Michael Cho
FINAL ISSUE! Randall Crane, an unassuming American professor of Russian and Slavic Studies at NYU, is called in by the US government for a secret international mission back to Russia, where his long-buried secrets come to light. When his support team of commandos is ambushed and killed, it's up to Randall to fight his way out of Russia using his "particular set of skills." In this final issue, Randall, sur-rounded by all the bizarre enemies from his past, must find a way to escape the new iron curtain.
ON SALE: JUNE 21 $3.00 MATURE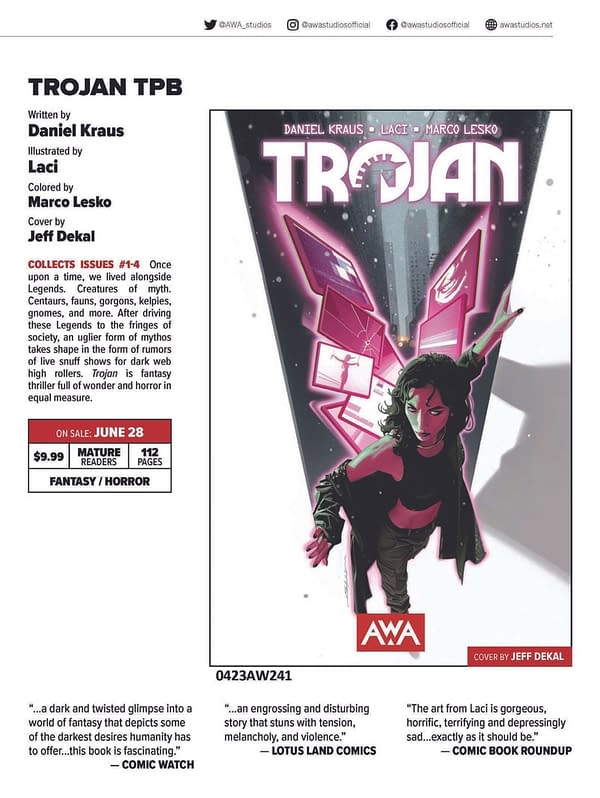 TROJAN TPB Written by Daniel Kraus Illustrated by Laci Colored by Marco Lesko Cover by Jeff Dekal
COLLECTS ISSUES #1-4 Once upon a time, we lived alongside Legends. Creatures of myth. Centaurs, fauns, gorgons, kelpies, gnomes, and more. After driving these Legends to the fringes of society, an uglier form of mythos takes shape in the form of rumors of live snuff shows for dark web high rollers. Trojan is fantasy thriller full of wonder and horror in equal measure.
ON SALE: JUNE 28
$9.99 I MATURE I 112 READERS PAGES
FANTASY / HORROR
"…a dark and twisted glimpse into a world of fantasy that depicts some of the darkest desires humanity has to offer…this book is fascinating." — COMIC WATCH
"…an engrossing and disturbing story that stuns with tension, melancholy, and violence." — LOTUS LAND COMICS
"The art from Laci is gorgeous, horrific, terrifying and depressingly sad…exactly as it should be." — COMIC BOOK ROUNDUP
---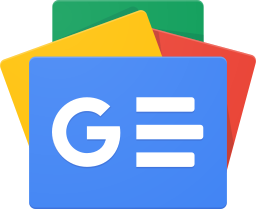 Stay up-to-date and support the site by following Bleeding Cool on Google News today!