How many times can the DC Universe change in one month?! DC's April solicits have leaked on 4chan, revealing that not one but two DC Comics being published in April will change the DC Universe forever… and neither one is even a super-mega-crossover event! Could it be that comic book publishers are overhyping that claim just a little bit? Nah, that couldn't be.
First up is the final issue of Electric Warriors, which promises to "alter the future of the DC Universe forever."
Electric Warriors #6
written by Steve Orlando
art and cover by Travel Foreman
The revolution is off to a rocky start, and War Cry is to blame! Can our hero convince his fellow warriors that their captors have no interest in peace? IF he fails, Earth isn't the only planet on the brink of destruction– the whole universe will fall under Firestorm's wrath! The nail-biting conclusion of this cult-hit miniseries will alter the future of the DC Universe forever.
On Sale 04.10.19
$3.99 | 6 of 6| 32 Pages
FC | Rated T+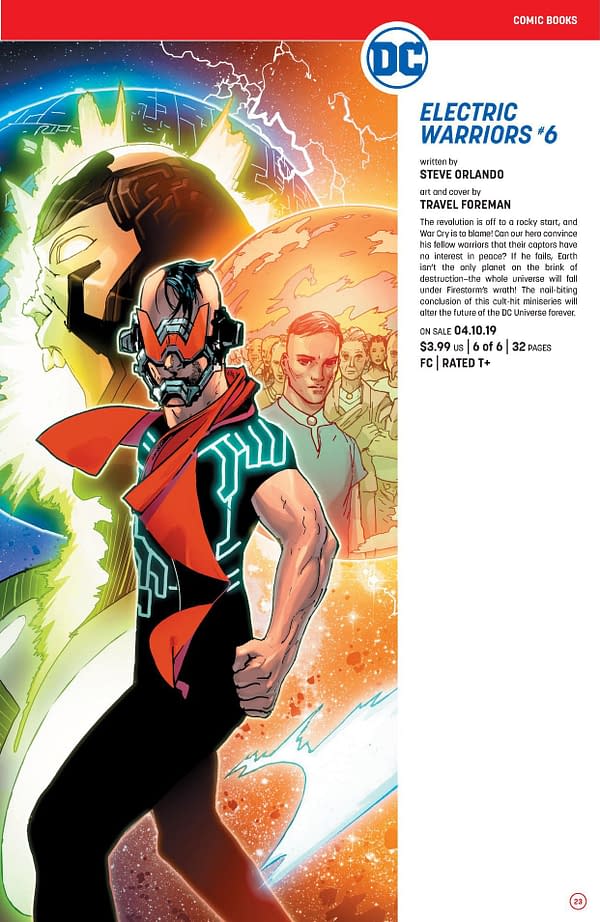 Then, in Justice League, we get two issues, the second of which promises that "the DCU will never be the same again!" First, Justice League #21…
Justice League #21
written by Scott Snyder
art and cover by Jorge Jimenez
variant cover by Jae Lee
The Justice League pulls back the curtain on their futures and learns that not every-thing is what they've seen. The team goes to confront the Justice League of Tomorrow for the truth, but can they handle it? Meanwhile, with his powers waning, Superman struggles to remain hopeful on a world with no sunlight.
On Sale 04.03.19
$3.99 US | 32 Pages
FC | Rated T+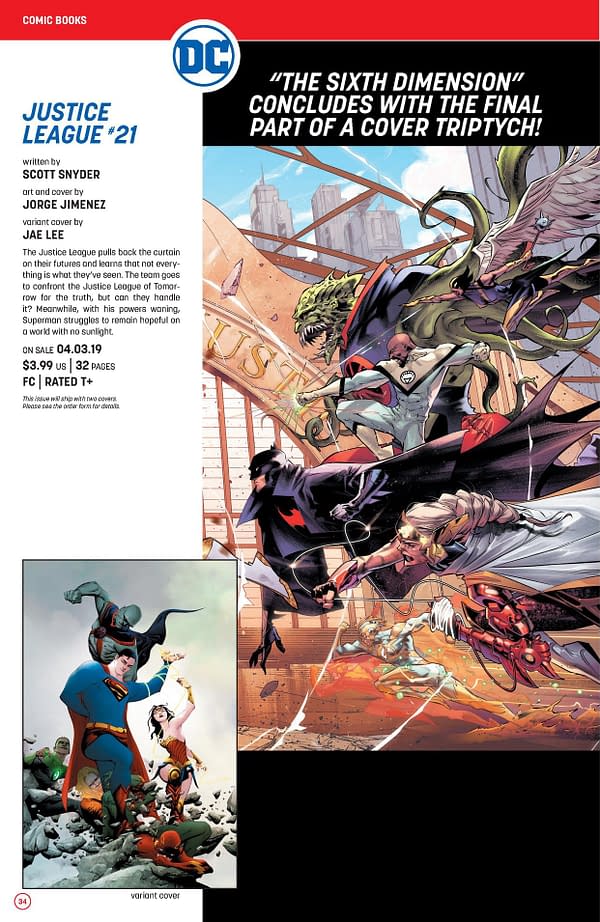 But it's in Justice League #22 where the universe-shattering magic happens!
Justice League #22
written by James Tynion IV
art and cover by Francis Manapul
variant cover by Leinil Yu
The Multiverse is teetering on the brink, and Lex Luthor's Legion of Doom is poised for victory. But as the combined intellects of Braniac and the world's smartest man make their move toward conquering the keys to the sixth dimension, a much bigger power grows on the horizon. At last, the final form of Perpetua takes her shape, and the DCU will never be the same again!
On Sale 04.17.19
$3.99 US | 32 Pages
FC | Rated T+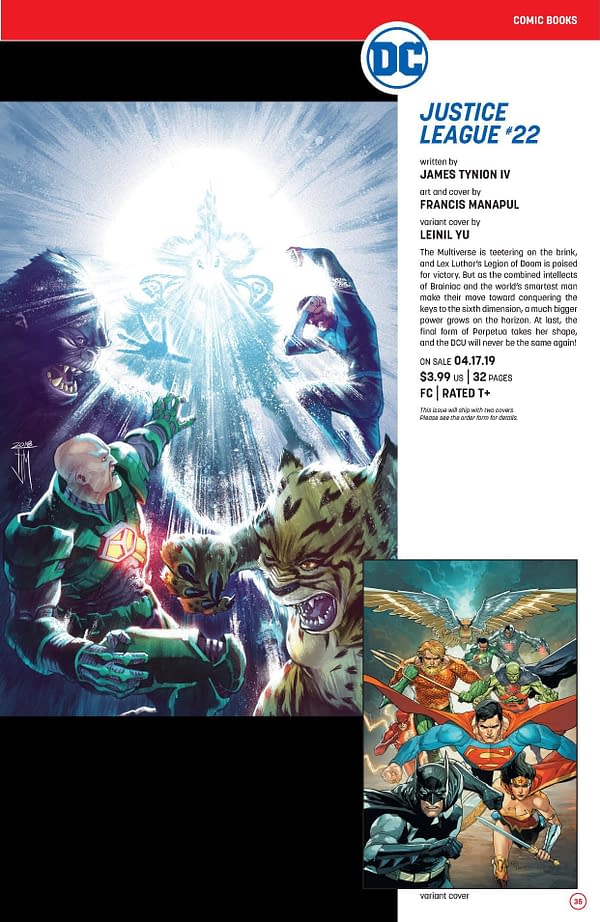 So if we're reading this right, the DCU will change forever on April 10th… and then change again forever one week later on April 17th? Only in comics, folks!
Enjoyed this article? Share it!