Even the Villains of Savage Dragon Have Major Issues With Donald Trump (#232 SPOILERS)
Savage Dragon by Erik Larsen has not been backwards over coming forwards over a lot of things of late. Initially a what-if Bruce Willis was a superpowered policeman comic book, the comic has transformed into a slice-of-family-life sex comedy, with segues into interdimensional rape camps. It has become one of the most unpredictable ongoing comic books out there.
Aside from when it comes to Donald Trump. After all, he passed a bill to eject illegal aliens from the USA – if they were literally aliens of of alien lineage. So the Dragons moved to Canada, becoming a tourist information source in the process.
Though in today's issue, Savage Dragon #232 that goes further than usual.

But we also get a take on Trump from the careless Canadian vigilante that Dragon has been tasked with taking down. And has the chance to get his Trump frustrations out, alongside those he has with the official legal process.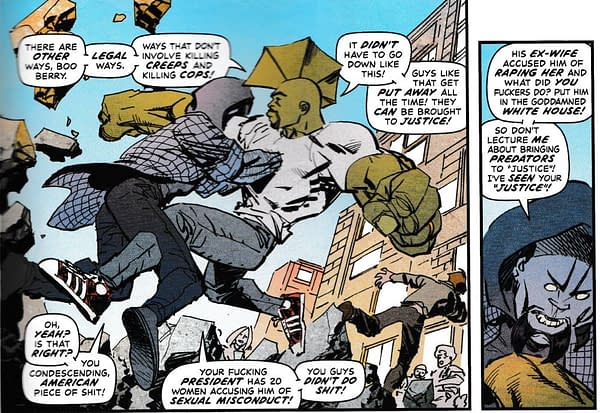 Superhero comic books repeating allegations of sexual assault and rape against the President of the United States, for all to see? Well, by all, I mean readers of Savage Dragon?
Someone's not too keen to take politics out of the comic books…
SAVAGE DRAGON #232
(W) Erik Larsen (A/CA) Erik Larsen
END OF STORY ARC!
"TERROR IN TORONTO!"
Enter: the Wraith! He can walk through walls! Nothing can hold him! Nothing can stop him! And only one man dares to try: Malcolm Dragon!In Shops: Mar 07, 2018
SRP: $3.99