Falcon #8 Review: A Disappointing Ending to a Promising Solo Series
[rwp-review-recap id="0"]
Falcon is overrun by Deacon Frost's vampiric hordes as he tries to fight his way to Patriot. Elsewhere, Misty Knight and Blade finish their business in the sewers and make their way towards Falcon and Patriot. The Patriot himself has managed a daring escape, but Deacon Frost is hard to avoid.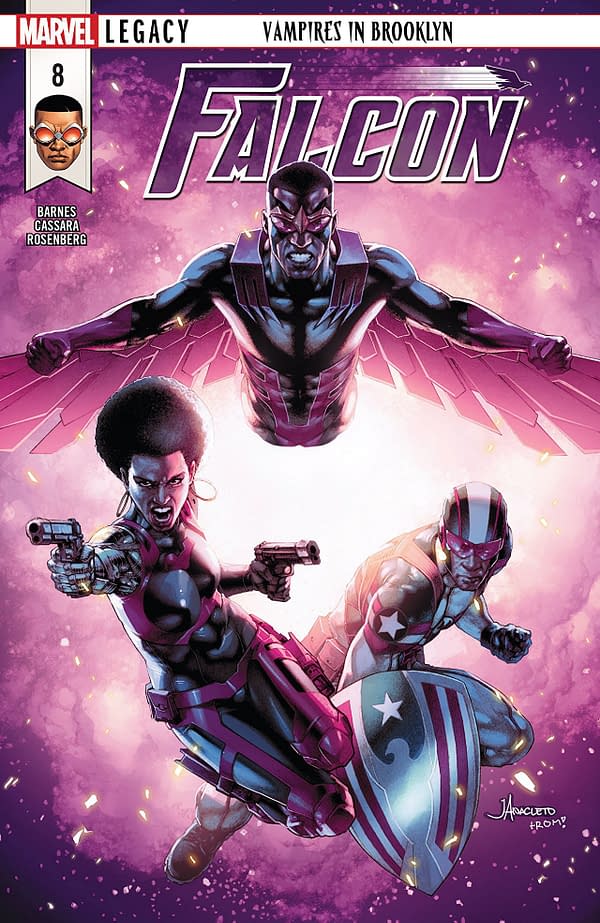 This is the final issue of Rodney Barnes and Joshua Cassara's Falcon title, and this finale leaves me more heartbroken than I expected. What was once the gem of Marvel's Legacy line ends on a rushed and disorganized note that leaves a lot to be desired.
Deacon Frost offers little personal significance to Sam Wilson as a villain considering this is the first time they've met. The comic touches on the fact that Frost was intentionally targeting the vulnerable to turn, but it continues to have Falcon, Misty, and Blade butchering those same vampires in hordes. In that regard, it tries to keep the social commentary, but it botches the execution.
The conclusion, as I've already implied, feels painfully rushed. Admittedly, this may be more a fault of upper management, but the product of Falcon #8 still suffers greatly. It goes so fast that it almost doesn't even have a complete ending. It just feels like it stops.
Also, the comic has a moment where Sam thinks Misty is hurt and responds by brutally killing a vampire. Listing the reasons why this sequence is incredibly flawed and tone deaf would add way more to this already-long review.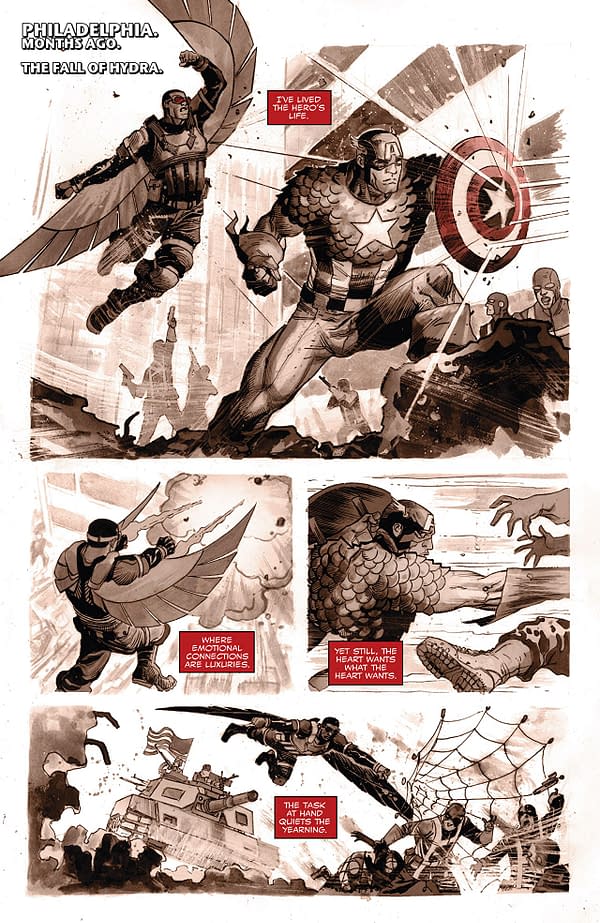 Joshua Cassara's artwork continues to be gorgeous, textured, and well-detailed. He creates a dark and foreboding world for Sam and his allies to navigate, and he plays with the gore and action well. Rachelle Rosenberg's color art adds to the oppressive atmosphere of the comic, making the world dark, dangerous, and generally gorgeous.
Falcon #8 finishes off the series with another installment that tries to inject a small amount of social commentary to an occult horror story. The occult horror is ill-suited for Sam Wilson, and the social commentary frustrates with its lack of support and substance. It tantalizes without satisfying. I truly loved this book in its first few issues, and I'm sad to see it, Sam, Rayshaun, and Misty go — especially considering that I can't quite recommend this rushed and incongruous final installment.
[rwp-review-ratings id="0"]
[rwp-review-form id="0"]