As some reaction to the Thor's Love And Thunder movie news will demonstrate, there are a fair few people on social media who seem to mistake telling an interesting story – such as Jason Aaron Thor run in which Thor lost his worthiness and Jane Foster, as she says, held his hammer for a while as, and I quote, 'an intersectional feminazi propaganda tract'. Which says more about their own identity politics than anyone else.
Well, Marvel Comics seems to have decided to be hung for a sheep, as for a lamb, and are publishing Fearless #1 tomorrow, a declaredly feminist comic book, with plenty of women creators, with female characters in the focus, and inspirational empowering messages throughout. And people can buy it, or not, as they choose.
But the three stories in Fearless #1, each take very, very different approaches, even contradictory ones. The first is a set-up for an ongoing story about a kids camp for young women, that focuses on empowerment – and does so by attracting powered people to speak there, by donating to their favourite charities. And the first issue has Susan Storm, Carol Danvers and Ororo preparing to attend to give their lectures to the awaiting attendees.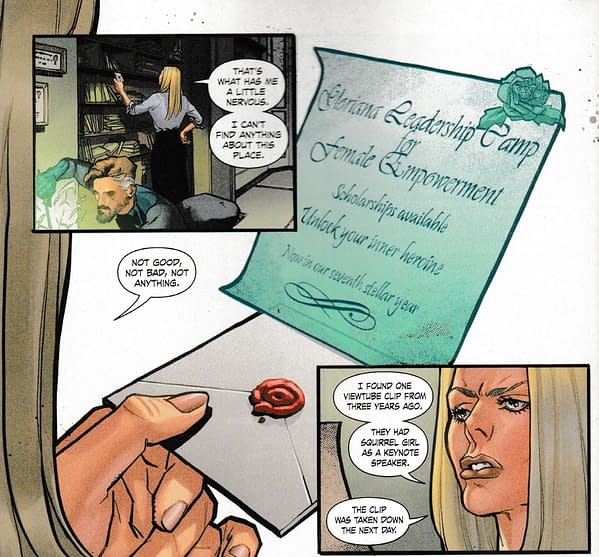 All very mysterious, with a little bit of female Freemasonry thrown in for good measure. Gloriana was a fictitious magical version of Queen Elizabeth I, created by Edmund Spenser in his poem The Faerie Queene and became the popular name given to Elizabeth. What could the relevance be here? And then from this allegory of superpowered role models, straight into a Mille The Model story about a number of models both aspiring and competing on a photoshoot.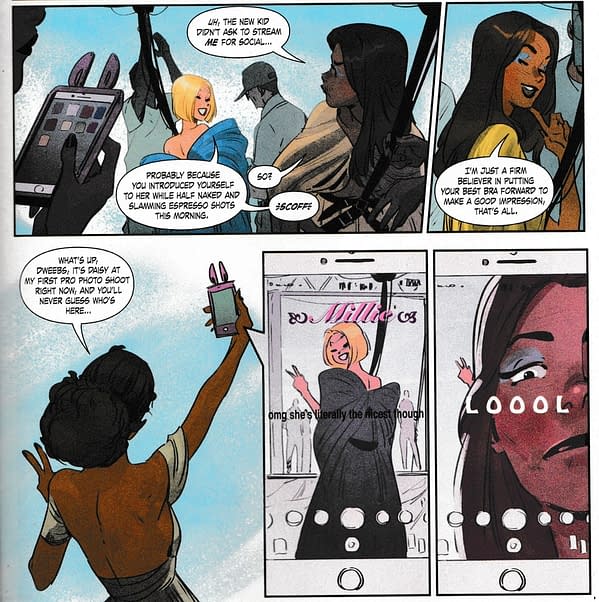 With cut out paper dresses and no superheroics required. It's a fun story and the first pose by Daisy, social media influencer turned model for the day from Nina Vakueva and Rachelle Rosenburg is extraordinary in both what it shows on the panel and what it represents, with few pen lines, yet indelible in the brain. But the story does seem incongruous with the first.
And from there, we have another polar opposite (three poles) with Elisa Bloodstone and Jessica Jones in the murk and mud of the Marvel under-Universe.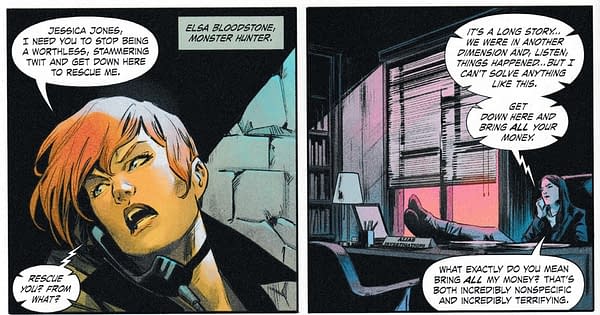 And then finding something that makes a fourth pole for this book. And maybe the reason why some people who may have been turned off, will flock to this book. There's a Major final page spoiler here – and a potential set up for new comic book series for 2020 to come… for the kind of person who would not pick up Fearless, but as a result of that image may now be rushing for a copy. Serve them right.
The first appearance in Marvel continuity of a very special set of characters we haven't seen since the Secret Wars… they're not even in today's the Official History. Yet.
FEARLESS #1 (OF 3)
(W) Seanan McGuire, Leah Williams, Kelly Thompson (A) Claire Roe, Carmen Nunez Carnero (CA) Yasmin Putri
THE FIERCEST LADIES OF THE MARVEL UNIVERSE – ON AND OFF THE PAGE! Straight off her silver-screen debut, Captain Marvel takes the world by storm! And speaking of the weather, Storm of the X-Men faces a problem only a goddess could solve. Add the Invisible Woman, and you've got an unstoppable trio in a story by Hugo-nominated novelist and SPIDER-GWEN: GHOST-SPIDER writer Seanan McGuire! Then, Leah Williams takes us back to the golden days of romance with Millie the Model! PLUS: Get your dose of herstory with profiles on classic and contemporary creators!
Rated T+In Shops: Jul 24, 2019
SRP: $4.99
Enjoyed this article? Share it!