As Marvel gears up for their next universe-shattering super-mega-crossover event, Empyre with a Y, a lot of fans have been wondering when Marvel will announce more tie-ins and spinoffs for the event. Yes, they just announced five of them yesterday, but can a crossover event really be called super and mega without at least half a dozen? Thankfully, Marvel has listened to the complaints of fans and announced another spinoff via animal abuse themed pop culture website Monkeys Fighting Robots. Yes, Ghost Rider will be riding his way into outer space for a climate-change themed one-shot which sees the Spirit of Corruption take on the Spirit of Pollution, who has obviously been strengthened by all the trees that had to be cut down to produce all of the tie-ins for Empyre.
Ed Brisson will write with art by Jefte Palo. No price is specified, but we're assuming it will be at least five bucks, as Marvel is clearly hurting for cash. They were able to afford an exotic letter Y in the name Empyre, but couldn't spring for an extra one for Ghost Ryder. Check out the solicit and cover below. Empyre: Ghost Rider #1 rydes into comics stores in May.
EMPYRE: GHOST RIDER #1
ED BRISSON (W) • JEFTE PALO (A) • COVER BY AARON KUDER
An intergalactic war comes crashing into a supernatural showdown between the Spirit of Corruption and the Spirit of Pollution! But who will be left standing?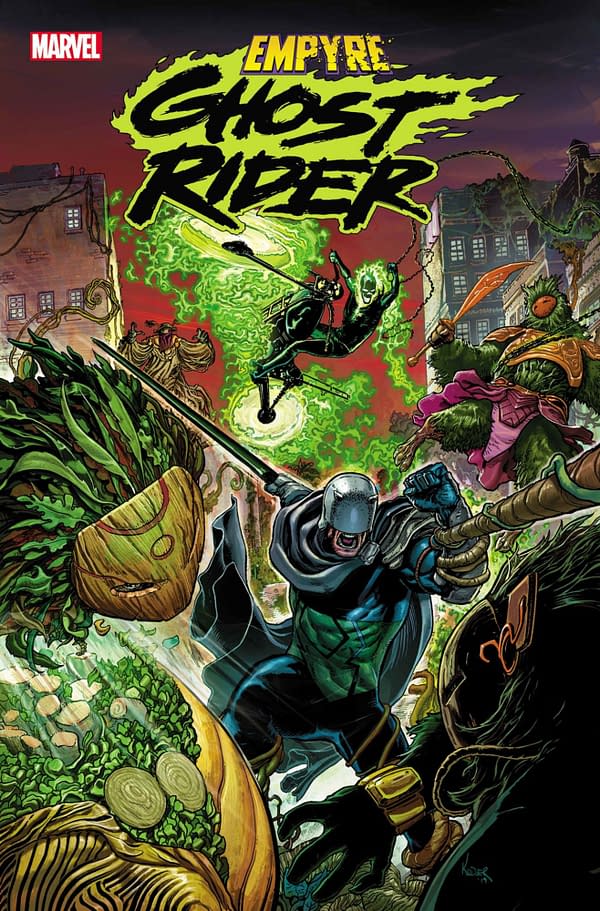 Enjoyed this article? Share it!