First Look: Jim Henson's Musical Monsters Of Turkey Hollow
In 1968, Jim Henson planned a Thanksgiving Special, an hour long TV show, with humans and muppets, celebrating the season. He wrote about using the colours of autumn, of filming in the New England countryside, with the muppet character emerging from the undergrowth. But also the importance of music in the show. Fifty years late, Roger Langridge has revisited that dream, recreating the story of The Musical Monsters Of Turkey Hollow, using that colour scheme throughout, while adding his own storytelling structure – the farmer's explanation is a particularly British favourite here.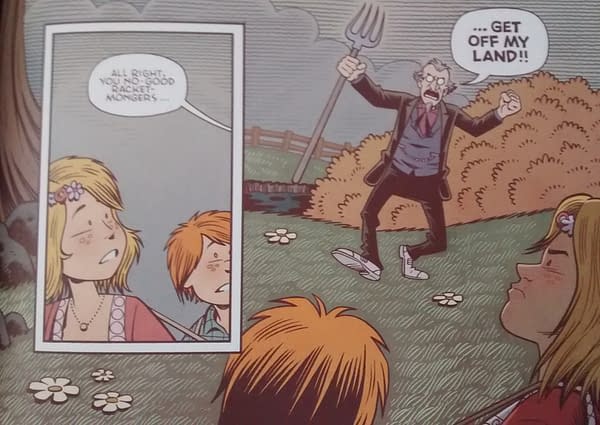 Ostensibly a comic about a family being forced out of their home by an overeager farmer, it plays off on Thanksgiving ideas about land, possession and living with nature – even if the nature comes in a fluffy cuddly form.
The first book is widely available soon, but is making its debut at San Diego Comic Con today. And though you don't know the songs, can't hear the instruments or the score, Roger's skill in combining expansive hand lettering with the knocked out blacks, and browns, yellows and oranges coming to the fore reminds you that this is just nothing that comics cannot do if a master is at the helm.
This edition also has a number of photographs and production notes that the subsequent collection will not have. Oversized, with a thick cardboard cover, and with an orange and yellow livery without a touch of black, just a little blue poking through, it looks beautiful and stylised from the get-go.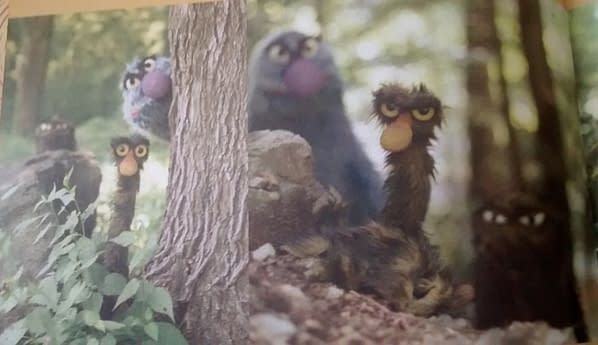 There are many comic books available to buy for the first time at San Diego. But this has to be one of the best. And it feels an assured Eisner nomination… for next year.