Hallowe'en in the sun… Dynamite has a series of Hallowe'en Specials they are announcing in San Diego Comic-Con week for the five-Wednesday month. Vampirella, Red Sonja, Bettie Page, Elvira, and Army of Darkness, each a 40-page annual-sized special.
Published every week in October, the solicits follow: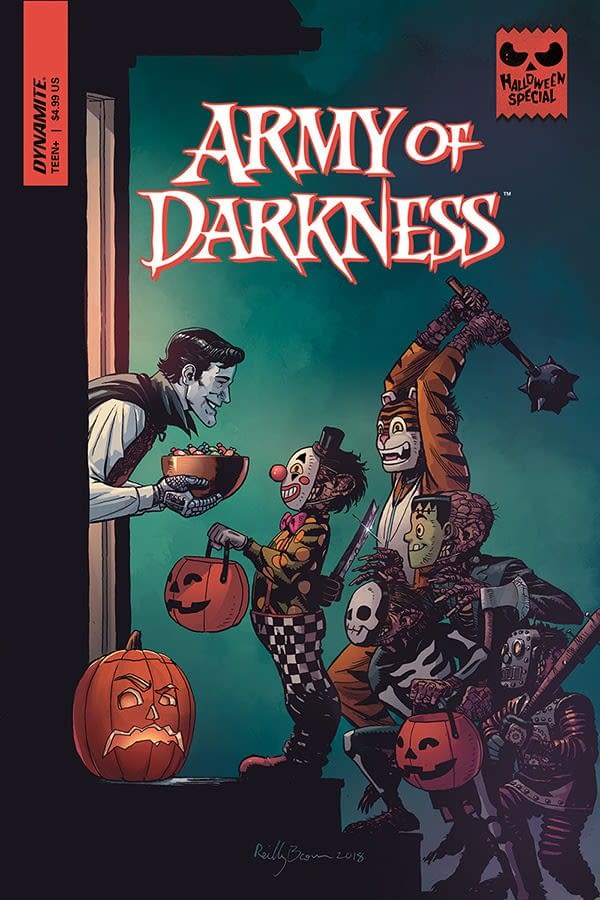 Army of Darkness Halloween Special: When a crazed tour guide raises the spectral remains of the galleon that brought the Necronomicon to America, Ash finally meets the one thing he hates more than Deadites – ghost pirates! It's chainsaws and broomsticks against cutlasses and muskets, and if Blackbeard's men can't have their treasure, the Promised One's head will have to do! Written by Chad Bowers, Chris Sims, and Benito Cereno with artwork by Eoin Marron and Anthony Marques.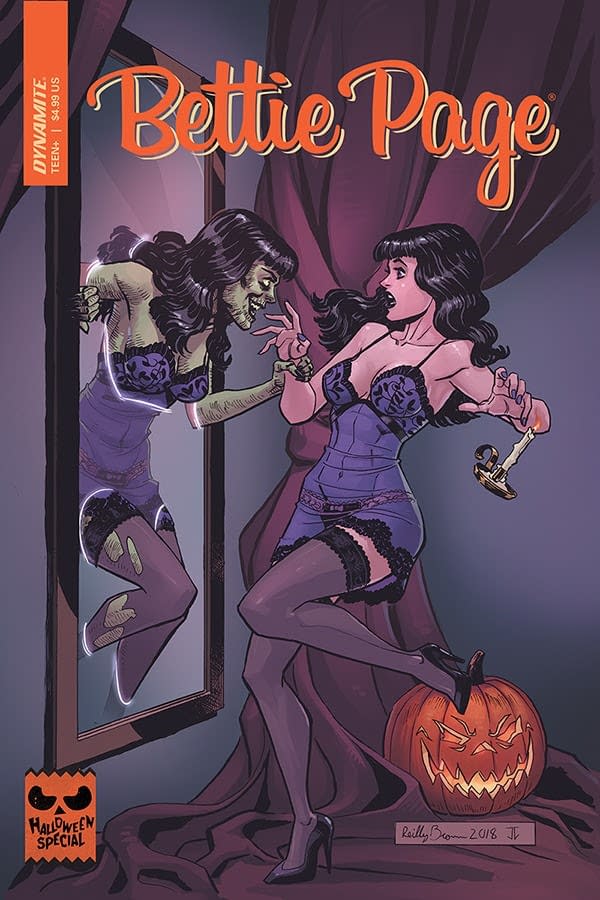 Bettie Page Halloween Special: Bettie Page is back! Is a Boston artist in contact with godlike space invaders, or is he just nuts? Bettie brings the love, and the craft in the latest chapter in writer David Avallone's Secret Diary of Bettie Page! Written by David Avallone and Leah Williams with artwork by Julius Ohta and Fernando Ruiz.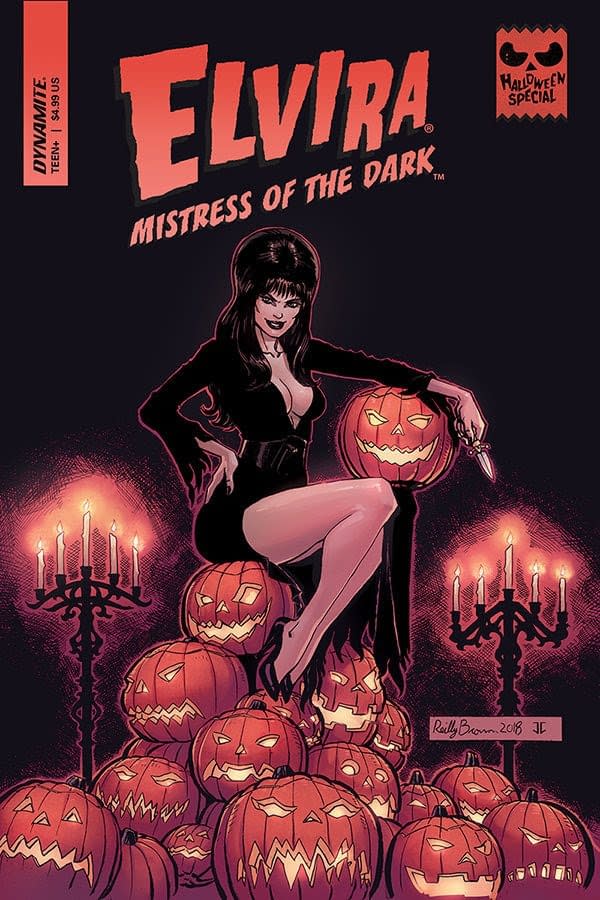 Elvira Halloween Special: Everyone's favorite Mistress of the Macabre, Elvira is spinning her wheels hostessing horror film festivals at the local drive-in when she discovers the opportunity to get in good with George Rottmero, producer of the greatest, grittiest, most realistic horror movies ever. When she discovers the grave secret behind Rottmero's success, her dreams of superstardom might become deader than her undead co-stars!! Written by Dan Parent, Fernando Ruiz, and Scott Bryan Wilson with artwork by Dan Parent and Fernando Ruiz.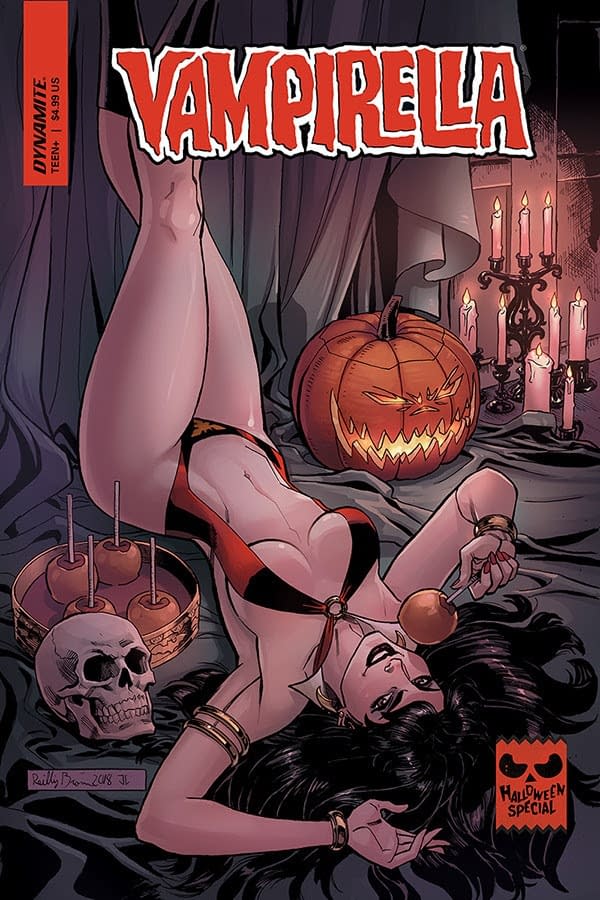 Vampirella Halloween Special: Where Vampirella comes from they don't celebrate birthdays — so she had to choose her own. Is it any wonder she picked Halloween night? Unfortunately, her simple celebration is interrupted by — you guessed it — one of those pan-dimensional demonic invasions that often seem to take place on All Hallows Eve! Written by Scott Lobdell and Blake Northcott with artwork by Rapha Lobosco and Anthony Marques.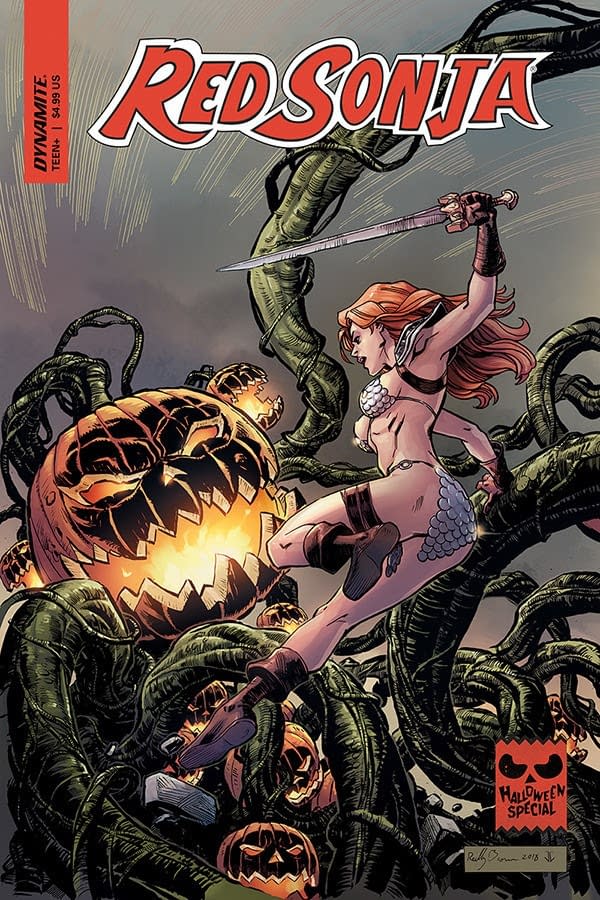 Red Sonja Halloween Special: During the Festival of the Dead, an old woman hires Sonja to find and save her son from a terrible evil. What Sonja is not told is that this terrible evil is the curse of lycanthropy… can Sonja defeat a werewolf during one of the longest and most magic-filled nights of the year, or will skill and luck finally fail her? Find out in RED SONJA: CURSE OF THE WOLF! Written by Erik Burnham and Tom Defalco with artwork by Tom Garcia and Anthony Marques.
Enjoyed this article? Share it!