Flavor #1 Advanced Review: Cute and Endearing Culinary Adventure
Xoo lives in a city where cooking is everything, and she wants to be a chef. Her parents are ill and unexpected to survive, and she is too young to live on her own. Her uncle is brought in to live in with her family and watch over Xoo. She has goals of opening her own restaurant, but she's unlicensed and technically not allowed to cook.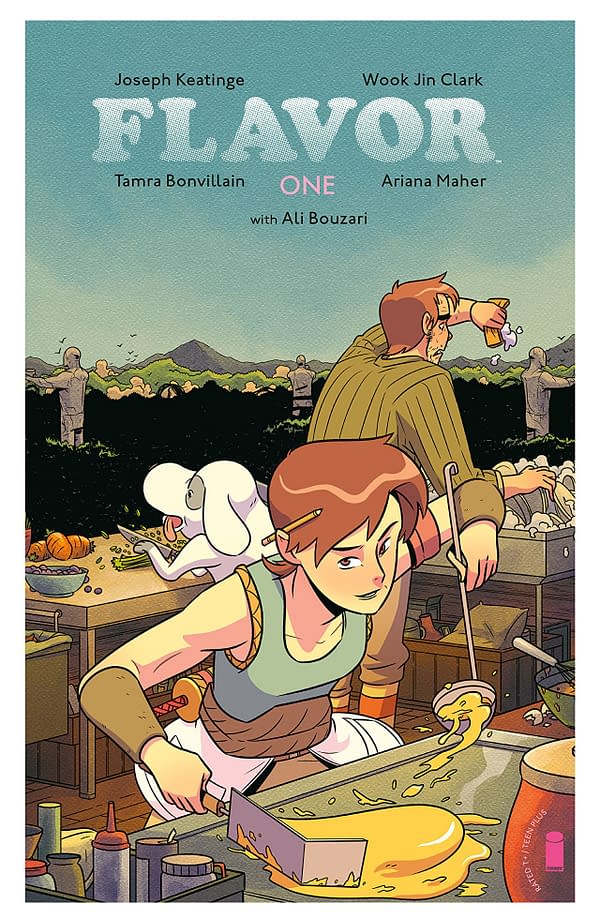 Flavor #1 presents a charming fantasy world with a likable protagonist, a compelling conflict, and the book is absolutely absorbing for these positives.
Xoo is a dedicated and engaging lead, and you immediately want her to succeed in all she does. The world has other plans for her, but that will not stop her from trying.
Her uncle, Lim, is similarly likable, but he has goals to move on from watching over Xoo as soon as he can. It's a surprisingly somber moment when he is brought in to watch over Xoo for her still-alive parents.
All this said, Xoo's dog, Buster, steals the show. This magical dog reads, drives a bicycle, and does just about everything he is asked to do. He has a careful personality all his own, and he is just damn adorable.
Wook Jin Clark's artwork succeeds in making the comic all the more charming with its cute and fluid style which displays movement and personality very well. Notably, this is where Buster shines too, as he is often doing things in the background to make each page that much more rewarding. Tamra Bonvillain's color work is bright, dynamic, and makes each panel absorbing.
Flavor #1 is a beautiful and sweet book that can balance its emotions and tone well. Its characters are believable and endearing, its art looks great, and its concepts are creative. This one easily earns a recommendation. Give it a read this Wednesday.