Posted in: Comics, Cosplay | Tagged: comic con, comiccon, comicon, cosplay, entertainment
---
The Florida Comic Con That Banned Cosplay
Elite Con is a Florida comic convention being held this weekend. And there's something they really want to emphasise. No cosplay.
---
Elite Con is a Florida comic convention being held this weekend, March 12th. It bills itself as "A Premium Collectibles Marketplace for Advanced Collectors". And there's something they really want to emphasise. No cosplay. In a series of deleted posts, they stated,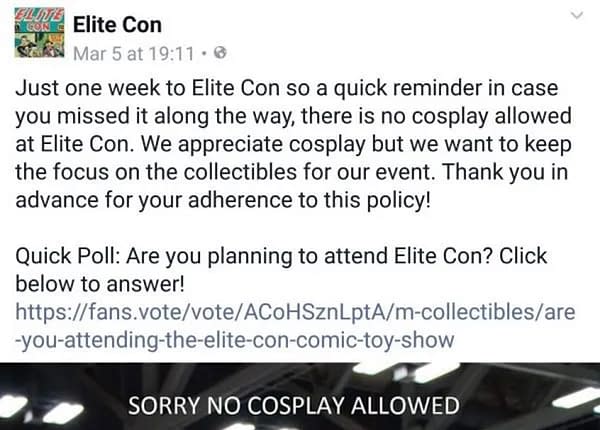 And
Hello, we are well aware that this rule is not desirable to some collectors, however the intention of this post was not to argue the merits for or against having cosplay at our convention. It was simply to make the rule known prior to the event so that no one makes the trip out and is denied access to the event. There is no cosplay and no exceptions. If your primary concern is the allowance of cosplay and not the premium collectibles we will offer then our show may not be the right one for you. Our focus is solely on the collectibles as we have stated many times. We respect your decision not to attend and ask that you respect our decision to be a different kind of event even though you may disagree with us.
Reaction was strong. And in over a thousand now-deleted posts, they were criticised considerably. For being a trade show rather than a convention, from attendees saying even if they didn't dress in cosplay, they liked seeing cosplay, for decrying a sense of convention community, for using and altering other people's images for commercial purpose without permission or credit,
Definition of cosplay was not defined – could they really turn away someone dressed as a recent version of Doctor Who? Or as John Constantine? What about someone wearing a Pikachu hat? But the show emphasised that anyone turning up in cosplay would be turned away without exception, including children.
The show took their first posts down, replacing them with the following statements.
OK, so as it appears the outcry will continue I want to consolidate to one post if you would please be so kind. While we continue to hope for a respectful dialogue it appears that may be asking too much based on many of the posts we have received. We do not wish to suppress your opinion of dissent, we only ask once again that you try and keep the comments civil.

Since we cannot respond to all of your posts individually just want to address some common themes that have come up. We are not trying to engage in argument but simply to clarify some points.

1. No offense was intended, plain and simple. We have not said one single derogatory word about cosplaying and any such negative inferences are inaccurate. We have many friends who cosplay :)

2. Our show was named Elite "Con" meaning convention or gathering of people.

3. We have made it known since day one in our posts, videos and website that this would be an event focused solely on the collectibles and not cosplay, autographs or panels. So no deception there as suggested. No one needs a refund because it was made known right up front many months ago and many times since then.

4. While we appreciate the concern for low attendance, we are a small show in a small venue that could not hold all of you even if we were to have cosplaying. The larger conventions are better equipped to handle that volume of attendees and activities that are not vending related. Our show is focused on comics, action figures, lego, die-cast, funko pop and artwork. We honestly do not have anything in the way of cosplay vendors.

5. The "Elite" name is in reference to the collectibles. Not elitist even though that is convenient. Our show is designed for collectors who are seeking items they are not likely to find at a "flea market" "garage sale" and yes our dealers are regulating what they bring to meet a higher standard and at fair prices. We have posted hundreds of pictures and some videos to show attendees exactly what to expect. So again no deception here.

6. The people who have expressed interest in attending our show (a lot more now actually since this went kinda viral) generally like the idea of having the option to attend a non cosplay event and do not mean that as an insult to anyone. There are so many shows that do accommodate cosplay I am not entirely sure why so much backlash to just one that does not. To say that we cannot have an event called a "con" unless we have cosplay is debatable and we will agree to disagree here.

7. We have put together and worked very hard towards a show that we feel directly meets the requests of so many collectors that we have spoken to over the years. Our show is not about excluding anyone but if attire is paramount over the collectibles then we agree with you that this may not be a show you want to attend. It was not designed to simply draw large crowds there are shows for that. It is meant to service a specific niche of collector who sees the collectibles as paramount over the attire.

So, we know this breaks from all accepted conventional wisdom these days but that is our show and we hope those who attend will be pleased. One final note, and then the bashing can resume. A lot more bullying going on here than productive commentary. That is unfortunate. Best Regards to you all. We honestly mean no ill will to any of you. Even the bashers :) By the way, love the memes!
Loved them so much, they had to delete them. And…
Once again addressing refunds. No passholder has requested a refund. No passholder has been denied a refund. We have zero complaints from actual ticket holders. They are 100% aware of what the event is about. Nothing deceptive or nefarious here. Tons of photos and video showing literally what to expect and not expect at the event on our facebook page. We understand you dont like our name, duly noted! Thank you to all and goodnight!
I wonder if they could invite Tony Harris as a guest?
---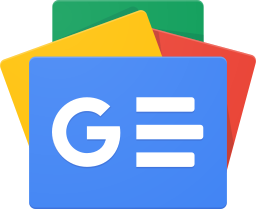 Stay up-to-date and support the site by following Bleeding Cool on Google News today!