Superman: Year One #1 by Frank Miller, John Romita and Danny Miki is published today. A little late, a little censored but it still hits the direct market like a bomb. In continuity with Frank Miller and Klaus Janson's Batman: The Dark Knight Returns, we learned quite a lot about this Superman from Book One.
1. He saw his parents die.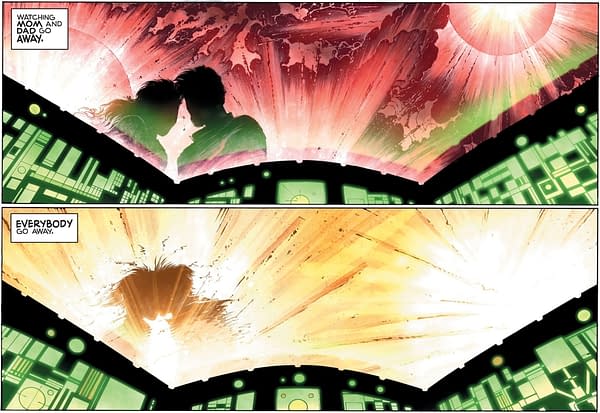 No wonder he's a little more like Batman in Superman Year One.
2. He has the power to control your mind.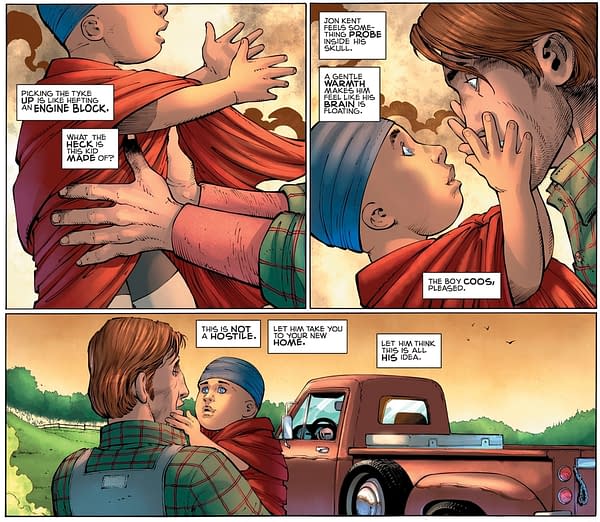 So he's also a bit more like Professor Xavier too. Also, at this point, bald.
3. Martha Kent is a bit insightful.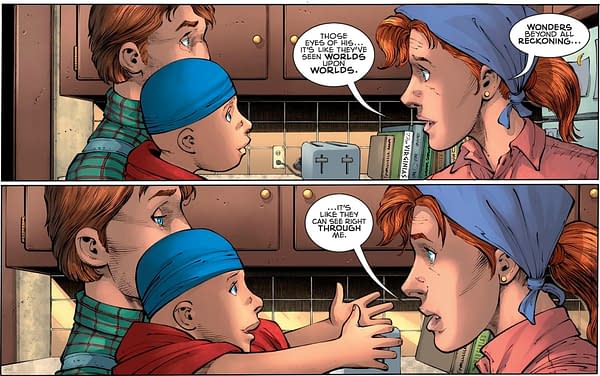 In two panels she knows that he's from another planet and has X-Ray vision. Women's intuition, dontchaknow.
4. Jonathan Kent is a bit inciteful.

Martha is a wet blanket to Jonathan's Might Makes Right, Tread Softly Carry A Big Stick, Muscular Christianity… and toxic masculinity, dontchaknow.
5. Otis is a local now – but not Lex.
There's only one Otis in DC, right? Luthor may not be part of Smallville in this series, but his movie henchman is.
6. Talking of sanitation, Superman named his Fortress Of Solitude after… well…
Why am I getting flashbacks to Kevin Smith's Batman all of a sudden? Especially what he did to a certain Frank Miller Batman scene?
7. Pale emo types are all Slytherin.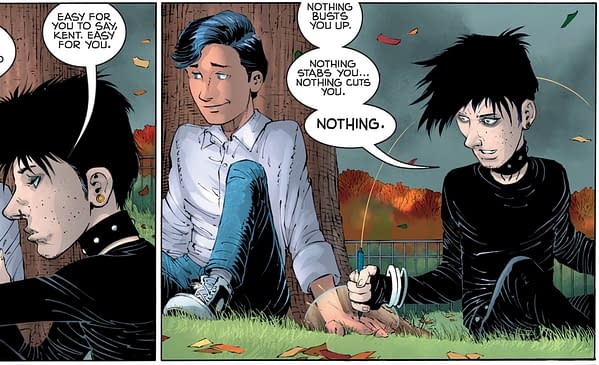 We know how Frank Miller feels about such types. Pale, spiky dyed hair, piercings, throat collars, trying to grow a goatee and eye makeup…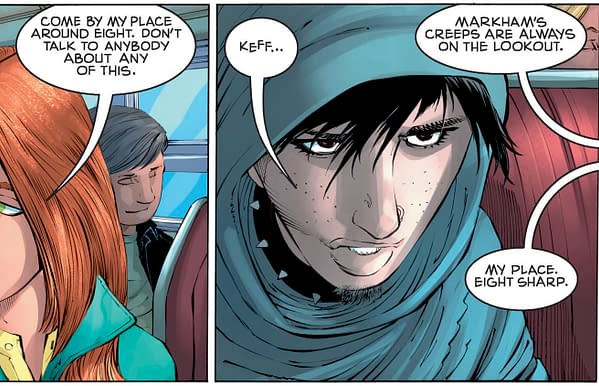 …you should never be friends with them, not just because they will try to stab you unprovoked, because they will get you gang-raped.
8. Photojournalism is certainly powerful…

Lana Lang, imprinting onto Clark Kent a certain Lois Lane fetish, there.
9. But the lens is not more powerful than the fist.
Small town America, folks. Is this Smallville or is it Sin City?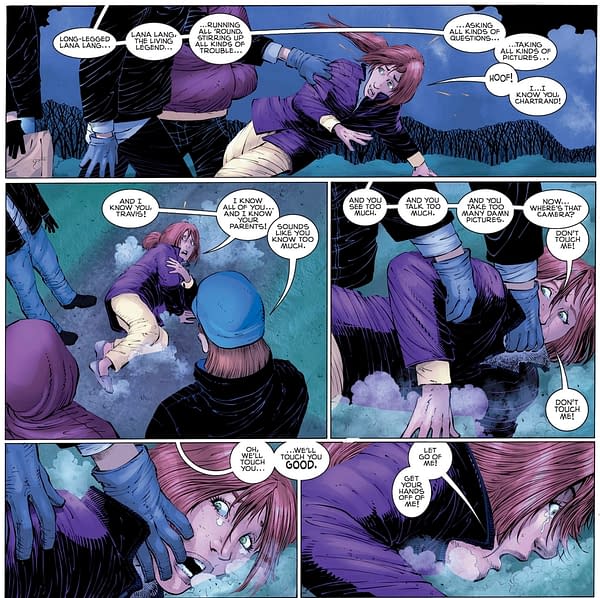 Balls nasty, Ron.
10. Looks like Jonathan Kent was right.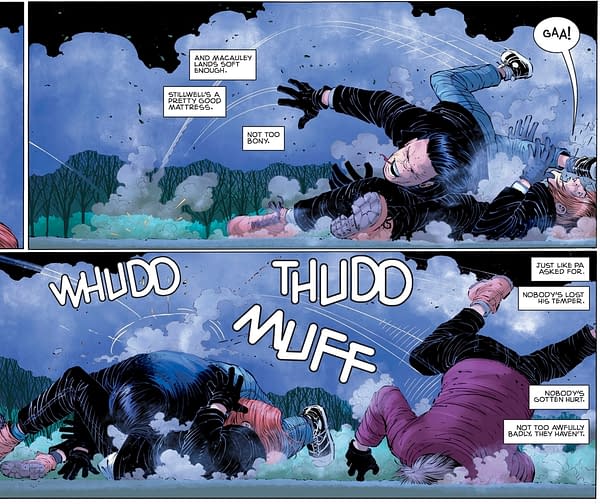 And the subsequent relationship is just fraught with issue as well… affection and intimacy as a reward for such violent intervention. But this is Millerworld.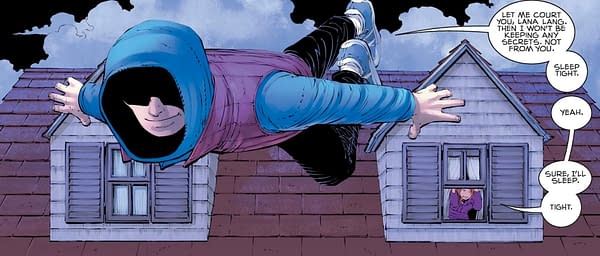 Say, isn't Clark following Jonathan Kent's rules a bit like Dexter following Harry's rules? He's not doing it because it's right, but because he is dutifully following a code? That Navy career awaits, young recruit.
11. An All-American Hero signs up.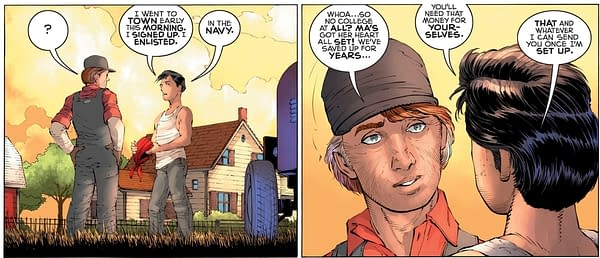 This is Dark Knight Superman, remember…
12. Though if you read Dark Knight, Martha Kent is right too…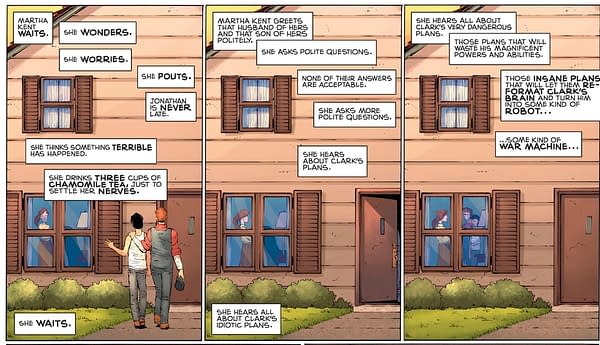 He does pose well alongside Ronald Reagan…
13. He'll always remember Lana Lang.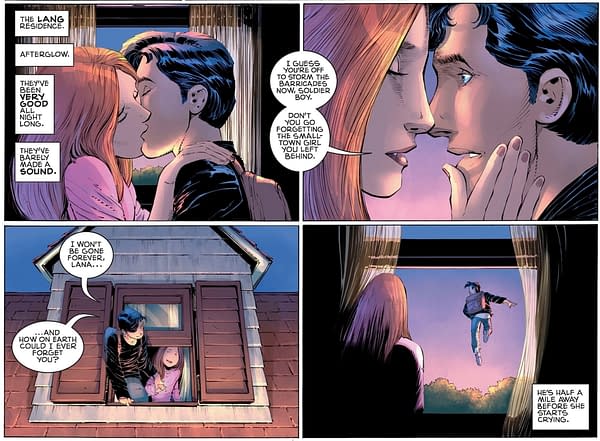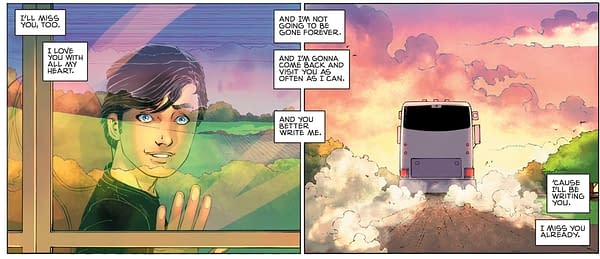 Ooh, you little liar, Clark Kent. One whiff of a mermaid's tail and you won't give her another thought…
Superman: Year One Book One is published today.
Superman: Year One #1 (of 3)
(W) Frank Miller (A/CA) Danny Miki, John RomitaJr
From the burning world of Krypton to the bucolic fields of Kansas, the first chapter of SUPERMAN YEAR ONE tracks Clark Kent's youth in Kansas, as he comes to terms with his strange powers and struggles to find his place in our world. DC BLACK LABEL is proud to present the definitive origin of Superman as rendered by the legendary comics creators Frank Miller and John Romita Jr.!
PRESTIGE FORMAT
MATURE READERS
In Shops: Jun 19, 2019
SRP: $7.99
Enjoyed this article? Share it!