Frankensteining Marvel May 2018 Solicitations
Let's put together a bunch of Marvel Comics solicitations for May 2018 from what's already out there.
For Free Comic Book Day we have Amazing Spider-Man/Infinity Watch comic which we reckon will have the first Nick Spencer/Ryan Ottley Amazing Spider-Man story and the Avengers/Captain America comic which we think may have a Jason Aaron/Esad Ribic Avengers story and a Ta-Nehisi Coates Captain America story. But we'll see. Now onto what is actually being solicited…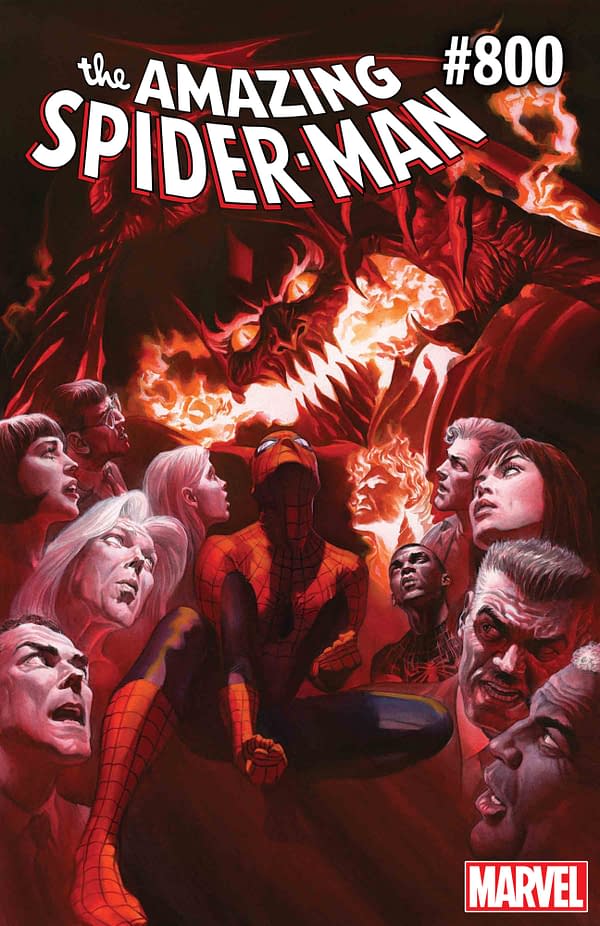 THE AMAZING SPIDER-MAN #800
"GO DOWN SWINGING"
Written by DAN SLOTT
Art by STUART IMMONEN, HUMBERTO RAMOS, GIUSEPPE CAMUNCOLI & JIM CHEUNG
Cover by ALEX ROSS
On-Sale 5/30/18
Slott and artist Stuart Immonen will unveil the biggest Peter Parker and Norman Osborn story of all time, joined by artists Humberto Ramos, Giuseppe Camuncoli and Jim Cheung. It's the first Marvel comic EVER to hit 800 issues, and we're celebrating by bringing readers an epic and oversized anniversary issue – featuring 80 pages of a brand-new story from the writer who has written more issues of AMAZING SPIDER-MAN than any other creator!
Before Dan Slott takes his final bow in AMAZING SPIDER-MAN #801, dive into one of the most exciting stories in Spider-Man lore – culminating in the conclusion that has Spider-Man facing his most terrifying villain yet!
X-MEN WEDDING SPECIAL #1
Written by MARC GUGGENHEIM, KELLY THOMPSON & CHRIS CLAREMONT
Art by GREG LAND, MARIKA CRESTA & MORE
Cover by J. SCOTT CAMPBELL
On-Sale 5/16/18
This May, get ready to take part in epic and adventurous stories written by Kelly Thompson (Hawkeye, Rogue & Gambit) and X-Men Gold scribe Marc Guggenheim – plus, a wedding gift all on its own in the form of an all-new Kitty Pryde story from legendary series writer Chris Claremont, who returns to the X-Men just in time for the celebrations! But remember, when super heroes get together, mayhem ensues…and the X-Men are no exception.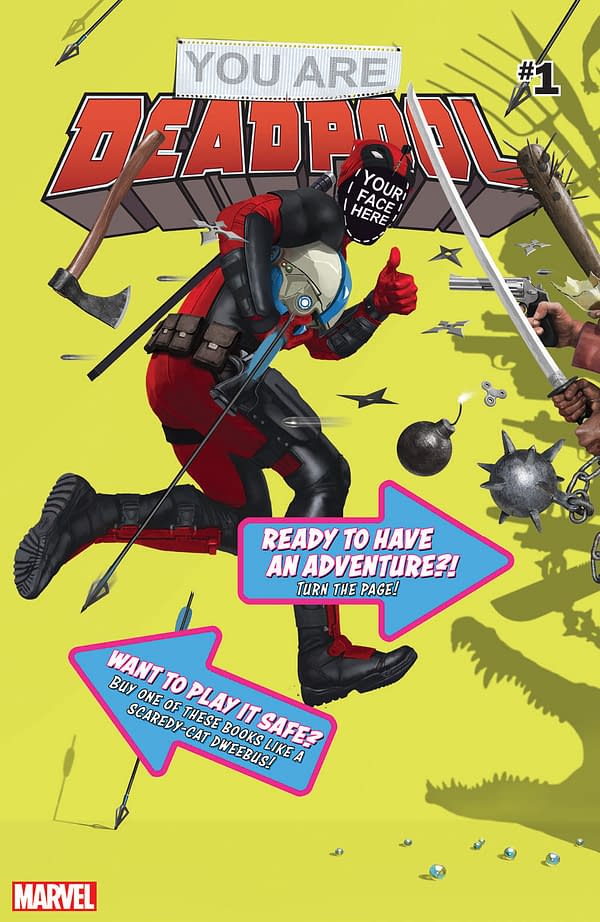 YOU ARE DEADPOOL #1 (of 5)
Written by AL EWING
Art by SALVA ESPIN (issues #1, 3, 5) & PACO DIAZ (Issues #2, 4)
Covers by RAHZZAH
On-Sale 5/2/18
The fourth wall has been broken – by you, because this May, YOU can be Deadpool! The merc with the mouth is your guide as he takes you on a fantastic ride that doubles as a role playing adventure in this new five-part weekly miniseries where adventure…danger…and the future…all rests in YOUR hands!
Written by Al Ewing (Avengers: No Surrender) with art by Salva Espin (Deadpool) and Paco Diaz (Avengers: No Surrender), YOU ARE DEADPOOL is an interactive narrative that lets readers control Deadpool's story by rolling dice, keeping track of their scores, and making smart (or disastrous) decisions. And be prepared to meet some classic and unique guest stars as you travel through time as Deadpool in a whirlwind adventure!
STAR WARS: THE LAST JEDI ADAPTATION #1 & 2 (of 6)
Written by GARY WHITTA
Art by MICHAEL WALSH & MIKE SPICER
Cover by MIKE DEL MUNDO
Variant Cover by JOE QUESADA
On-Sale 5/2/18
The Resistance is outnumbered…Luke Skywalker has finally been found…and the Rebels fight against a growing evil. The First Order will stop at nothing to conquer the galaxy, and it's up to our heroes to defend it!
This May, writer Gary Whitta (Rogue One: A Star Wars Story, Star Wars Rebels) joins artist Michael Walsh (Star Wars Annual, Hawkeye, The Vision) for a thrilling adaptation of the hit blockbuster STAR WARS: THE LAST JEDI, as they follow Rey, Poe and Finn in their adventures across the galaxy, featuring never-before-seen material!
The six-issue miniseries tells an all-new, exciting story that movie and comic fans alike will enjoy. It's new Star Wars stories in a tale you already know: relive the magic of Rey's heroism, Finn's bravery and Poe's daringness in STAR WARS: THE LAST JEDI ADAPTATION, out this May!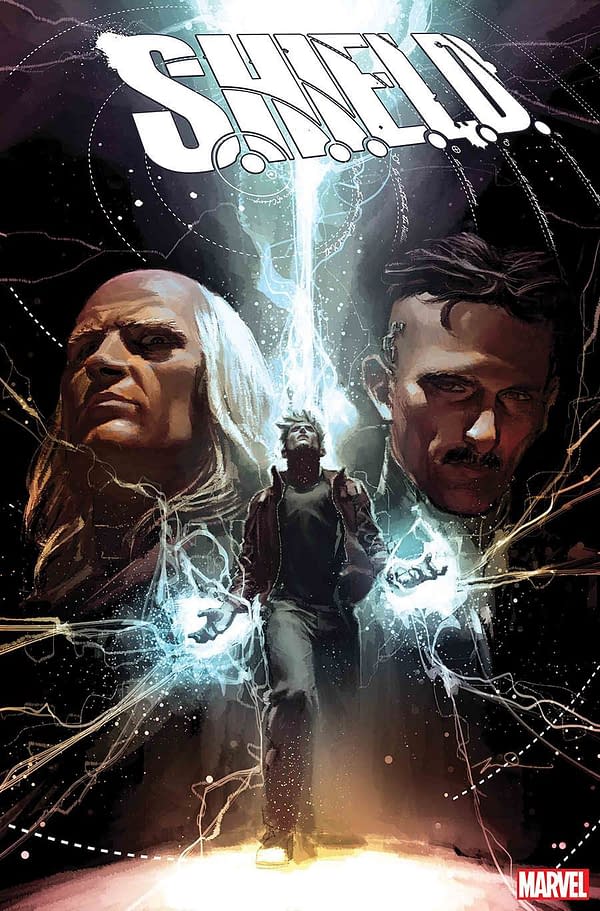 S.H.I.E.L.D.: The Rebirth #1 By Hickman & Weaver (collects SHIELD #1 to #4)
Jonathan Hickman (W) – Dustin Weaver (A)
Cover by Gerald Parel
"Delve deeper into the hidden past of S.H.I.E.L.D. — along with some of history's greatest minds! Michelangelo has been pulling the strings for years, and is now becoming the prime mover. Can he keep Leonardo Da Vinci and Isaac Newton from killing each other and destroying the Brotherhood of the Shield? The battle for the Immortal City comes to a climactic conclusion! Leonid makes his choice between two fathers! Michelangelo and Nikola Tesla kick their plan into high gear! Galileo takes on Galactus — long before the Fantastic Four did! The truth behind Nostrodamus stands revealed! And Howard Stark lays the foundation for the espionage organization you know and love! Catch up on Jonathan Hickman and Dustin Weaver's secretive S.H.I.E.L.D. saga — before the eagerly anticipated finale! Collecting S.H.I.E.L.D. (2011) #1-4."
S.H.I.E.L.D. By Hickman & Weaver #5 & 6
Jonathan Hickman (W) – Dustin Weaver (A)
Cover by Gerald Parel
Jonathan Hickman and Dustin Weaver's unfinished epic of 2010-2011 finally gets its conclusion! The Brotherhood of the Shield is made of the likes of Da Vinci, Stark, Tesla and Richards, but they're in trouble. Sir Isaac Newton stands with his foot on the world's throat and no one can stop him! The battle that decides our present is waged in the future!
HUNT FOR WOLVERINE: WEAPON LOST #1
Written by Charles Soule
Art by Matteo Buffagni
HUNT FOR WOLVERINE: ADAMANTIUM AGENDA #1
Written by Tom Taylor
Art by R.B. Silva
HUNT FOR WOLVERINE: CLAWS OF A KILLER #1
Written by Mariko Tamaki
Art by Butch Guice
HUNT FOR WOLVERINE: MYSTERY IN MADRIPOOR #1
Written by Jim Zub
Art by Chris Bachalo
Major Marvel heroes like Daredevil, Kitty Pryde, Spider-Man and Iron Man, will become involved in the story, as they try to track down Logan and figure out his secrets. Each series will also contain its own distinct genre and mystery: WEAPON LOST will be a noir/detective story, ADAMANTIUM AGENDA more action/adventure focused, CLAWS OF A KILLER fits its title with a horror style, while MYSTERY IN MADRIPOOR is a dark romance.
Star Wars Lando: Double or Nothing #1 of 5
(W) Rodney Barnes (A) Paola Villaelli (CA) Scott Forbes
X-Men Red Annual #1
(W) Tom Taylor (A) Pascal Alixe (CA) Art Adams